PHOTO ESSAY
/
Meet deities across Taiwan during the Lunar New Year holiday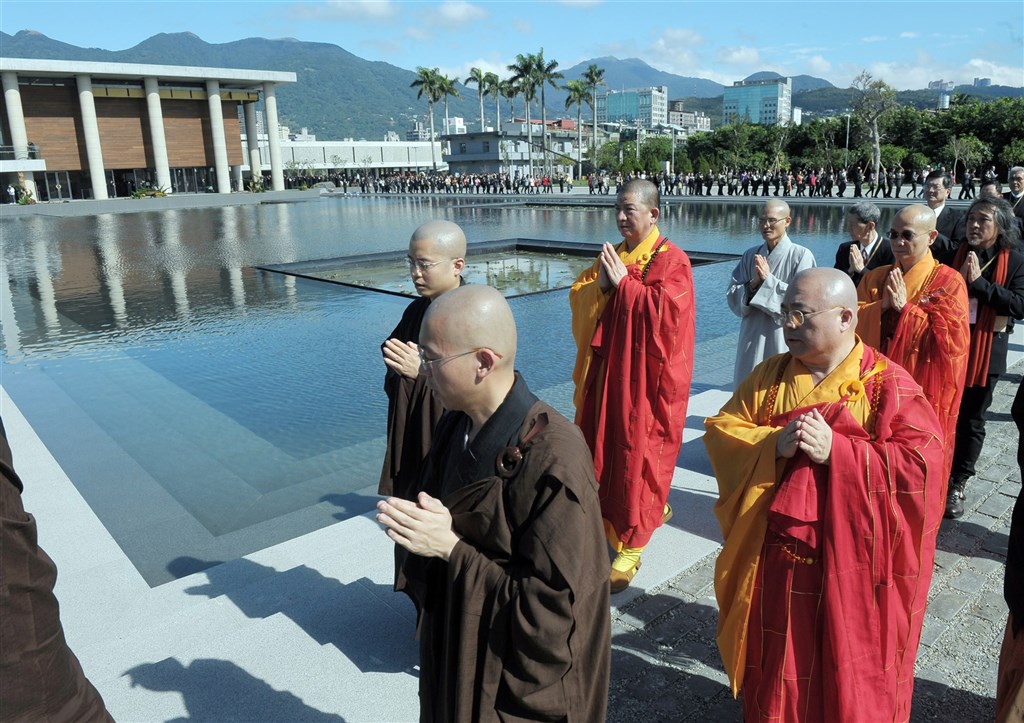 Taipei, Jan. 18 (CNA) Taiwan has long enjoyed a diverse and colorful temple culture, resulting in numerous religious buildings that are well worth visiting, if not to worship or pray for luck during the festive period, then to see the amazing traditional architecture.

CNA has selected several distinctive temples from across the country for those wishing to experience the nation's cultural heritage or worship during the Lunar New Year holiday.
Taipei Dharma Drum Mountain Nung Chan Monastery (法鼓山農禪寺)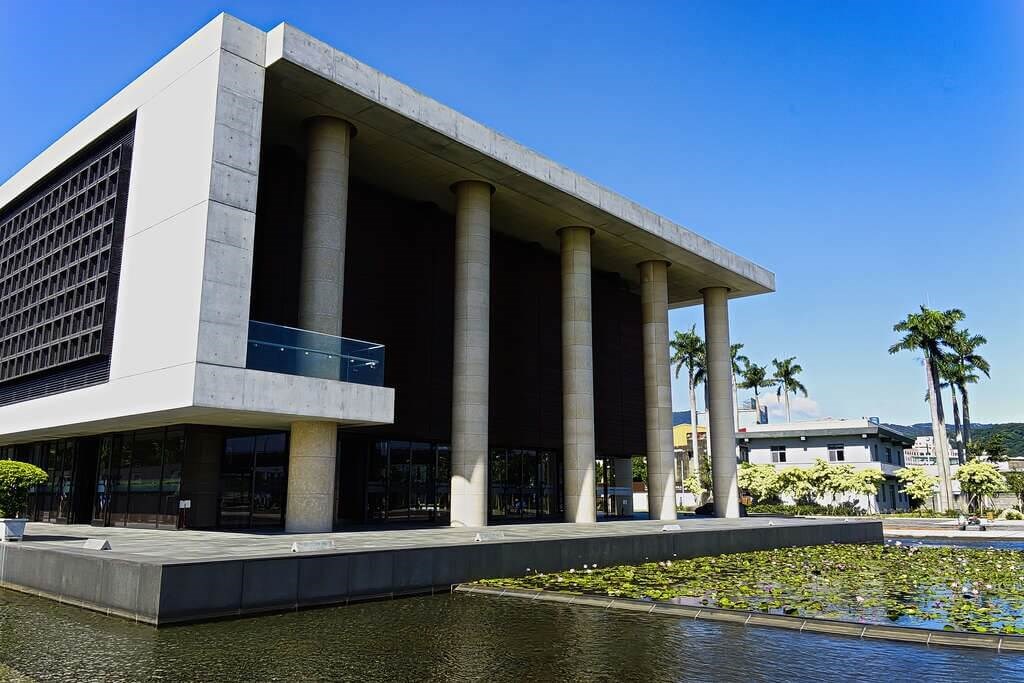 Address: No. 89, Lane 65, Daye Rd, Beitou District, Taipei City
Opening hours:  9 a.m.-5 p.m. (No entry allowed after 4:30 p,m.)
This monastery, designed by renowned Taiwanese architect Kris Yao (姚仁喜), was developed from a humble farmhouse where the late venerable Buddhist master Sheng-yen (聖嚴) often meditated and practiced zen.
Nung Chan Monastery escaped the fate of being razed in 2004 when Taipei City government designated the farmhouse part of the city's historical heritage.
In December 2012 the monastery was reopened after undergoing reconstruction, attracting visitors with its new look. It is also called the "Water-Moon Monastery" after a vision the venerable Sheng-yen once had of the monastery as "a heavenly flower and a moon in water."
Taipei Dalongdong Baoan Temple (大龍峒保安宮)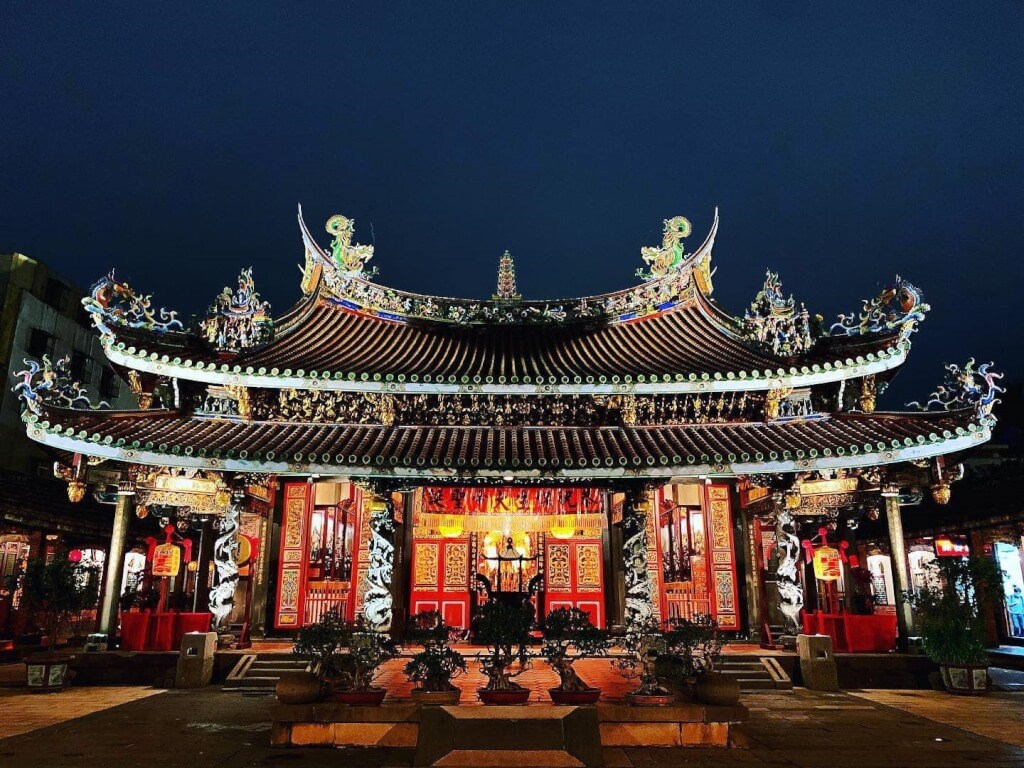 Address: No. 61, Hami St, Datong District, Taipei City
Opening hours: 8 a.m.-8 p.m.
This temple, located close to the junction of the Tamshui and Keelung rivers is dedicated to Baosheng Dadi, a Chinese deity of medicine.
The temple was completed in 1830 during the Qing Dynasty using materials imported from China. The main architect also came from China and took 25 years to complete the project.
The temple was upgraded from a city-designated historic monument to a national heritage in 2018.
As the temple is located next to Taipei Expo Park, visitors can also go for a stroll and enjoy the beauty of nature.
Sanxia Xingxiu Temple (三峽白雞行修宮)
Address: No. 155, Baiji Rd, Sanxia District, New Taipei City
Opening hours: 5 a.m.-7 p.m.
The temple is the Sanxia branch of Taipei's renowned Xingtian Temple, and is located halfway up Baiji Mountain in New Taipei.
As a religious center that worships the deified historical general Guan Yu, the temple mainly attracts believers who want to have their fortunes told or the performance of exorcism rituals.
The temple is surrounded by natural beauty and hiking trails and visitors can also enjoy popular local delicacies that are available at the bottom of the mountain. 
Nantou Sun Moon Lake Wen Wu Temple (日月潭文武廟)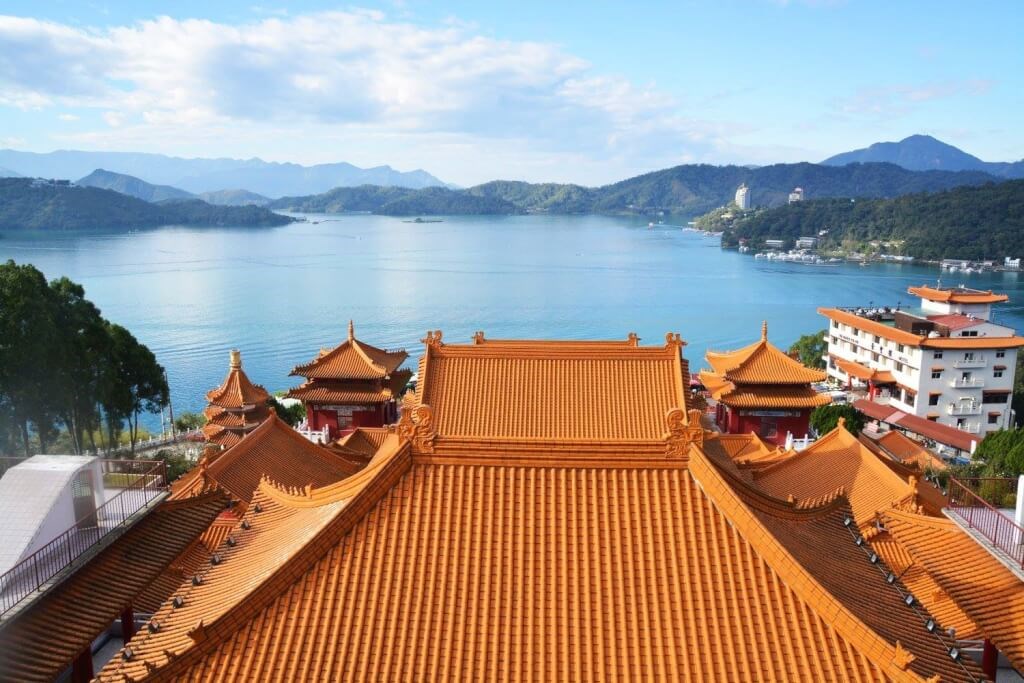 Address: No. 63, Zhongzheng Rd, Yuchi Township, Nantou County
Opening hours: 24/7 (Please use the side door after 8 p.m.)
Built halfway up the northern mountain of Sun Moon Lake, the temple is another religious center dedicated to the deified historical general Guan Yu.
A secondary figure housed in the temple is Confucius, who is worshiped among traditionally Confucian architecture located at the back of the compound.
From the temple's two viewing towers visitors have a breathtaking view of the scenic Sun Moon Lake. 
Changhua Lukang Husheng Glass Temple (彰化鹿港玻璃媽祖廟)
Address: No. 28, Lugong South 4th Rd, Lukang Township, Changhua County
Opening hours:  8 a.m.-5 p.m.
This is the first temple in the world to be constructed from glass, combining the worship of deities from Chinese mythology and folklore and Lugang Township's famous glasswork industry.
The temple's main deity is the goddess Mazu, arguably Taiwan's most popular deity. The statue of the goddess was crafted out of glass and is iridescently luminescent depending on the time of day. 
Nantou Zhongliao Golden Dragon Mountain Fahua Temple (南投金龍山法華寺)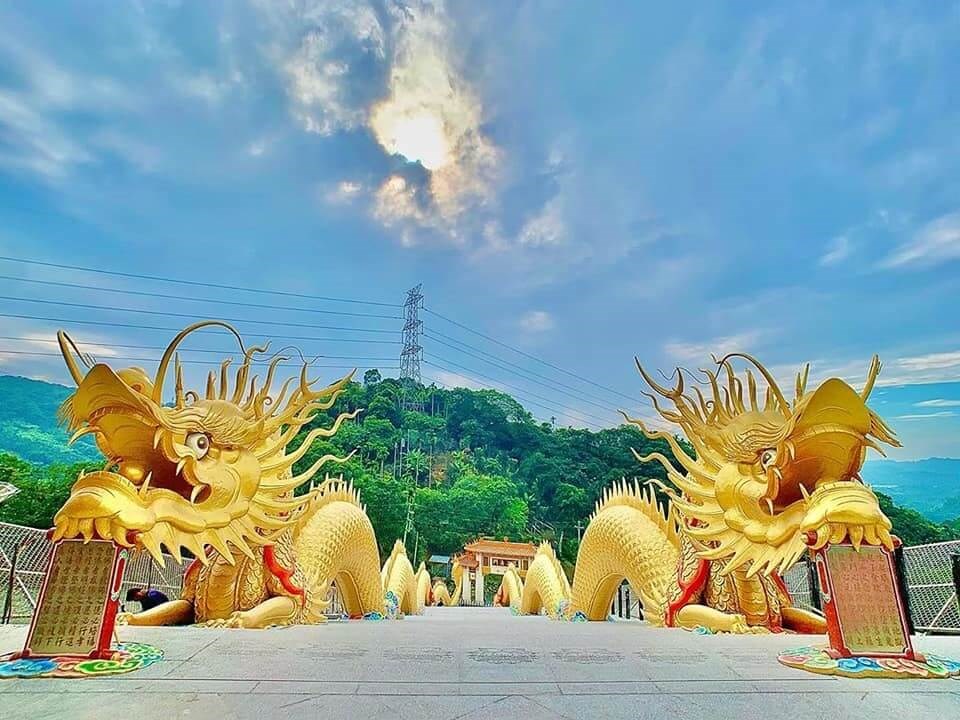 Address: No. 106, Yongle Rd, Zhongliao Township, Nantou County
Opening hours:  8 a.m.-5 p.m.
This Buddhist temple has two 80 meter long majestic golden dragons one on each side of the stairs that lead followers from the bottom of the temple to the main hall of worship.
The glistening scales on the bodies of the dragons make the majestic temple a popular area for amateur photographers.
The temple also houses two elegant phoenixes as well as dignified depictions of Buddhist deities such as the Goddess of Mercy and the Buddha, Siddhartha Gautama.
Yunlin Royal Lords Temple (雲林馬鳴山鎮安宮)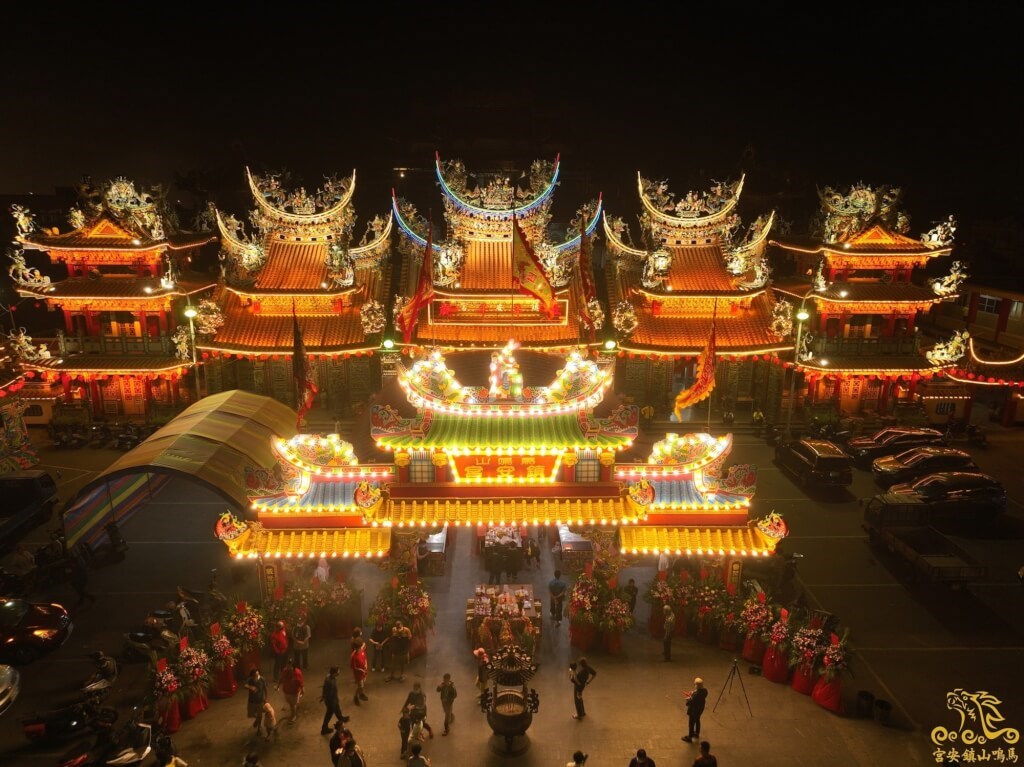 Address: No. 31 Zhenan Rd, Baozhong Township, Yunlin County
Opening hours:  5 a.m.-9 p.m.
This Taoist temple honors Shierxing Wang Ye, a popular deity in Hoklo culture that often worships royal lords either from Chinese history or folklore.
The temple is also considered a religious theme park and has a number of cultural attractions that are both fun and interactively educational.
Tainan Madou Daitian Temple (台南麻豆代天府)
Address: No. 60, Guandi Temple, Madou District, Tainan City
Opening hours:  8 a.m.-5 p.m.
Visitors get to experience first hand the Chinese cultural concept of heaven and hell in this modern Taoist place of worship.
The "Wang Ye" deities worshiped in the temple are housed in modern buildings alongside a plethora of fictional figures from the Chinese mythological pantheon.
However, the temple's main attractions are the "Ten Sights of Heaven" and "Eighteen Levels of Hell," displayed in halls where visitors can experience the spiritual planes as depicted in Chinese mythology.
Pingtung Checheng Fu'an Temple (屏東車城福安宮)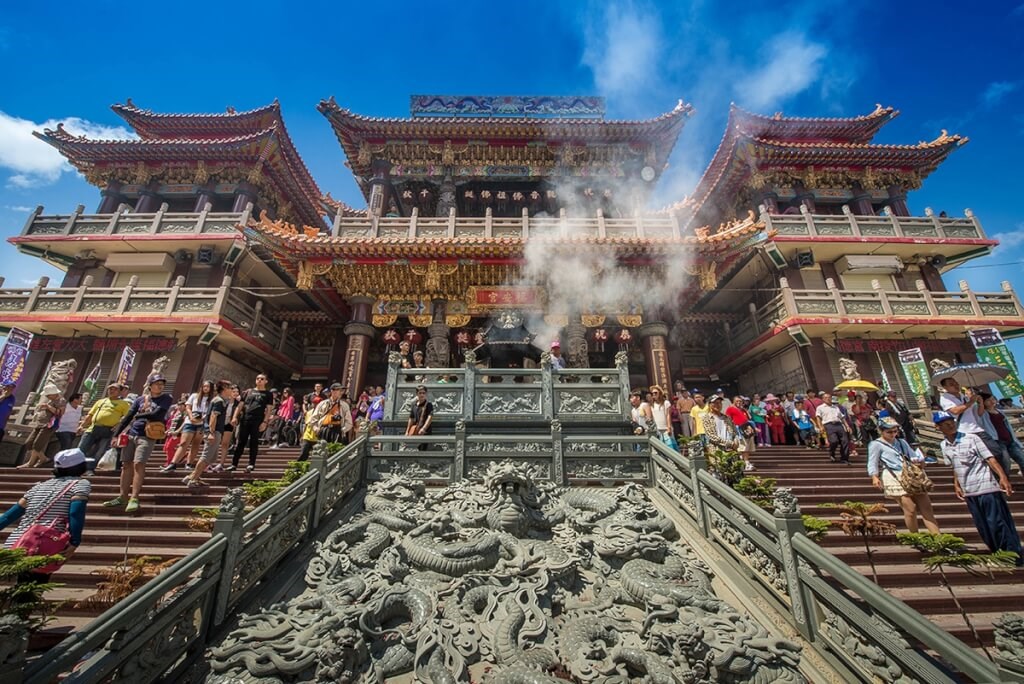 Address: No. 51, Fu'an Rd, Checheng Township, Pingtung County
Opening hours:  5 a.m.-10 p.m.
This 358 year-old temple is known for its heavy foot traffic during Lunar New Year. Traditionally, the temple gives away lucky coins that bless followers with richness and prosperity in the New Year.
Located near the temple are Guishan hiking trail, the relaxing Sichongxi Hot Springs Park and the Checheng Inclusive Playground which features a 9 meter high slide.
View All