Turkish artist paints inspiration for Taiwan's rural children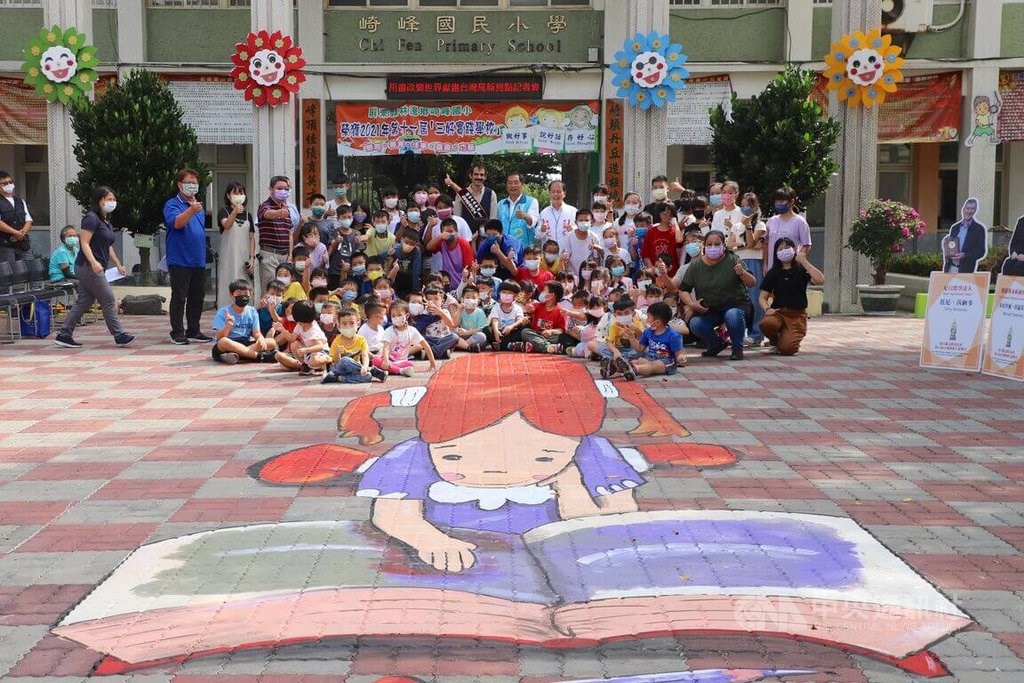 Taipei, Nov. 27 (CNA) On a lazy Sunday afternoon in Pingtung County's Linbian Township, third-grader Lin Li-cheng (林立誠) stared jubilantly at an in-progress painting on the ground of his elementary school.
Depicted in front of the young boy was a red-haired girl, seemingly having the time of her life turning the pages of a colorful book.
When asked by passersby whether or not he also enjoyed reading like the girl, the boy mischievously responded: "Reading is very boring; it puts people to sleep."
The art is a large 3D visual illustration created by colorblind Turkish artist Faith Kucuk.
He arrived in Taiwan on a 10-hour flight from Istanbul on Nov. 19 and immediately boarded a High Speed Rail train to Qifeng Elementary School in Pingtung to get to work.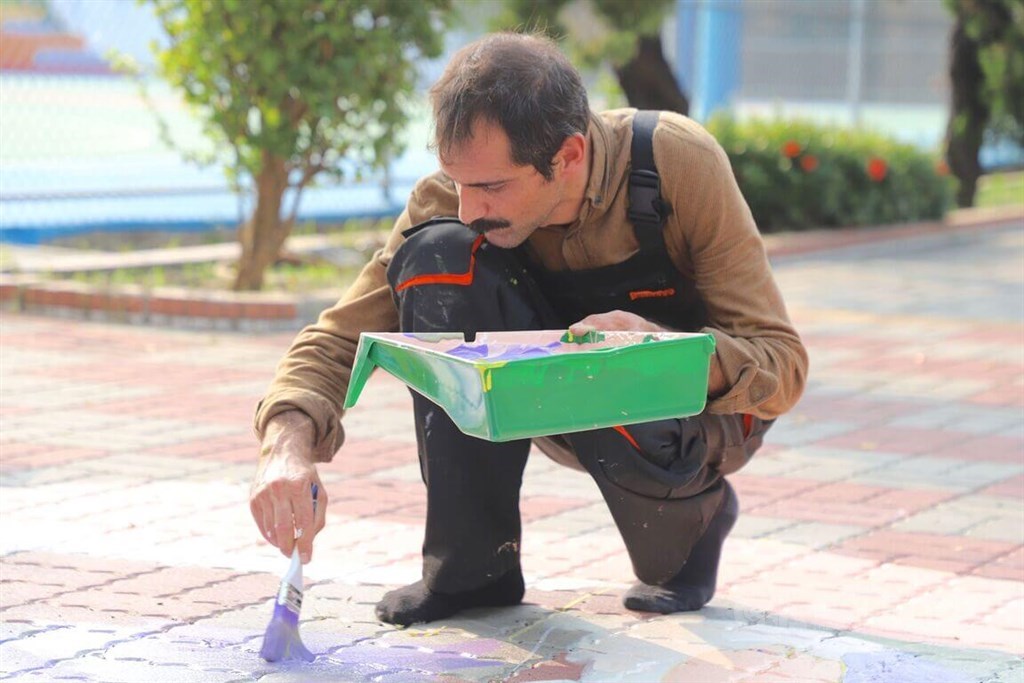 The large scale optical illusion project in the Pingtung school was Kucuk's fourth mission to Taiwan, following similar volunteer work in schools located in Taitung, Chiayi and Alishan to create visual spectacles for children residing in rural areas.
When asked why he travels the globe as a volunteer artist, Kucuk answered that he simply believes art makes the world better.
Taiwan is not the only country Kucuk dedicates his volunteer work to.
Kucuk told CNA that besides Taiwan, he had done volunteer artistic installations internationally in over 20 schools around the world, in countries such as Belarus, Ukraine, Russia, Kazakhstan, Kyrgyzstan, Georgia, Spain, Portugal, France, Norway, Japan and South Korea.
Kucuk also added that he had traveled to over 200 rural schools in Turkey for the same mission.
In his hometown Turkey, Kucuk also founded The Cartoon Mill to teach animation in the cities of Kas and Cappadocia as his domestic volunteer mission.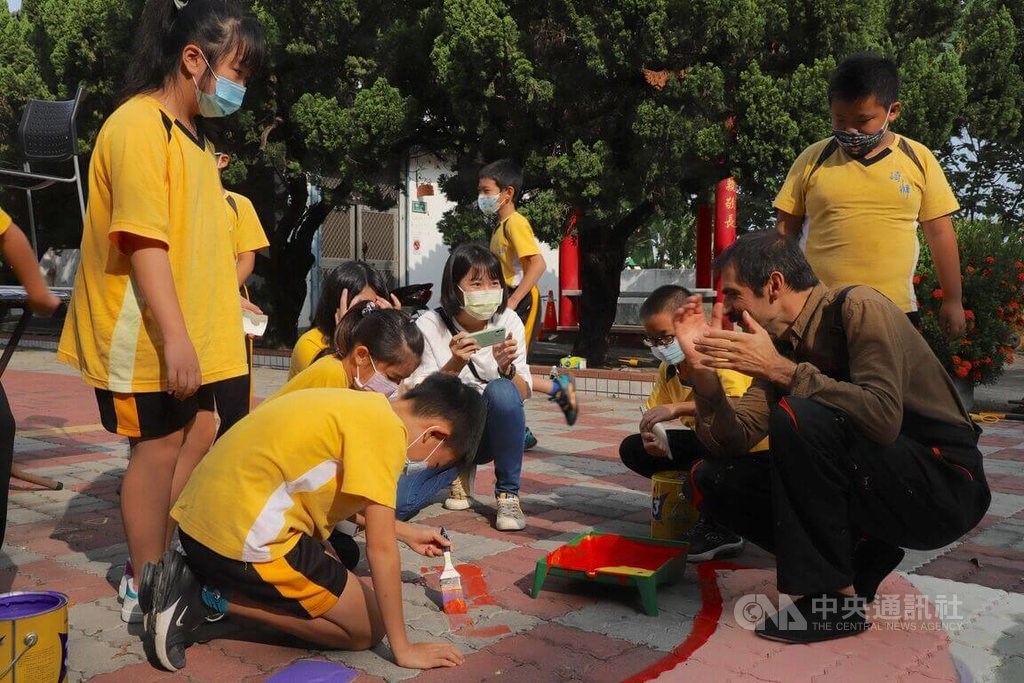 For two days on his current trip, Kucuk's Turkish complexion, his accented greetings in Mandarin and his art drew the attention of the 80 students currently enrolled in the Pingtung school.
The students would use their recess to check on the artist's progress, all the while asking him questions such as why the painted girl had red hair instead of black.
Kucuk was also not shy about interacting with the children. He would pass his paintbrush to students like Lin so that they could participate in the completion of the art installation.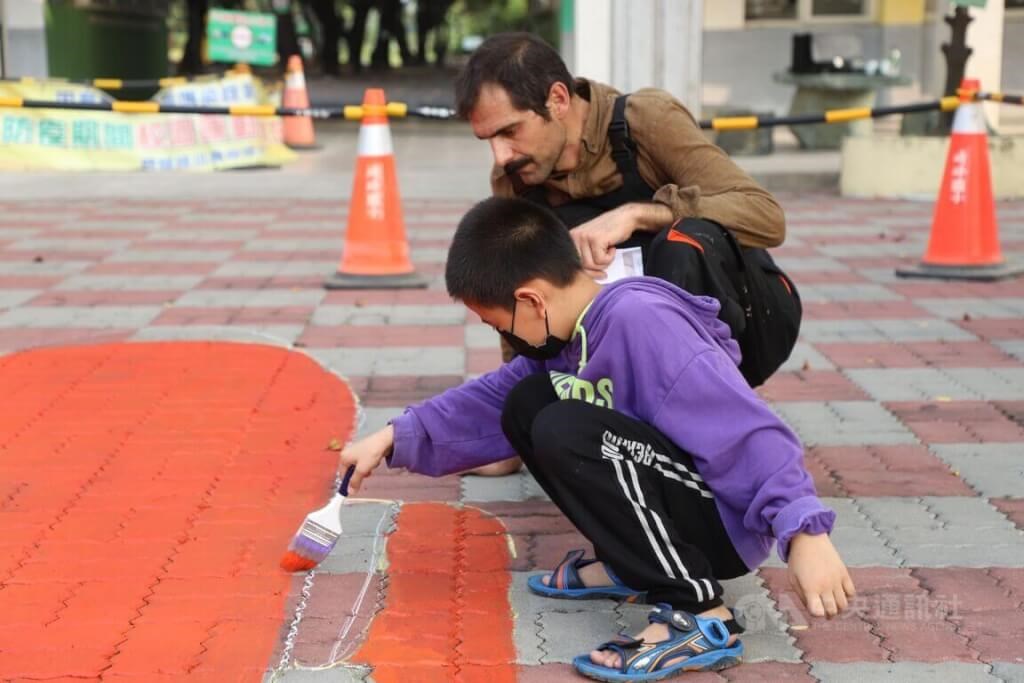 "The students all seem to be very excited today," Kucuk said, enjoying their company as he worked.
As for what he wished the students would take away from the painting, he said: "I hope that they never lose the same sense of happiness and excitement. ... No matter what they choose to pursue as their career in the future, I hope they will always be able to convey honesty, kindness and beauty to those around them."
The elementary school's principal Kuo Hsi-te (郭希得) said that while the school's 65-year-old building will be demolished and rebuilt next year, Kucuk's work will be preserved so that it will stay with the school and its students for a long time.
Kuo added that in the future, the school might recreate the artwork as a wall mosaic on the school's new building.
Kucuk is also in Taiwan as a recipient of the island's Chou Ta-KuanCultural & Educational Foundation's 25th Fervent Global Love of Lives Award.
As one the winners of the award, Kucuk will be joining other recipients in traveling around Taiwan in early December for charity-related activities.