National Day fireworks display to be held in Chiayi County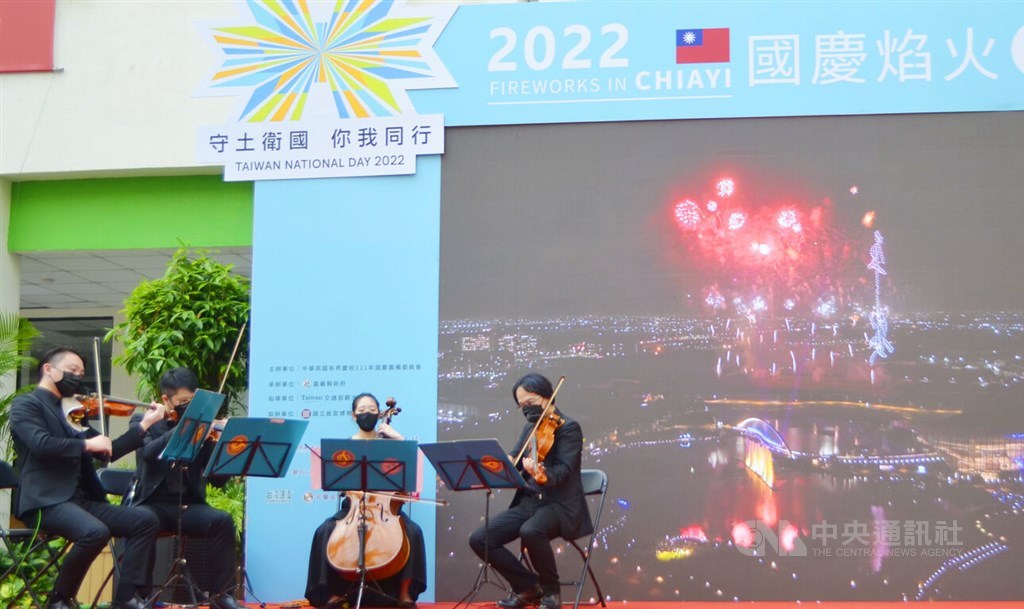 Taipei, Oct. 3 (CNA) The 2022 National Day fireworks display will be held at the Southern Branch of the National Palace Museum in Chiayi County on Oct. 10, with Legislative Speaker You Si-kun (游錫堃) inviting the public to jointly view the dazzling cross-over performance.
In addition to the 25,000 fireworks to be set off, a 360-degree water dance featuring a light sculpture projection together with a sound and light show will be staged during the 45-minute performance, the county's Tourism Bureau Director-General Hsu Yo-jen (許有仁) told a press conference.
The audience will also be entertained by drone acrobatics with musical accompaniment from Taipei Sinfonietta & Philharmonic Orchestra, Hsu said.
The orchestra will play pieces ranging from traditional Taiwanese folk songs to the music of popular local singers and bands, like Wubai and China Blue, Hsu said, alongside You, Deputy Minister of the Interior Chen Tsung-yen (陳宗彥) and Chiayi Magistrate Weng Chang-liang (翁章梁).
Speaking to reporters after the news event, You, who serves as head of the committee responsible for National Day celebrations, urged members of the public to come for the fireworks show, which will also allow them to relish the county's rich cultural heritage and beautiful landscapes, including Yushan, also known as Jade Mountain, the highest mountain in Taiwan.
Noting that the theme of this year's National Day fireworks display centers around "defending our land together," he said that "as long as Taiwan's 23 million people stand united, China will not be able to attack us."
Beginning at 2 p.m. Oct. 10, a bazaar will open in the vicinity of the museum's southern branch, selling Chiayi-made products and local fine food at more than 400 stands, while 12,000 free parking spaces will be made available nearby, the county government said.
Senior officials from Taiwan's government will also attend the fireworks display.