Ang Lee receives Presidential Culture Award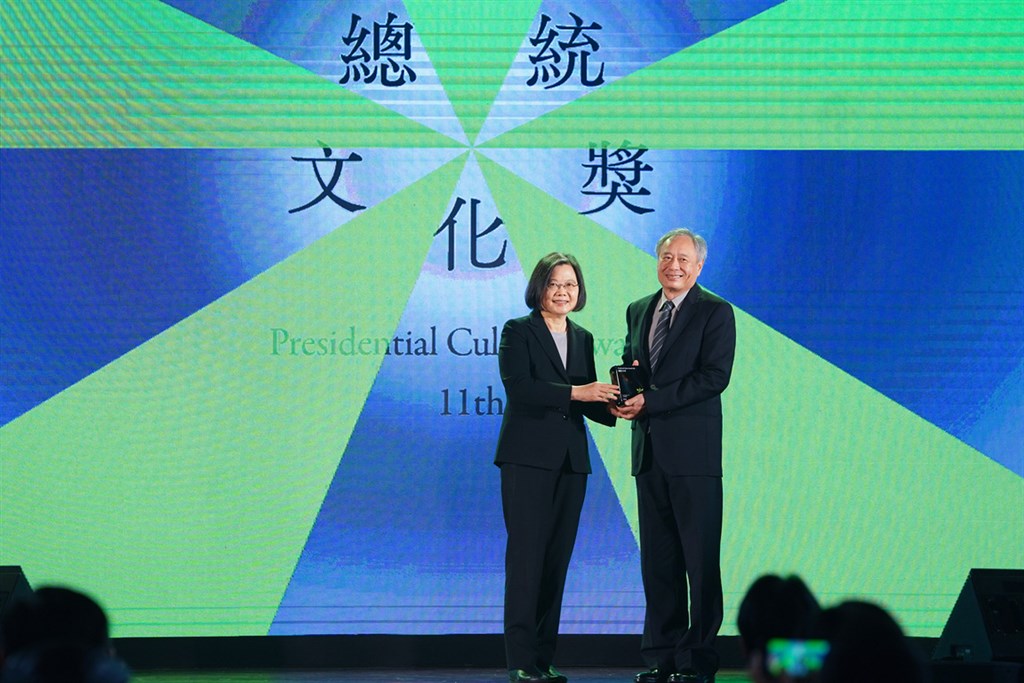 Taipei, Nov. 30 (CNA) Taiwanese-American film director Ang Lee (李安) received the Presidential Culture Award from President Tsai Ing-wen (蔡英文) in Taipei Tuesday, saying he is proud to be a product of Taiwan's culture.
Lee received the honor in the arts and culture category. He is the only Mandarin-speaking director to have won honors at the top international film awards -- the Academy Awards, British Academy Film Awards, and Golden Globe Awards.
Thanking the awards organizer, the General Association of Chinese Culture, for the honor, Lee said culture is a collection of life memories and faith jointly nourished by a group of people with love and tolerance, that lives on from generation to generation.
Taking himself as example, Lee said he was born in Pingtung and spent a wonderful childhood in Hualien. "I myself have been nourished by local culture and grew up on this land."
Tainan in southern Taiwan also played a major role in his upbringing, Lee said.
"I have my household registration in Tainan since the age of 10," Lee said while looking at Vice President Lai Ching-te (賴清德), a former mayor of Tainan who was in the audience.
"The vice president always sends flowers and cakes to my mom on her birthday every year," he said. "It is the act of a typical Tainan native, and I'm proud that I grew up there."
Looking back on his youth, Lee recalled that "studying in Taipei broadened my vision, which allowed me to experience a diverse and open environment."
"I grew up and received education in an open Taiwanese society," he said, adding that after finishing higher education, he was posted to Kaohsiung for his military service and then went to the United States, where he started to shoot a wide range of films.
"I myself am a typical mixture of diverse cultures," Lee said.
"But deep in my heart, I know my roots are what Taiwan has made me and the characters that I have built here every morning when I wake up or every time when I'm striving to make a film of a different cultural background," he said.
"I'm proud to be a product of Taiwan's culture, and I'll continue to do my best to make it stronger, more resilient, multifaceted and free," he said.
The biennial Presidential Culture Awards were introduced in 2001 and select candidates in five categories -- arts and culture, community building, humanitarian dedication, creativity and innovation, and public advocacy. They are presented to individuals and groups for their contributions to Taiwan's culture.
Each prize winner also receives NT$1 million (US$35,750)