Restoration of historic embroidered flag nears completion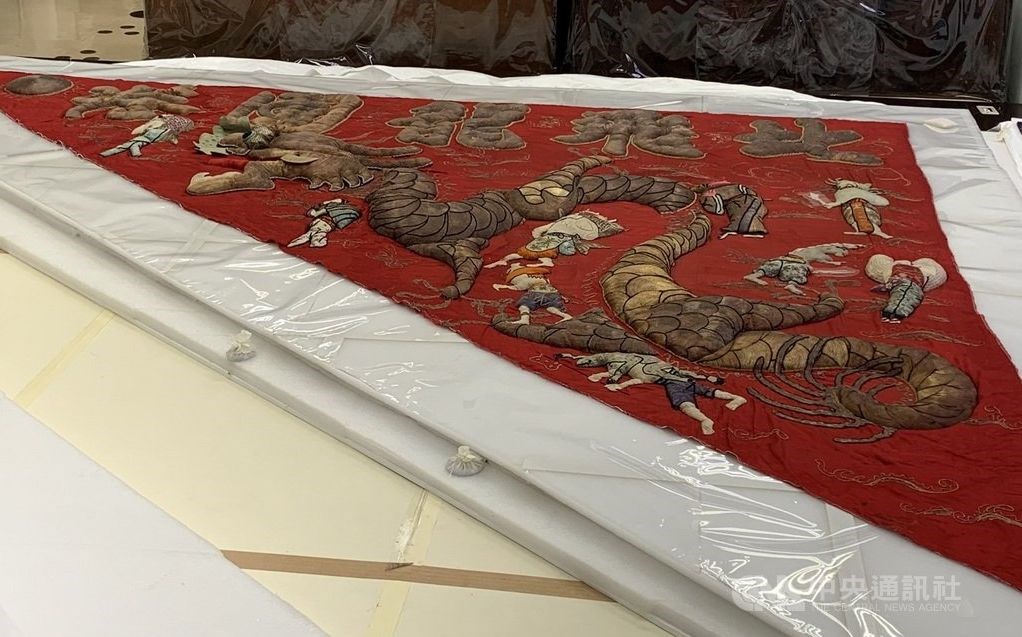 Tainan, Jan. 6 (CNA) The restoration of a large dragon flag, used by a dragon and lion dance troupe in Yunlin County since the 1930s, is expected to be completed by the end of this year, the Institute of Cultural Heritage Research Preservation in Tainan said Wednesday.
The institute said it began restoring the Beigang Flying Dragon Troupe's historic triangular flag, which measures 5.35 meters by 4.54 meters by 6.73 meters, in 2014 and hopes the project will serve as a model for the future restoration of embroidery work.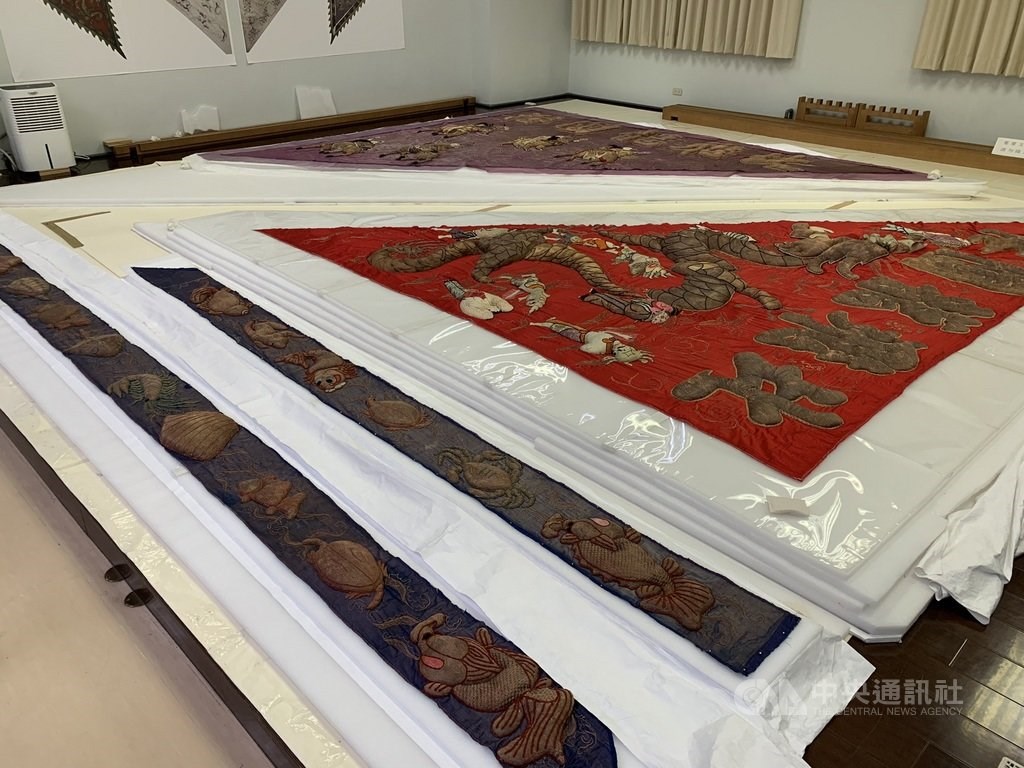 The flag, which has been divided into eight individual pieces for restoration purposes, was displayed at the institute on Wednesday for members of the press who were invited for a rare viewing in one of its restoration rooms, which are usually closed to the public.
To restore the flag, which was dubbed as the largest flag by a local newspaper in Taiwan when it was completed in 1930, more than 30 experts from home and abroad were drafted in, using 26 of 30 officially preserved traditional embroidery skills, the institute said.
In addition to the dragon at the center, the flag is also decorated with an array of figures and aquatic creatures, such as frogs, crabs, carp, eels and clams, as well as the name of the troupe.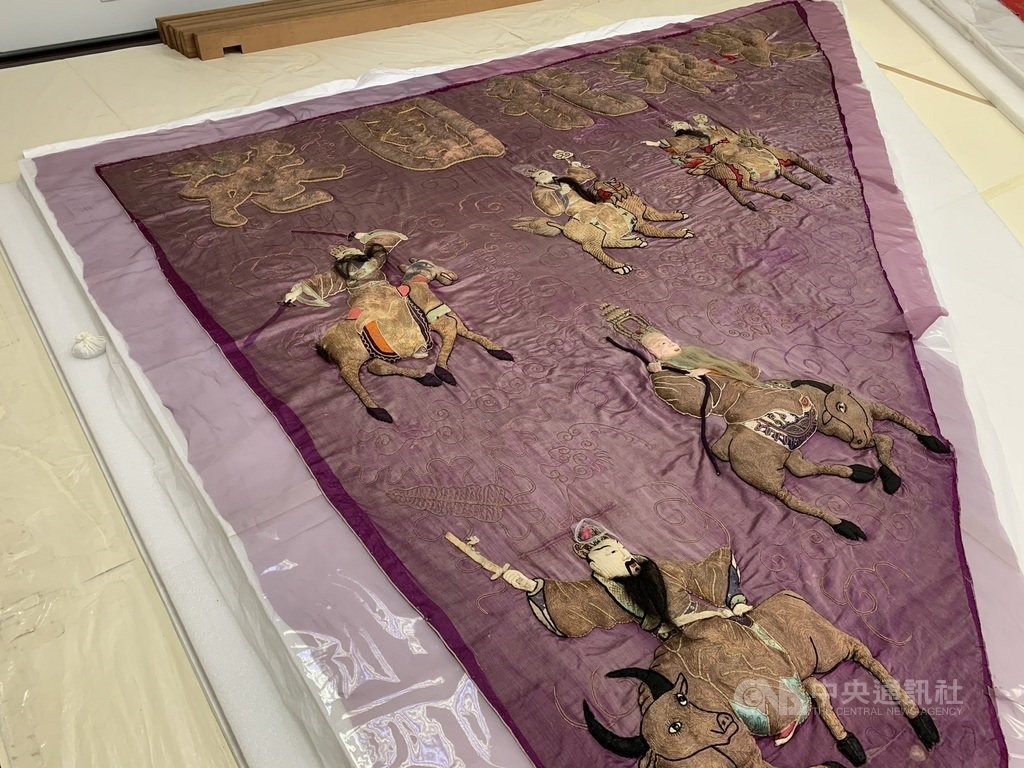 The press event included a display of old photos of the flag being used at religious events. One of them is a black and white photo taken in the 1950s, which Wu Teng-hsing (吳登興), a member of the troupe, said was the last time it was used publicly, at a ceremony to welcome the sea goddess Matsu in Beigang.
According to Wu, the troupe commissioned the making of the flag in 1926 and it took four embroiderers to finish the project.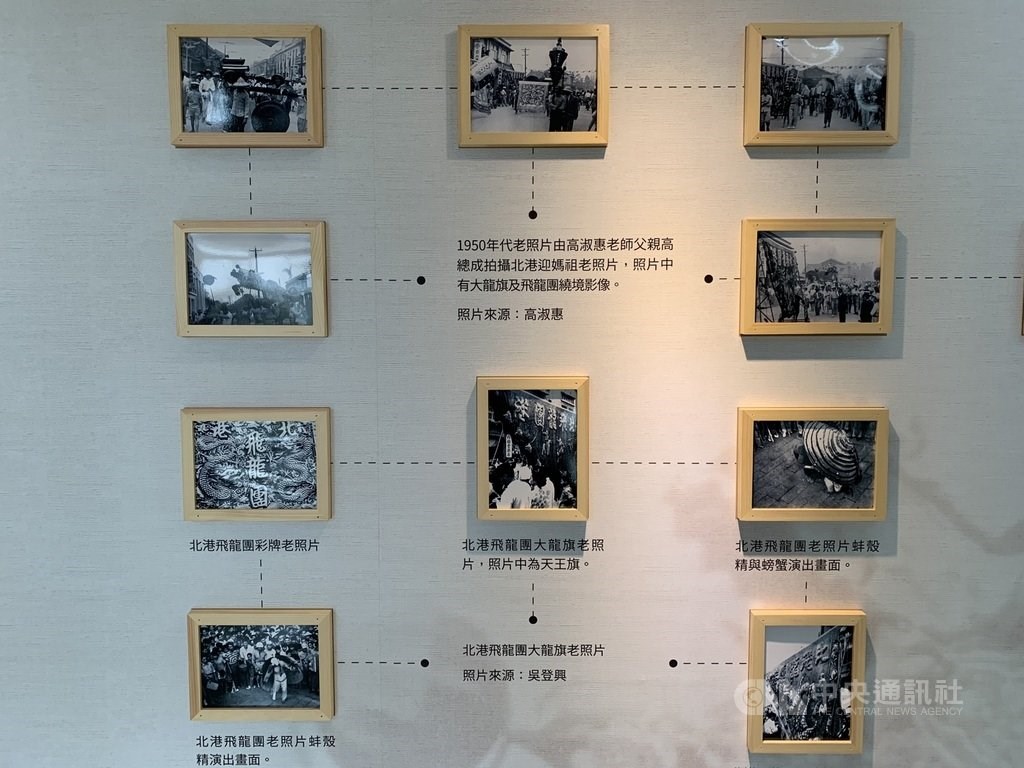 The flag was embroidered with gold thread and the rising price of gold after the project started bankrupt three businesses that took on the job, he said.
Once the restoration work is completed, Wu said the troupe plans to display the flag at the Beigang Cultural Center so it can be viewed by members of the public.