Magazine publisher snags top Golden Tripod Awards in Taiwan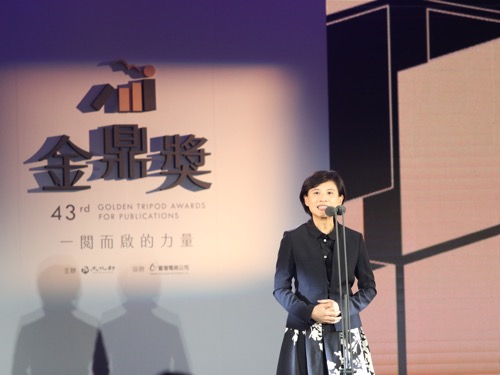 Taipei, Sept. 12 (CNA) The General Association of Chinese Culture scooped up three major prizes at the Golden Tripod Awards for Publications in Taiwan on Thursday, including the award for the best literary and arts magazine in the country.
The magazine Fountain, which is published every two months, was also judged to have the best editor-in-chief and best designer.
At the awards ceremony in Taipei, the judges said Fountain was the best literary and arts magazine because its bold presentations of topics were in touch with the pulse of contemporary society.
Fountain's editor-in-chief Chiang Chia-hua (江家華) won for her success in breaking though the normal editorial framework, the judges said.
In her acceptance speech, Chiang spoke of the importance of freedom and democracy to fostering a creative environment.
"Because we live in a free and democratic country, we can create freely," she said. "I wish to send a message of support to our friends in Hong Kong, the last remaining line of defense in protecting freedom there."
The publication also won the best magazine designer award, with the judges lauding Hung Chang-lien (洪彰聯) for his ability to capture the attention of young people in innovative ways.
Meanwhile, Cite Publishing Ltd won the best digital innovation prize for an app that allows users to find pictures, information, and the locations of different types of frogs across Taiwan.
The company also took the best digital content award for an online publication that monitors how city councilors spend government funds in their communities.
The special contribution award went to children's book author, translator, and researcher Hsing Chia-hui (幸佳慧), who was praised by the judges for tackling topics such as cultural diversity, gender equality, and children's rights.
In a pre-recorded acceptance speech, Hsing said there are still many issues that society needs to pay attention to and that she always seeks to address such challenges in her work.
More than 1,229 entries were submitted to the Golden Tripod Awards for Publications, which are now in their 43rd year.
The award was founded in 1976, with the aim of promoting reading, improving the quality of publications in Taiwan, and recognizing outstanding Taiwanese publications and excellent publishers, according to its sponsor, the Ministry of Culture.
Photo courtesy of the Ministry of Culture
Photo courtesy of the Ministry of Culture