Taiwanese artist showcases mural at graffiti festival in California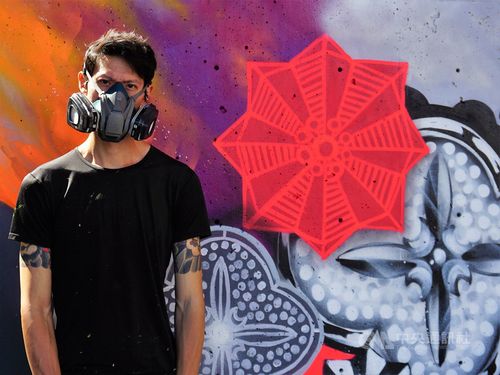 Long Beach, California, July 25 (CNA) A mural featuring quintessential Taiwanese elements has been showcased for the first time at "POW! WOW! Long Beach," an international mural festival running this week in California.
"People from Taiwan who come to see my work at the event will hopefully come to recognize it and feel very nostalgic," said the Taiwanese graffiti artist who goes by the tag-name DEBE.
The patterns on his mural, he explained, are reminiscent of the window panes of his childhood house.
It is something that is uniquely Taiwanese, he said.
Artists from around the world have gathered for the annual event that runs July 21-28. DEBE is making his first appearance at the festival, thanks to the support of the Ministry of Culture (MOC) and the Taiwan Academy in Los Angeles, which have collaborated with the event organizer this year to bring the Taiwanese graffiti artist to showcase his talent.
DEBE's creation is being showcased on the wall of the Long Beach Convention Center car park.
"The meaning of street art is that people can temporarily move away from reality," DEBE said.
The artist admitted that he used to be an "angry youth," and first started out doing graffiti illegally as a form of expression against society.
But today, DEBE said, he has turned his life around and now uses his art to exert influence and "connect with society."
DEBE regularly travels around Taiwan and abroad to create his work, which he exhibits, while also being paid to paint for businesses and brands, including Adidas, Facebook Taiwan, Swatch and Samsung Galaxy Taipei.
Julia Huang, president and CEO of InterTrend, who organized the annual event, said art and culture are highly influential and a powerful tool for building identities for cities and regions.
"As we celebrate the economic growth in Long Beach through various developments throughout the city, continuous support for POW! WOW! demonstrates that the city of Long Beach understands the importance of culture and how its enhances the landscape and value of a city in a different way," she said.
POW! WOW! is a well-known international arts organization that started in 2010 in Hawaii. It features hundreds of artists worldwide presenting cultural events such as mural painting, arts and music.