'Listening day' events held to reconnect people with the environment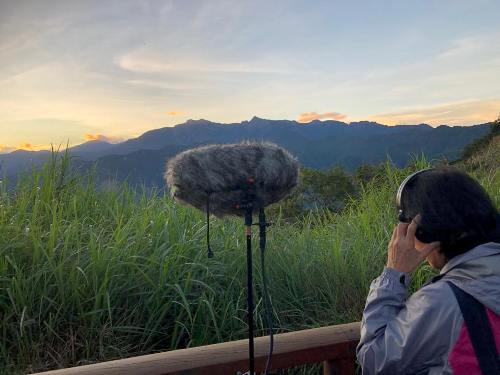 Taipei, July 20 (CNA) A series of events coinciding with the World Listening Project (WLP) on July 18 are taking place across Taiwan for the first time, to promote greater human-environment connection, organizers said.
Founded in 2008, the WLP is a not-for-profit organization devoted to better understanding the world and its natural environment, societies and cultures through the practices of listening and making field recordings.
Although "Taiwan Listening Day" was celebrated on July 17, a dozen events are being held from July 13 to Aug. 24 to encourage people to connect with the environment by listening, according to the Soundscape Association of Taiwan.
"The series of events is a good practice for us because we can learn from listening how to calm ourselves down and how to be humble," association chairwoman Fan Chin-hui (范欽慧) told CNA earlier this week.
(photo courtesy of Soundscape Association of Taiwan )
The events--in Taipei, Taichung and Kaohsiung cities--are dubbed "From Zhongshan to Shanzhong," Fan said.
While Zhongshan is a symbol of urban environment because many cities in Taiwan have streets, schools or facilities named Zhongshan (it is one of the Chinese names of Sun Yat-sen, the late founder of the Republic of China), Shanzhong literally means "in the mountains" in mandarin, Fan explained.
It is hoped that the campaign will encourage people to start listening to sounds in their cities and then walk in the mountains to connect with nature, she said.
For example, a Kaohsiung event on July 27, invites people to the National Sun Yat-sen University Entrepreneurship and Innovation Center, located in a military dependents' village on Cijin Island, with shipyards nearby.
The mixture of sounds from the ocean, industrial activities, as well as local residents chatting, combine to create an interesting soundscape, said Lin Kun-hai (林昆海), director-general of the Kaohsiung Wild Bird Society.
"These sounds give us a sense of the ever-changing nature of Taiwanese society, and how human activities are deeply connected to the sea," said Lin, who is working with the association to organize events in Kaohsiung.
On Aug. 17, Lin will take another group of people to Monkey Mountain -- home to 137 bird species and numerous species of mammals, reptiles and insects -- to immerse themselves in nature.
In addition to the events, Fan encourages members of the public across Taiwan to make field recordings and submit the sounds they think are most interesting to the association.
Contributors will also be asked to describe the sound -- including when and where it was recorded -- so that a "sound map" can be created to document Taiwan in a unique way, she said.
For more information about the project, go to https://www.soundscape.org.tw/2019-listening-day/