Danish photographer's time lapse video showcases Taiwan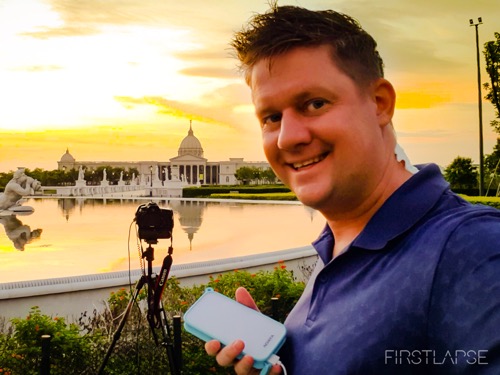 Taipei, July 6 (CNA) A time lapse video intended to showcase Taiwan's beauty and culture was released Thursday by a Danish photographer who calls Taiwan his second home.
Video source: Firstlapse
Henrik Matzen, a 44-year-old photographer from Silkeborg, Denmark, said Saturday that the recently released "A taste of Taiwan II," shot by him and Jonas Høholt, co-founder of his company Firstlapse, is a sequel to "A taste of Taiwan I," a time lapse video of Taiwan released in May 2018.
Taiwan is his second home because he has been spending on average three to five months in the country annually for the last 10 years, Matzen said.
Henrik Matzen / Photo courtesy of Firstlapse
The new video, which features numerous destinations across Taiwan, including the ceramic-producing town of Yingge, the Grand Hotel Kaohsiung, Qingjing Farm in Nantou and Taipei's Ximending, are shown in a dramatic time lapse sequence of sun rises, sun sets, iconic buildings, natural scenery and people, accompanied by an original music score.
Each location took about two to five hours to shoot, Matzen said, adding that they took 300 to 1,000 photos at each location.
Henrik Matzen and Jonas Høholt / Photo courtesy of Firstlapse
One of the hardest shoots in the video was the one at the pedestrian shopping area of Ximending, which was shot by Høholt and involved a model dressed in a traditional qipao dress that stood out amongst modern buildings in order to show the contrast of time.
Citing Taiwan's beauty, Matzen said that the country should be seen by people around the world and that Taiwanese can be proud of it.
Henrik Matzen and Jonas Høholt / Photo courtesy of Firstlapse
"We want them to have this special feeling when they watch it. Especially Taiwanese, we want them to feel proud of their country because of its beauty and culture," he said.
Although the video is only around two minutes in length, the purpose is to provoke a reaction from the audience, Matzen said.
Jonas Høholt / Photo courtesy of Firstlapse
"If people feel goosebumps, the chills or something special when they watch it, then our goal is actually achieved," he said.
Matzen said he does it because he is in love with the country because of its culture, people and the friends he has met, which he got to taste when he first visited Taiwan in 2005 to attend the internationally renowned computer show Computex.
"It is because I love Taiwan and I want to promote Taiwan that is why we did the first one and now the second one. We hope to show Taiwan to the world," Matzen said.
Henrik Matzen
Another reason why he loves Taiwan is because of its friendly and helpful people, Matzen said.
When he first came to Taiwan, if he looked lost, Taiwanese "would come up to him and ask if he needed any help," he said.
Henrik Matzen
"A taste of Taiwan II" took around one year to make, as he and Høholt took around 100,000 shots to "cherry pick" the final 25,000 that made it into the video, Matzen said.
"It has really been a lot of work. Shooting-wise I personally spent more than four months of my free time, so that means every available free time I had during the four months I would go and shoot photos in Taiwan. I also had Jonas come to Taiwan to shoot for 10 days, shooting every single day and night, with very little sleep," Matzen said.
Photo credit: Jih-Ming Chen
Although the project was partly supported by Taiwan's Tourism Bureau and leading air carrier Eva Air, 80 percent of the costs were funded by himself, Matzen said, adding that it is his "gift to Taiwan."