German director wins new talent prize at Taipei Film Festival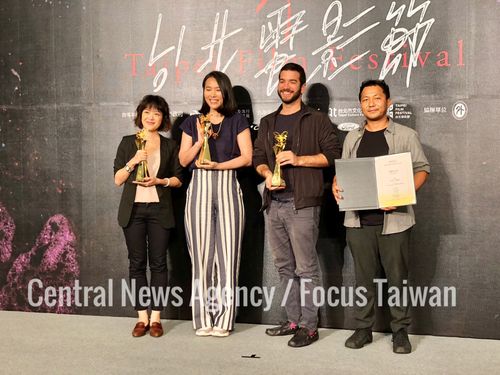 Taipei, July 2 (CNA) German director Nora Fingscheidt won the Grand Prize in the International New Talent Competition of the 2019 Taipei Film Festival Tuesday.
German cinematographer Yunus Roy Imer accepted the award on Fingscheidt's behalf for the film "System Crasher," which explores the darker side of society, more specifically the reality of broken homes.
Yunus Roy Imer
The film centers on a 9-year-old girl from a broken home who has been labeled as a "system crasher" by child protection services, as she gets expelled from everywhere she goes because of her fury against the world.
Judges praised the film for its "clear strategic arrangements of photography, editing, sound and production design." The film, they said, "shows strong authorship and reaches a high level of completion in terms of script, acting and technical."
Yunus Roy Imer
"System Crasher" tells a very persuasive story from a little girl's point of view. With one facet after another, the film delicately portrays the main character and gradually reveals the difficulties facing the mother, the carers and even the entire social welfare structure and educational system," the judges said in a statement.
The win was the film's second at the competition. It also won the Taiwan Film Critics Society Award, one of the five awards given that day.
"As I said, I am only representing our director and team. It's a big honor to be here and (accept) both of these prizes, it's unbelievable, thank you so much, what can I say? Let's go and have a party," Imer said.
Speaking on behalf of Fingscheidt, Imer said her inspiration for the movie was from her experience with meeting people at a shelter for women who had left their homes due to issues such as domestic violence.
"She was making a documentary there (in a women's shelter), where she met a young girl who was there. She was inspired by the reality of it all," Imer said.
She wanted people to be more understanding of people going through rough times and not jump to the conclusion that people going through rough patches must be bad people.
"For me, it's about not trying to point a finger at someone to look for guilt, but to understand how some things don't work out well for some people and you can't blame people for having a hard life," Imer said.
Imer received the award from Taipei Film Festival President Mark Lee (李屏賓) and Jury President Shen Ko-shang (沈可尚) who chaired the panel of five judges.
Taipei Film Festival President Mark Lee (李屏賓, right), Yunus Roy Imer (center) and Jury President Shen Ko-shang (沈可尚, left)
"System Crasher" stood out from among the 12 films that were selected out of 610 to enter the final stage of the competition. The grand prize comes with a cash award of NT$600,000 (US$19,343) and a trophy for its director.
Also Tuesday, the Special Jury Prize and its cash award of NT$300,000 was given to South Korean director Kim Bo-ra's coming-of-age film "House of Hummingbird" about a girl's complex relationship with her family, friends and romantic encounters.
Kim Bo-ra
Kim Bo-ra
"Heavy Craving" by Taiwanese Director Hsieh Pei-ju (謝沛如) nabbed the Audience's Choice Award, while "Manta Ray" by Thai director Phuttiphong Aroonpheng was awarded a Special Mention.
The annual competition, now in its 15th year, honors young filmmakers and new talent from around the world.