Taiwan's NCTU launches master's degree program in Vietnam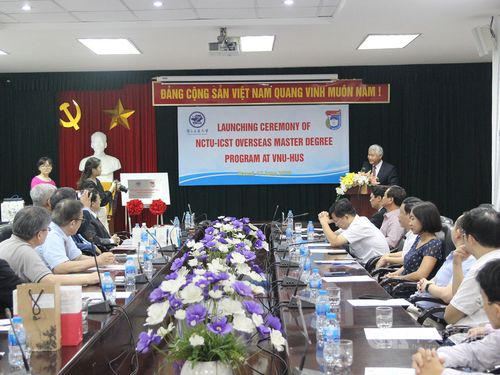 Hanoi, June 17 (CNA) Taiwan's National Chiao Tung University (NCTU) launched an overseas master's degree program in semiconductor technology on Monday, with enrollment set to begin at Vietnam National University's Hanoi University of Science (VNU-HUS) in August.
The overseas program offered by NCTU's International College of Semiconductor Technology (ICST) is the first of its kind offered by a Taiwanese university outside of Taiwan, according to the Hsinchu-based institution.
It is also the only master's degree program in the semiconductor field to be offered by a university in Vietnam.
Speaking at the launch ceremony, NCTU President Chang Mau-chung (張懋中) said the two universities look forward to deepening cooperation on advanced semiconductor research.
HUS President Nguyen Van Noi said the program is also an opportunity for top-notch professors from NCTU to help train new semiconductor talent in Vietnam, and he praised the Taiwanese university for its strong background in semiconductor engineering.
Leu Jih-perng (呂志鵬), professor and associate dean of the ICST, said as long as local students meet their graduation requirements, they will be able to obtain a master's degree from NCTU without having to live and study in Taiwan.
The program will also provide participating students the opportunity to take internships in Taiwan during the summer, Leu said.
Enrollment will begin in August, with classes set to begin in the spring of next year.
According to the ICST's official website, the Master of Science degree can take up to a maximum of four years of study, with 30 credits required for graduation.