Filipino workers in Taiwan 'modern day heroes': veteran rap group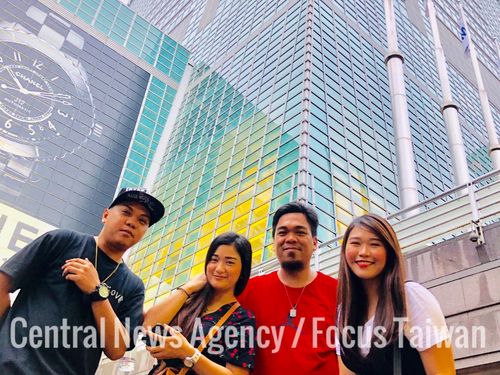 Taipei, June 11 (CNA) A veteran rap group from Manila has praised Filipino migrant workers in Taiwan as heroes because of their hard work and contribution to the Philippines' economy and said they are starting to come into their own as hip hop artists.
A day after their first ever performance in Taiwan on Sunday, members of Repablikan Syndicate thanked the Filipino migrant workers in the country because the money they send back home influences the Philippines' GDP.
Slim (left), Yumi Ortigas (second left) and Flict G (second right)
"They are boosting it up, so they are absolutely our heroes, our modern heroes," Flict G, a rapper in the group told CNA on Monday.
According to Ministry of Labor statistics, there were 153,742 Filipino migrant workers in Taiwan as of the end of April.
Filipino migrant workers in Taiwan remitted US$152.99 million back home from January to March, up US$20.65 million from the same period a year earlier, according to data from the central bank of the Philippines.
For all of 2018, they remitted a total of US$583.84 million back to their home country, the data showed.
Slim (left), Flict G (second right) and Yumi Ortigas (right)
This was not the first time Flict G has professed his admiration for Filipinos toiling abroad. Migrant workers provided the inspiration for a song he co-wrote with other Tagalog rappers Smugglaz, Curse One and Dello called Nakakamiss that described missing a friend or a loved one who has relocated to somewhere far away.
"Like when you are in Taiwan and your family is in the Philippines, of course you will miss them," he said. "Many OFWs miss their families, miss their friends, miss their classmates, and we wrote this song for them."
Flict G
Nakakamiss currently has amassed over 60 million views since it was released on the YouTube channel of Wish 107.5 FM radio station in the Philippines on June 17, 2017, Flict G said.
Flict G commended in particular the spirit and attitude of his Filipino compatriots in Taiwan for their work ethic and dedication to what they love, something he has had the opportunity to witness personally since his arrival in the country on Saturday.
"Filipinos in Taiwan are the most amazing people that I have been with because their dedication to their work is much stronger than ours. If I'm working I get lazy, but you won't see laziness in their eyes, in their figure or in their face," he said.
He also praised the budding group of underground Filipino rappers in Taiwan whom he met through his performance Sunday at Laklakan 4, the latest edition of a Filipino series of hip hop events held in Zhongli.
"They have found themselves in the hip hop community. I am so happy with the Taiwan Filipino hip hop community."
Flict G
Describing Filipino migrant workers who are making hip hop music in Taiwan as "workaholics" who are dedicated to their passion, he said they use much of their free time to work on their music.
"They are very good rappers, an example of fresh hip hop, the new bloods," Flict G said.
Yumi Ortigas, the first lady of the Repablikan Syndicate, said she was happy to see how eager they are to pursue the career they want.
"They have more heart than the local artists we have in the Philippines," she said, even if limited by the geographical challenge of being separated from their home market that makes it harder for their music to reach its target Tagalog audience in the Philippines.
Their effort to make something that will be heard in the Philippines is the reason "why we think they are much more passionate," Ortigas said.
Slim
Repablikan Syndicate was formed in 2003 in Metro Manila and has five other members -- Kakin, Siobal-D, Slim, Lirico and Numerhus.