Kinmen County calender showcases former front line island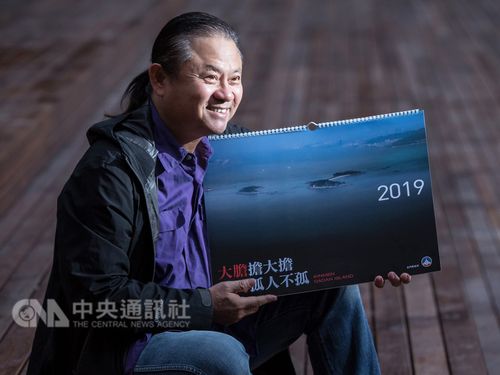 Taipei, Dec. 7 (CNA) A Kinmen County calender for 2019 is full of photos of Dadan Island (大膽島), a Taiwan-controlled island close to the southern coast of China, that the photographer who took the pictures sees as a message we should cherish the freedom and peace we enjoy today.
Sixty-three year-old Tsai Jung-feng (蔡榮豐) served as a soldier on Dadan (meaning "boldness" in English) during the military stand-off between Taiwan and China in the 1970s. He returned to the former battle front in June as a volunteer photographer, helping the local government document the history of the island.
Tsai was one of many veterans who, having been posted to Dadan Island as a young man, answered a call by Kinmen County Government for recruits to help lay the groundwork for the island to be finally opened to tourists in March next year.
(Photo courtesy of Tsai Jung-feng)
While most volunteers are asked to clean and restore former military strongholds that have been deserted for decades, Tsai's main task was shooting video footage and taking photographs.
Over the past few months, Tsai visited Dadan five times at his own expense. Staying there more than 100 days, he took 60,000 photos, which he said are still not enough to tell the full story of the remote island that he and his many former military colleagues called home.
Seen through the camera lens, Dadan remains a mysterious battleground, Tsai said in a recent interview with CNA.
He saw the past and present of the island, once frequently bombarded by China's People Liberation Army and now peaceful, all mixed together in front of him, he said.
Tsai hopes his photos can help heal the wounds of the conflict and remind people to cherish the freedom and peace they enjoy today.
Kinmen County Tourism Department is handing out 3,000 copies of the 2019 Dadan calender, at the tourist center in Kinmen Airport.
Before the calender, a promotional film directed by Tsai, titled "The Westernmost National Border," was shown to visitors in Dadan when the island was opened as a tourist destination on a trial basis from July to October.
Dadan Island, situated approximately 12 km meters to the southwest of Kinmen and 4.4 km from Xiamen in China, is best known as a Cold War era military outpost located on the front line of the Republic of China's efforts to keep the communists at bay.
It was heavily shelled by China during the Aug. 23, 1958 Artillery Battle, also known as the second Taiwan Strait Crisis, with more than 100,000 shells hitting the island.