First beauty and wellness expo for women of color held in Taiwan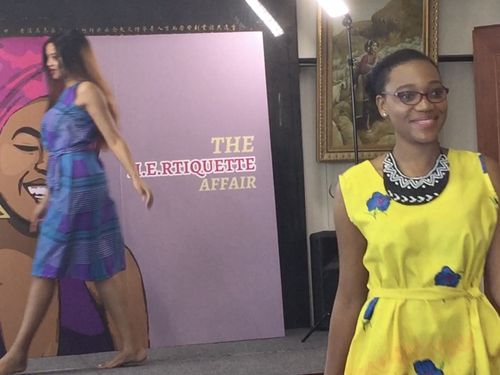 Taipei, Dec. 1 (CNA) An exposition that showcased hair, beauty and wellness experiences for women of color was held in Taipei on Saturday to showcase such resources in a country where they are often hard to find.
The H.E.Rtiqutte Affair, a play on words of "her, hair, and etiquette," was the first of its kind in Taiwan and was organized by international students at Ming Chuan University, where the event was staged.
"We decided to do this because after we have been in Taiwan for a little while, we realize that it's really difficult to source products that we need in our day-to-day lives," said Zee Dlamini, a student of Eswatini and an organizer of the event.
The event featured performances, speeches, a full line of makeup, skincare and haircare products, and a masterclass featuring professionals experienced in working with darker skin tones and textured hair.
South African Mandisa Mditshwa, another of the event's organizers, said many female students from Africa have experienced difficulties in Taiwan in locating beauty products that can compliment their skin tones or are suitable for their hair.
But the purpose of hosting the exposition went beyond that, according to Dlamini and Mditshwa, who both major in journalism and mass communication at the university.
"We do hope that this event can create cross-culture exchanges with Taiwanese people so they can understand a little bit more about us as well," Dlamini said.
The exposition gave the local community an idea of the difficulties women of color in Taiwan can encounter and how it might help alleviate those challenges, Mditshwa said.
Ododo Mosimanyane, a student from Botswana who studies linguistics at National Tsing Hua University, traveled to Taipei from Hsinchu to perform at the event, which she saw as an opportunity for people from Africa to share their talents and skills.
"I am honored to be part of such a prestigious event because there haven't been many events like this one in Taiwan," Mosimanyane said.
Maria Kathlyn Tan, a Filipino business consultant and writer, delivered a talk about the importance of self-worth at the event with the hope of encouraging people of color, minorities, or foreign nationals living in Taiwan to "own their dreams."
"I am hoping to encourage people to not stop just because someone rejects them, but to own their dreams. Nor just dreaming big, but to owning it," Tan said.
Tan gave the participants three pieces of advice on how to own their dreams -- know your values and how to sell them well, don't take anything personally but see it as a suggestion or a learning experience, and "never ever let a 'NO' stop you."
As a minority in Taiwan or in any other country, "it's very important for us to have a very clear value of our worth. If not, we will always feel as though we are always left out and we don't belong," said Tan, who has lived in Taiwan for 13 years.
The event indicates that the organizers have a very clear sense of their self-worth because they managed to overcome many obstacles to organize such a "revolutionary event" in Taiwan, Tan said.