Golden Horse: Ang Lee calls for film industry to be respected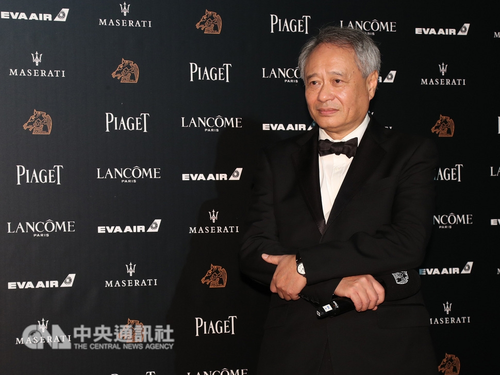 Taipei, Nov. 18 (CNA) Oscar-winning American-based Taiwanese director Ang Lee (李安) on Sunday called for greater respect for the film industry, after several award winners made overtly political comments at the 55th Golden Horse Awards ceremony.
Taiwanese documentary director Fu Yu (傅榆), whose work "Our Youth in Taiwan" won best Documentary Award at Saturday's ceremony, was the first to make a political point with her award-winning speech, in which she expressed the hope that Taiwan can be treated as an "independent entity."
"It is my biggest wish as a Taiwanese," Fu said. Her award-winning documentary addressed the issue of student-led social movements in Taiwan, Hong Kong, and China.
Following the remarks, Chinese director Zhang Yimou (張藝謀) and award-winning actor Tu Men (涂們), also from China, used the terms "Chinese films" and "China Taiwan" in their speeches on stage during the ceremony.
Asked by reporters for his opinion of such political remarks at the Golden Horse Awards, Lee, who chaired the Golden Horse executive committee, said the Golden Horse does its best to be fair and even-handed.
It also welcomes everyone in the Chinese language film industry to celebrate the remarkable works produced over the past year, he said.
"There's freedom in Taiwan, and the film festival is open (to everyone)," Lee said, adding that no one was told what to say at the event. "Everyone in the film industry is our guest."
For people at home and overseas, the Golden Horse Awards are a platform for art and art critics, he said, "we prefer it to remain pure and for there to be no disturbances."
"Please show respect for the film industry," Lee said.
The Golden Horse Awards are considered Taiwan's equivalent of the Oscars, and one of the most prestigious film events in the Chinese-speaking world.