Government offers vision of English as official language in Taiwan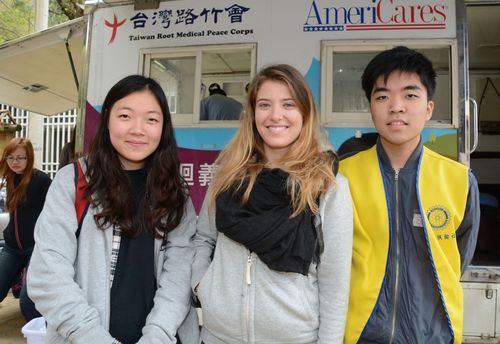 [Editor's note: This is the final part of a five-part series that takes a look at the Taiwan government's proposed plan to introduce English as a second official language in Taiwan. Thank you for your interest. We would appreciate it very much if you can share your thoughts with us on this issue.]
By Christie Chen, Shih Hsiu-chuan, Joseph Yeh and Lee Hsin-Yin, CNA staff reporters
A Taiwanese child grows up learning arts, science and other subjects at school in both Chinese and English. That child becomes immersed in both languages and years later, when attending an international youth summit, he or she can fluently express ideas in English and communicate with peers from around the world.
Meanwhile, taxi drivers, night market vendors and people from all walks of life in Taiwan are able to speak a little English and communicate on a basic level with foreign English speakers visiting the country.
That is the vision promoted by Premier Lai Ching-te (賴清德) and his administration, which is mulling making English Taiwan's second official language.
"As the world changes, there are far more opportunities for people all over the world to communicate than in the past. If young people have a good command of English, they have more opportunities to explore and connect with the world," Education Minister Pan Wen-chung (潘文忠), who is leading a feasibility study on the issue, told CNA in a January interview.
CNA file photo; photo courtesy of Tainan City Office of English as the Second Official Language
CNA file photo
Pan said he envisages a future where Taiwanese children grow up in a multilingual environment like some European countries and are well versed in English as a tool that grants entry to the global arena, while average Taiwanese have much more exposure to English as part of their daily lives.
The government also aims to create a living environment that is friendly to foreign residents and visitors, Pan added.
Crucial to creating such an environment are efforts to standardize the way road and street signs are Romanized, to expand the availability of government information and services in English -- especially on issues concerning English speakers -- and to ensure more businesses and service providers have the English language skills needed to better serve foreigner customers, Pan said.
In order to improve general competency in English and to cultivate a friendly English learning environment, it is important to help people overcome their fear of making mistakes and get more accustomed to using English in their daily lives, he said.
CNA file photo
CNA file photo
Supporters of the policy share a similar vision.
Chen Chao-ming (陳超明), chair professor of English and Creative Industries at Shih Chien University, told CNA that the reason to make English Taiwan's second official language is not for everyone to become perfect English speakers, but for all citizens to be able to speak some English.
"Singaporeans and Hongkongers have accents and make grammatical mistakes too. Not everyone needs to be an English teacher or speak like a native speaker," he said.
However, being able to communicate in English is important for Taiwan people because Taiwan does not have the advantage of a large domestic market like Japan, Chen said.
More and more jobs and projects now require engineers, market planners, project managers and other professionals from various countries to come together and collaborate, he said, adding that "as globalization continues, the problems we face will grow more severe."
Chen advises central and local governments to set up offices to promote bilingual learning, provide English training and teaching materials to businesses free of charge, offer training camps for English teachers, and assist universities in introducing English programs.
The government should also establish a national translation center and assist local governments in establishing bilingual service centers to translate documents and conduct bilingual administrative work, he said.
Chen also called for an English TV station and for popular TV programs to include subtitles in both Chinese and English.
Of course, making English a second official language is an ambitious task and there are difficulties that need to be overcome before the goal can be brought to fruition.
Tainan City, which began adopting English as the city's second official language in 2015, during Premier Lai Ching-te's tenure as Tainan mayor, offers some insight into the challenges that need to be overcome.
One of those challenges is the shortage of Taiwanese teachers able to teach non-English subjects, such as music, arts and physical education, in English.
Currently, Taiwan's universities and teacher training institutions rarely prepare future teachers to teach these subjects in English, making it hard for schools to recruit such teachers, according to the Tainan City Office of English as a Second Official Language.
To partly address the issue, additional English questions will be added to teacher recruitment exams in Tainan beginning in the 2017/2018 academic year, and teachers specializing in music, arts and physical education will gain additional marks on their tests by presenting teaching demonstrations in English, the office said.
(Students learning science in English at the Tainan Municipal Simen Experimental Elementary School, one of several elementary schools that have introduced a variety of classes taught in English, as part of the Tainan initiative)
Other challenges include the lack of manpower and budget to translate government documents into English and the paucity of incentives for Taiwan's small- and medium-sized enterprises to recruit English-speaking employees or improve the English proficiency of their employees.
Despite these challenges, Education Minister Pan remains unwavering in his belief that it is important to create a rich English language environment in Taiwan.
"As everything becomes more integrated, English is a tool for Taiwan to better communicate, interact and connect with the world," he said.
Enditem/AWPart 1:●Taiwan mulling English as an official language, but is it ready?Part 2:●'English proficiency opens up opportunities for young people': PanPart 3:●Tainan blazes trail in making English Taiwan's 2nd official languagePart 4:●Scholars doubtful about proposal to list English as second language
Related news:●English learning in Hong Kong could be model for Taiwan