Families 'balance eggs' to mark Dragon Boat Festival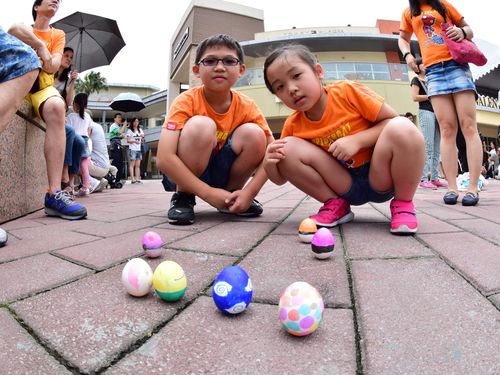 Taipei, May 30 (CNA) Families around Taiwan took part Tuesday in a series of egg balancing events, a traditional Chinese activity, to mark the Dragon Boat Festival.
In Taoyuan City, over 300 families tried to balance eggs at an event outside Gloria Outlets.
Taoyuan Mayor Cheng Wen-tsan (鄭文燦), who attended the event and left his fingerprints on a 170-centimeter tall egg sculpture, said he hoped the activity would bring a year of good luck to his city.
According to folk culture, a person who succeeds in balancing an egg on its end on Dragon Boat festival day will have one full year of good luck.
The festival, celebrated on the fifth day of the fifth month on the lunar calendar, fell on May 30 this year.
In Taipei, an event was held at Dajia Riverside Park, challenging people to "high-altitude egg balancing."
The eggs were dropped to the ground from a height of nine meters and the participants were given a prize if the egg did not crack open.
One of the winners had placed his egg in a lantern and attached it to a parachute, while another had fitted propellers on his egg.
Lo Kuo-wei (羅國偉), a section chief at the Taipei City Department of Sports, said the event was revived after a one-year suspension because many people called for it.
Meanwhile, in Tainan City in southern Taiwan, visitors and residents took part in an egg-balancing activity on Qiaonan Old Street.
Ancient Chinese people believed that before the start of summer when diseases usually became rife, evil could be repelled and good luck ushered in by balancing eggs, according to a Qiaonan Old Street community association.
(By Chiu Chun-ching and Christie Chen) ENDITEM/pc