Former Taiwanese comfort women dies at age of 93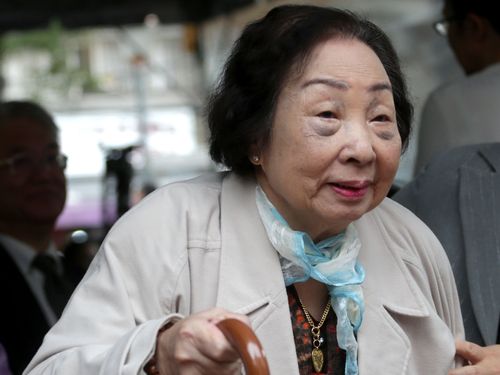 Taipei, April 21 (CNA) Chen Lien-hua (陳蓮花), one of three known surviving former comfort women in Taiwan, died of intestinal infection on Thursday at the age of 93, according to the Taipei Women's Rescue Foundation.
Chen was taken to the hospital in March when she was in pain from intestinal blockage, said the foundation, a group that has been advocating for the rights of the former WWII sex slaves, on Friday.
Doctors diagnosed that her intestines had suffered a tear, increasing the risk of infection. But after undergoing surgery, Chen became very weak and passed away with her family by her side.
Born in Xizhi (now a district in New Taipei City) in 1924, Chen was given up for adoption and had from a young age worked at a local factory.
When she was 19 years old, a Japanese person came to the factory under the guise of recruiting "caregivers" and took more than 20 women, including Chen, by boat to the Philippines.
After arriving in the Philippines she and the other women were forced into "sexual slavery" for Japanese soldiers. But it was too late for them to escape.
After nearly two years in the Philippines, she was one of only two of the more than 20 Taiwanese women who returned to Taiwan alive, according to the foundation.
After returning home, Chen married a Taiwanese man she got to know in the Philippines. The man was then a soldier in the Japanese Imperial Army.
Chen was initially reluctant to let the public know that she had been a comfort women, for fear of being shamed, but later she agreed to help the foundation and others raise awareness about this often overlooked period in history.
She said she was touched by the care and support shown to her by social workers and others working for redress and fighting for justice for the women.
Chen was the much healthier one among the three surviving known Taiwanese former comfort women, and often attended public activities to reveal and criticize the Japanese military's inhumane acts and urge the Japanese government to apologize.
She lived to see the Ama Museum -- dedicated to comfort women -- open in Taipei in December last year. At the opening ceremony, she told those gathered there: "Seeing all of you with so much love in your heart, taking care of Amas (former comfort women), I'm really grateful."
Ama is the word for grandma or elderly woman in the Taiwanese dialect.
But as she had predicted despite holding out hope, Chen was unable to live to see Japan apologize for the Japanese Imperial Army's act of forcing Taiwanese women into sexual slavery during World War II, the foundation said.
She once told international media with tears in her eyes: "We are very old. We may be long gone when Japan is happy enough to make compensation."
The last two known Taiwanese surviving former comfort women are both indigenous people living in Hualien County in eastern Taiwan, the foundation said.
Upon learning of Chen's death, former President Ma Ying-jeou (馬英九) said on his Facebook page Friday that "Ama Lien-hua is gone! We will remember your sincerity and bravery forever."
Ma said he will continue his criticism of Japanese warlords' violence and the Japanese government's lack of common sense and competence because no one should forget or avoid the issue of comfort women, which is about humanity and a matter of principle.
(By Chen Chih-chung, Hsieh Chia-chen and Elizabeth Hsu)ENDITEM/cs