Taiwanese singer Jam Hsiao narrowly escapes fecal attack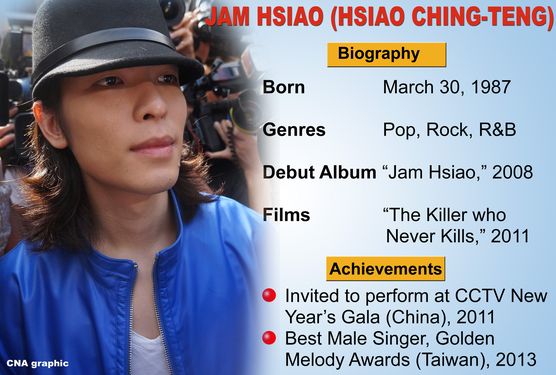 Taipei, Oct. 29 (CNA) Taiwanese Mandopop singer Jam Hsiao narrowly escaped being splashed with urine and feces in Taipei Monday when two scooter-riding suspects poured the excrement into his car after the star entered the vehicle to travel to work.
The two suspects, wearing scooter helmets and masks, reportedly approached the vehicle on their scooters, asked if the car was carrying Hsiao and if they could get autographs from him before attempting to dump their waste on him.
The excrement missed Hsiao, who was in the back seat, but his driver was not so lucky and received the full brunt of the onslaught, along with other colleagues who were travelling with him. The driver also sustained injuries when he attempted to pull the feces-throwers from their scooter.
Neighbors said that the two suspects had been waiting at the location and carrying the excrement with them for two days, Hsiao told reporters outside his home Tuesday.
"It's really terrible. It's really going too far," said the Golden Melody Award-winning singer, who said the attack was "definitely aimed at me."
Hsiao revealed that his colleagues have been receiving threatening calls over the past few months and said he has a suspect in mind. He declined to elaborate, saying only that "there is absolutely no problem" with his work or finances.
A few months ago, Hsiao posted an angry message on Facebook, accusing one of his fans, a wealthy Japanese fan, of harassing him.
The woman has financed some of Hsiao's concerts and reportedly bought a unit in his building to move closer to her idol. The women later held a press conference denying the accusations.
"I hope that the person who paid others to do this will receive the biggest punishment and that those who did it will regret it," said the 26 year-old.
Hsiao's agent said the star has already hired two bodyguards to escort him 24 hours a day.
Hsiao, who is known for his explosive high notes, rose to fame after appearances on a local talent show in 2007.
(By Christie Chen and Hsu Hui)ENDITEM/J