Golden Bell: Vic Chou wins Best Actor award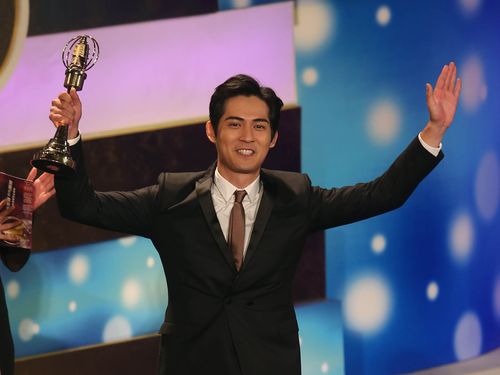 Taipei, Oct. 25 (CNA) Taiwanese actor Vic Chou won the Golden Bell Award Friday for Best Actor.
Chou nabbed the award for his performance in the TV drama "Home." He played a prisoner of war during World War II, who tried to seek the meaning of life and love.
When he was declared the winner, Chou hugged Long Shao-hua, his major rival, who plays an Alzheimer's disease sufferer in the TV drama "Flavor of Life."
"I want to also thank my agents, who were with me when I was struggling to interpret the role," Chou said.
Chou was nominated for the Golden Bell four years ago for his role in the police drama "Black & White," but lost to Mark Chao, who also played an officer in the drama.
Besides starring in numerous Taiwanese dramas, Chou is a member of the Taiwanese boy band F4, which enjoys a huge fan base across Asia.
It was the fourth time, and the third year in a row, for Long to vie for the Golden Bell's best leading actor title.
The Golden Bell Awards, Taiwan's equivalent of the Emmys, recognizes outstanding TV productions.
They are one of the three major annual awards presented in Taiwan, along with the Golden Melody Awards for music and the Golden Horse Awards for movies and films.
(By Lee Hsin-Yin)ENDITEM/cs