Taiwan's ex-premier calls for ECFA to be strengthened at Nanjing summit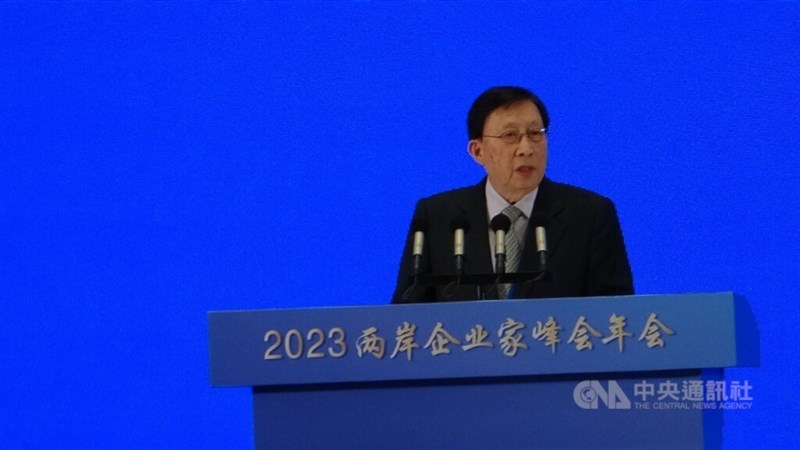 Nanjing, China, Nov. 14 (CNA) Former Premier Liu Chao-shiuan (劉兆玄) called for the Economic Cooperation Framework Agreement (ECFA) to be strengthened, during the 2023 Cross-Strait CEO Summit (CSCS) in Nanjing, China Tuesday.
"We deeply hope that cooperation under the agreement can be consolidated," Liu told the summit, which is being held at the Yangzi River International Conference Center from Nov. 14-15.
Based on the foundation built upon the ECFA, "[we] continue to explore new directions and strategies," Liu added.
Liu, who chairs Taiwan's CSCS group, said the CEO summit, established in 2013, had yielded many tangible results over the past 10 years.
As a cooperation platform for industries between Taiwan and China, the CSCS should assist Taiwanese businesses in China in dealing with difficulties, said Liu, who served as premier from 2008 to 2009 under former President Ma Ying-jeou (馬英九).
Liu listed land acquisition, intellectual property infringement, product certification, and local protectionism as challenges Taiwanese companies are being faced with in China.
He also cited some Taiwanese businesses' complaints that although in China's policy, Taiwanese companies are considered as "domestic enterprises," they are still treated as foreign entities, expressing hope that the problem can be fixed.
While the ECFA has benefited Taiwanese businesses enormously and bolstered their willingness to invest in China since it was first implemented in September 2010, Liu said he hopes the deal can be consolidated.
He noted that the cross-strait agreement has been a cornerstone that promotes the stable development of trade and economic relations between the two sides of the Taiwan Strait.
Liu further praised the CSCS for its achievements in deepening cross-strait industrial exchanges and cooperation over the past decade and for its contribution to peace and stability across the Taiwan Strait.
Speaking on the same occasion, Kao Koong-lian (高孔廉), a former Taipei-based Straits Exchange Foundation vice chairman who now serves as head of the Straits Economic and Cultural Interchange Association, described the ECFA as a pivotal element in cross-strait relations.
According to Kao, expert estimates suggest Taiwan's exports could decrease by 5 percent and its economy shrink by 0.4 percentage points annually without the ECFA.