ELECTION 2024
/
Terry Gou floats cross-strait peace strategy amid rumored presidential run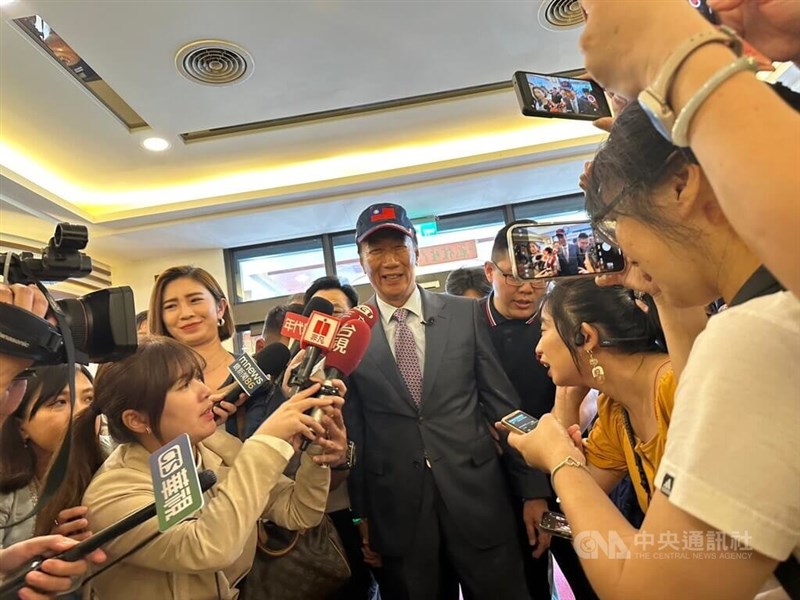 Taipei, Aug. 22 (CNA) Hon Hai Precision Industry Co. founder Terry Gou (郭台銘) on Tuesday announced plans to provide at least US$20 million in funding for initiatives to promote peace across the Taiwan Strait, amid continued speculation he will launch an independent bid for Taiwan's presidency.
One of the plans will seek to establish the outlying Kinmen County -- which lies just 2 kilometers from the coast of China at its closest point -- as a venue for regular cross-strait dialogues, Gou said during a visit to Kinmen.
In addition, Gou said that he will create a think tank and a new media platform to collect and disseminate messages from around the world conducive to cross-strait peace efforts.
Gou also said he will facilitate dialogue between academic research institutions and think tank experts on both sides of the strait, while also fostering relations and dialogue with peace organizations globally through scholarships and lectures.
Gou arrived in Kinmen on Tuesday for a two-day trip to commemorate the 65th anniversary of the 823 artillery bombardment, a prolonged shelling campaign by the Chinese People's Liberation Army against the island in 1958.
During an earlier visit to Kinmen in May, Gou released a "peace declaration" calling for a resumption of talks between Beijing and Taipei based on the so-called "1992 Consensus," under which both sides of the Taiwan Strait acknowledge there is only "one China" but are free to hold different interpretations of what "China" is.
The Hon Hai founder has yet to officially declare if he will run against Vice President Lai Ching-te (賴清德) of the ruling Democratic Progressive Party, as well as New Taipei Mayor Hou Yu-ih (侯友宜) of the Kuomintang and former Taipei Mayor Ko Wen-je (柯文哲) of the opposition Taiwan People's Party in next year's presidential election, scheduled to take place on Jan. 13, 2024.
View All