Ma concludes China trip, reaffirms '1992 consensus'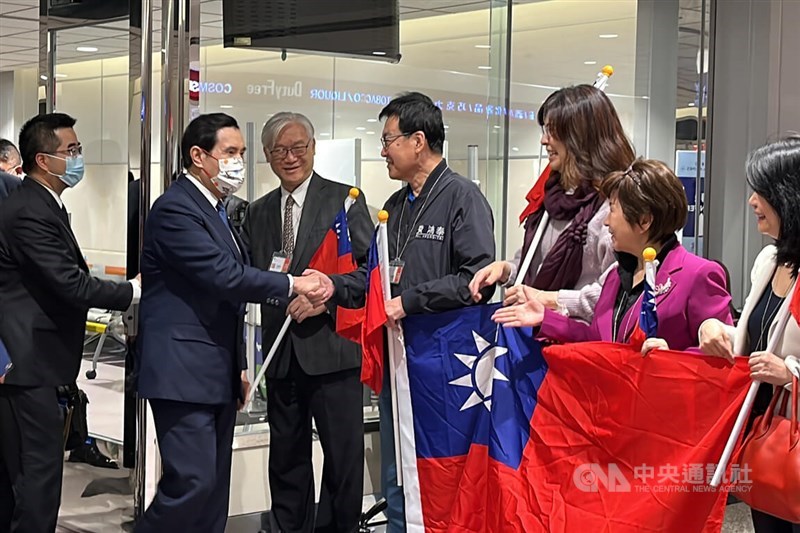 Taipei, April 7 (CNA) Former Republic of China (ROC, Taiwan) President Ma Ying-jeou (馬英九) on Friday wrapped up his 12-day trip to China, reaffirming the importance of the "1992 consensus" after returning to Taiwan.
Speaking at Taoyuan International Airport, where both supporters and protesters were waiting for him, Ma said the "1992 consensus" allowed China and Taiwan to seek common ground on political issues while maintaining their differences, and achieve mutual respect.
Ma said that what inspired him the most during the trip was that "the '1992 consensus' had been brought back to life," citing a media commentary he saw.
Ma said he had proven with action that cross-Taiwan Strait exchanges and dialogue were achievable by sticking to the "1992 consensus," which he said best meets the needs of Taiwanese.
According to Ma's Kuomintang (KMT), the "1992 consensus," reached at a 1992 meeting between the two sides when a KMT administration headed by President Lee Teng-hui (李登輝) was in power, refers to a tacit understanding that both sides recognize there is only "one China," with each having its own interpretation of what China means.
The actual term "1992 consensus" was only coined in 2000, however, by former Mainland Affairs Council head Su Chi (蘇起) before the KMT government handed over power to the Democratic Progressive Party (DPP).
It was later used as the political formula that opened a period of less contentious relations between Taiwan and China when Ma was president from 2008 to 2016.
Taiwan's current ruling DPP does not accept the "1992 consensus," given that it implies that Taiwan is part of China, something the party does not accept.
The Mainland Affairs Council (MAC), Taiwan's top government agency in charge of cross-Taiwan Strait affairs, criticized Ma the previous day for not mentioning the second half of the "1992 consensus," literally "both sides of the Taiwan Strait having its own interpretation of what China means," during his exchanges with Chinese officials.
Instead of upholding what the KMT itself believes, Ma echoed the "one China principle" propounded by Beijing in the "1992 consensus," which was regrettable, the MAC said.
At the airport, Ma was greeted by KMT lawmakers such as Fai Hrong-tai (費鴻泰) and Wan Mei-ling (萬美玲) with flowers and ROC national flags.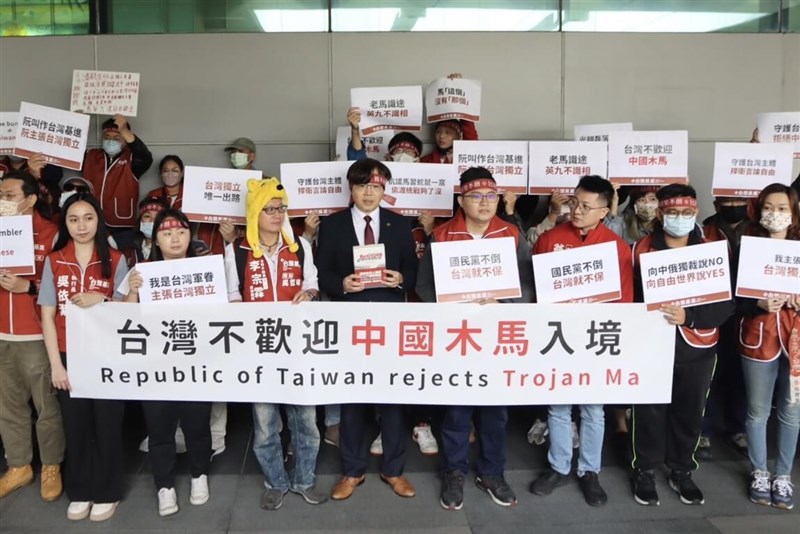 There were also members of the pro-independence Taiwan Statebuilding Party (TSP) holding banners that read "Republic of Taiwan rejects Trojan Ma."
TSP Chairman Wang Hsing-huan (王興煥) criticized Ma, in his capacity as a former president of Taiwan, for saying during the trip that both sides of the Taiwan Strait belong to one China.
Ma started his trip to China on March 27, the first such trip by a former ROC president since 1949, when the ROC government relocated to Taiwan after losing the Chinese Civil War against the communists.
During the visit, he paid his respects to his ancestors in southwestern Hunan province's Xiangtan city and led around 30 Taiwanese students to interact with counterparts from China in a number of cities.
In Changsha in Hunan province, Ma told a group of Chinese students that Taiwan and mainland China are "both China" under an amendment to the Republic of China (ROC) Constitution.
Ma made several mentions of the ROC (Taiwan's official name) during his China visit, but those mentions were censored by China's state-run CCTV.
In addition to Hunan, Ma also went to Nanjing, Wuhan, Chongqing and Shanghai cities, where he met senior Chinese officials.
Among the highest-level Chinese officials Ma met were Chinese Communist Party (CCP) Secretary of Shanghai Chen Jining (陳吉寧) and CCP Secretary of Chongqing Yuan Jiajun (袁家軍).
However, Ma did not meet with China's top Taiwan affairs leader Wang Huning (王滬寧) as had been anticipated.
Wang, a CCP Politburo Standing Committee member, met with KMT Vice Chairman Andrew Hsia (夏立言) and his delegation when they visited China from Feb. 8 to 17.