Ma Ying-jeou Foundation blames Tsai's policy failures for Honduras loss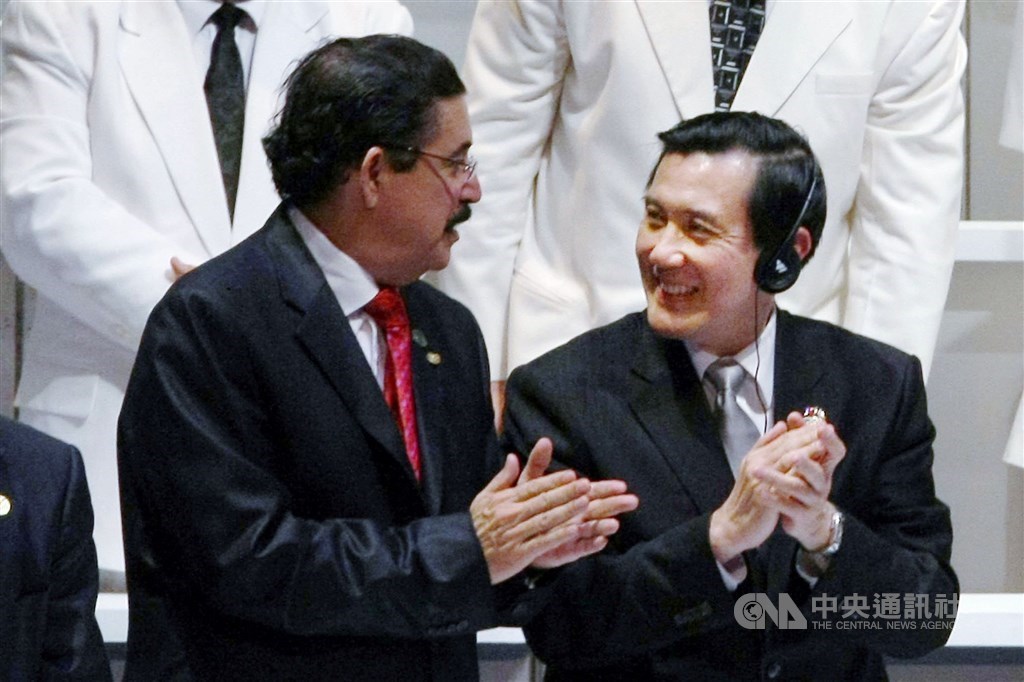 Taipei, March 26 (CNA) President Tsai Ing-wen (蔡英文) should blame her administration's "wrong" policies for Taiwan's loss of diplomatic ties with Honduras, a director with former President Ma Ying-jeou's (馬英九) foundation said Sunday.
Since Tsai took office in May 2016, nine of the 22 countries that recognized the Republic of China (Taiwan's official name) at the time have severed ties with the ROC to recognize the People's Republic of China (PRC).
Those losses have highlighted the need to normalize cross-strait relations, Ma Ying-jeou Foundation Executive Director Hsiao Hsu-tsen (蕭旭岑) said in a statement.
He said it had been left to ordinary Taiwanese to "repair the broken net" of relations with China because the Tsai administration had been unable to do so, and that Ma's planned trip to China from March 27 to April 7 demonstrated the importance of people-to-people exchanges with China.
The opposition Kuomintang (KMT), Ma's party, also took issue with Tsai's policy in the wake of the break in ties with Honduras.
It said that following the mantra of being "close to the United States while maintaining friendly ties with Japan and peace with China" during Ma's time as president from 2008 to 2016 had helped maintain and expand Taiwan's international space.
Tsai's "wrong policies" had led to the loss of allies Sao Tome and Principe in 2016, Panama in 2017, the Dominican Republic, Burkina Faso and El Salvador in 2018, the Solomon Islands in 2019, and Nicaragua in 2021, the KMT said.
While the statements from Hsiao and the KMT did not condemn China for the split in ties, KMT lawmakers Johnny Chiang (江啟臣) and Chen I-hsin (陳以信) did, both lambasting China for continuing to suppress Taiwan by poaching Taiwan's allies.
Chen said China's constant poaching of Taiwan's formal allies ignored the existence of the Republic of China and damaged cross-strait relations, while Chiang urged the government to adjust its diplomatic strategy to avoid isolation.
Hsieh Pei-fen (謝佩芬), the ruling Democratic Progressive Party's (DPP) spokeswoman, criticized KMT members' trips to China and said the KMT should not sacrifice Taiwan's interests and the values of democracy and freedom when conducting exchanges with China.
Noting that Ma's trip is just one of several by high-ranking KMT members to China in recent years, Hsieh said the DPP wanted to remind the opposition party that the Chinese government had never ceased in its attempts to squeeze Taiwan's diplomatic space.
Hsieh said the public did not approve of China's attempts to isolate Taiwan by poaching diplomatic allies.
Beijing's maneuvering did nothing to advance cross-strait relations or win the international community's respect, she said.
Related News
March 26: 'No more dollar diplomacy,' says Tsai as Honduras cuts ties
March 26: Taiwan's FM describes Honduran financial demands as akin to bribery
March 26: Different motives seen behind Beijing's poaching of Honduras
March 26: Taiwan FM suspects timing of Honduran ties cut linked to president's US trip
March 26: U.S. backs engagement with Taiwan, warns of China's empty promises
March 25: Hondurans gather in Taipei to highlight long 'friendship' with Taiwan
March 25: Taiwan has tried its best to aid Honduras: MOFA
March 21: Tsai to depart for tour of Guatemala, Belize on March 29
March 20: Ex-President Ma Ying-jeou to make landmark visit to China