KMT vice chairman's trip to China receives mixed response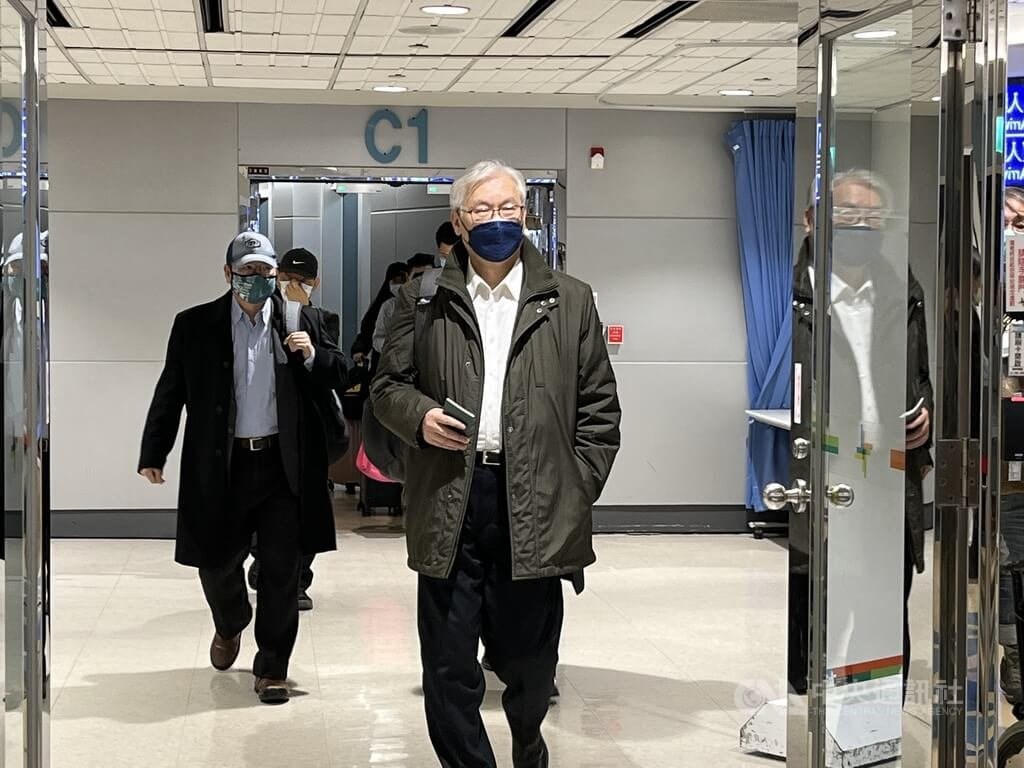 Taipei, Feb. 18 (CNA) A recently concluded visit by Kuomintang (KMT) Vice Chairman Andrew Hsia (夏立言) to China has been met with a mixed reaction in Taiwan, with the KMT touting it as a success and the pan-green camp questioning its timing and legitimacy.
On Friday, the final day of the opposition party delegation's trip, Hsia went to Chengdu to meet with Chinese Communist Party (CCP) Secretary of Sichuan Wang Xiaohui (王曉暉), who expressed gratitude to members of the public in Taiwan for their donations toward relief efforts after the 2008 Sichuan earthquake and other natural disasters that occurred in the province, the KMT said Saturday in a statement.
Hsia said that Taiwan, like Sichuan, was no stranger to the threats of natural disasters and expressed hope for bilateral exchanges to boost preparedness against natural disasters, according to the statement.
He later met with Taiwanese business groups and individuals living in Sichuan, many of whom said they hoped the number of flights and flight routes between Taiwan and Sichuan canceled due to COVID-19 could be fully reinstated, the statement added.
The cancellation of flights and ferry links has hindered post-pandemic economic recovery, sparking grave concern among people on both sides and the KMT will do its best to resume the transportation links to honor its promise to resume healthy cross-strait exchanges, the statement quoted Hsia as saying.
During the trip, Hsia and Chinese authorities reaffirmed past agreements signed between Taipei and Beijing relating to people's livelihoods and the two sides agreed to reduce existing obstacles in cross-strait exchanges, according to the statement.
More importantly, exchanges during Hsia's trip were carried out on the basis of mutual respect, which proves that the KMT's pursuit of peace and stability and eased tensions in the Taiwan Strait has paid off, according to the statement.
Before arriving in Sichuan, Hsia met with CCP Politburo Standing Committee member Wang Huning (王滬寧), Sung Tao (宋濤), the head of Beijing's Taiwan Affairs Office, as well as Beijing Party Secretary Yin Li (尹力).
Meanwhile, speaking with reporters at the Taoyuan International Airport upon his return to Taiwan late Friday evening, Hsai brushed off criticism by the pro-independence Taiwan Statebuilding Party (TSP) that he had "betrayed" Taiwan during the trip.
"They (TSP) don't get to decide whether I betrayed Taiwan or not -- the people of Taiwan do," Hsia said.
All the targets set out by the KMT for the trip were hit, and the relevant Chinese authorities responded positively to the requests of fishers and farmers in Taiwan, he said, in an apparent reference to China's suspension of certain agricultural and seafood imports from Taiwan.
In addition, Hsia said he had also met with and "established communication channels" with officials at the Taiwan Affairs Office sworn in after the CCP's 20th National Congress in October last year.
Separately on Saturday, Democratic Progressive Party Legislator Luo Chih-cheng (羅致政) at a forum in Taipei panned Hsia's visit to China, his second in his capacity of KMT vice chairman, amid rising tensions between Washington and Beijing after U.S. Secretary of State Antony Blinken canceled his trip to China.
Blinken, who had been scheduled to visit China from Feb. 5 to Feb. 6 and meet with Chinese leader Xi Jinping (習近平), canceled his trip at the last minute after the U.S. on Feb. 4 dispatched an F-22 jet to shoot down a Chinese balloon over North America.
Luo said that Hsia's most recent trip to China, like the one before, was poorly timed, and could have given the impression that the KMT was endorsing CCP with regards to the balloon, which Washington has said was used for spying.
Luo also questioned whether the timing for the visit indicated KMT Chairman Eric Chu (朱立倫) would soon announce another presidential bid.
According to Luo, Chu could have chosen to send Hsia to China to establish a communication channel with the CCP and show people he could resume cross-strait dialogue, which ground to a halt after the DPP became the ruling party in 2016.
This would help Chu gain a head start for the KMT's primary for the presidential election in January 2024 if he is planning on running, Luo said.