Peace in Taiwan Strait a hope for people on both sides: President Tsai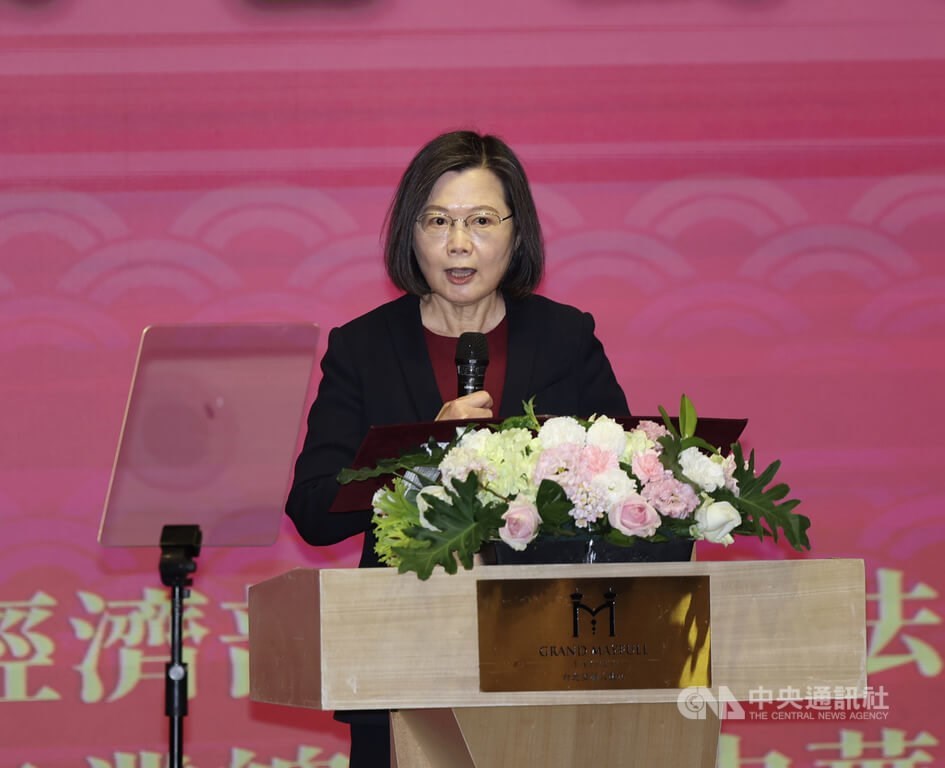 Taipei, Feb. 2 (CNA) Maintaining peace and stability across the Taiwan Strait is the hope of the people of Taiwan and China, President Tsai Ing-wen (蔡英文) told Taiwan's business community at a "New Year" event held in Taipei on Thursday.
The maintenance of cross-strait peace and stability is "the shared responsibility" of both Taiwan and China and "a common hope for all our people," Tsai said.
She reiterated her administration's willingness to engage in dialogue with Beijing if both sides are "rational," "equal" and "respectful" of each other.
"We have left the door open for communications [with Beijing]," Tsai told approximately 300 business representatives at the event.
Official contact between Taipei and Beijing was reportedly cut by the latter after Tsai of the independence-leaning Democratic Progressive Party took power in 2016.
Thursday's event, hosted by the Straits Exchange Foundation (SEF), which mainly provides services to Taiwanese businesses with operations in China, was held for the first time following a three-year hiatus.
It also came just two days after a new Cabinet led by Premier Chen Chien-jen (陳建仁) was sworn in, although the new SEF leadership will not take office until the foundation convenes a board meeting at a later time.
Meanwhile, Chiu Tai-san (邱太三), minister of the Mainland Affairs Council (MAC), the top government agency handling cross-strait affairs, said Taiwan's stance on cross-strait relations had been consistent.
Taiwan's government "will not provoke or act rashly" when dealing with China but will "be resolute in defending the country's sovereignty and democratic way of life," Chiu said.
He said the MAC had taken note of calls by Taiwanese business groups for the government to work towards patching up its relations with Beijing.
As part of government efforts to promote "healthy and orderly exchanges" between people across the Taiwan Strait, Chiu said the MAC was considering the full resumption of direct ferry services linking Taiwan's outlying Kinmen and Lienchiang counties with China's Fujian Province.
The government temporarily reinstated cross-strait ferry links on Jan. 7, nearly three years after they were suspended due to COVID-19, for homebound travelers for the Lunar New Year holiday.
This special arrangement, exclusive to residents of Kinmen and Lienchiang counties, will end next Monday.
In the meantime, Chiu also pointed to China's military coercion and suspension of Taiwan's agricultural and fishing imports, which both saw an uptick following a brief visit to Taiwan by then United States House Speaker Nancy Pelosi last August.
"Cross-strait peace and stability are the common hope for people across the Taiwan Strait," Chiu said, urging Beijing to stop its military and economic pressuring of Taiwan.