20 PLA warplanes detected crossing Taiwan Strait median line: MND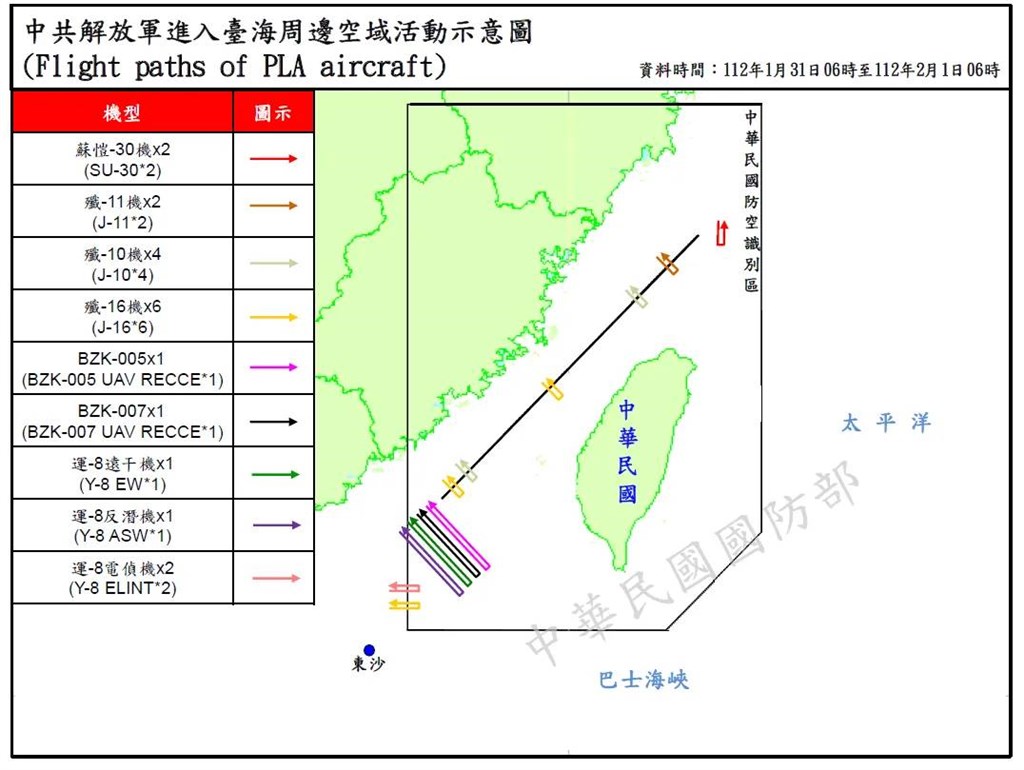 Taipei, Feb. 1 (CNA) A total of 34 Chinese military aircraft and nine naval ships were detected in the general vicinity of Taiwan from 6 a.m. Tuesday to 6 a.m. Wednesday, including 20 airplanes that crossed the median line of the Taiwan Strait.
According to the Ministry of National Defense (MND), the People's Liberation Army (PLA) aircraft that crossed the median line were J-11 fighters, J-10 fighters, and J-16 fighters.
The others that entered the southwestern corner of Taiwan's air defense identification zone (ADIZ) were BZK-005 and BZK-007 unmanned aerial vehicles and Y-8 EW, Y-8 ASW and Y8 ELINT aircraft.
Taiwan activated combat air patrol aircraft, Navy vessels, and land-based missile systems in response to the incursions, the ministry said.
Taiwan's Defense Ministry has been posting information about Chinese planes entering Taiwan's ADIZ since Sept. 17, 2020, amid the growing frequency of incursions by Chinese military aircraft.
China stepped up its military maneuvers in early August 2022 after U.S. House of Representatives Speaker Nancy Pelosi visited Taiwan on Aug. 2-3.
Since then, Chinese warplanes have regularly crossed the median line, an action seen as more provocative than incursions into the ADIZ because the median line is an unofficial border between Taiwan and China that had been respected for decades.