45 warplanes, 10 warships spotted near Taiwan as PLA drills continue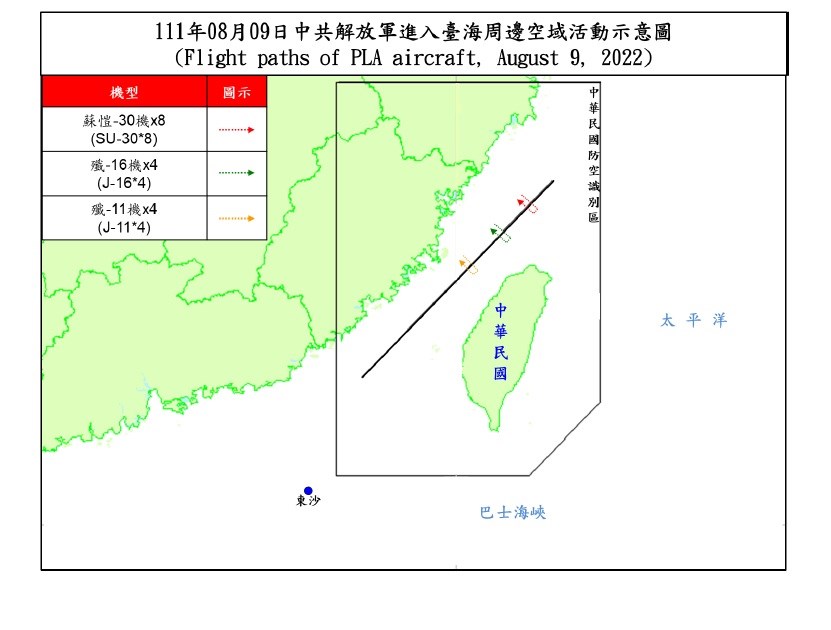 Taipei, Aug. 9 (CNA) China deployed 45 warplanes and 10 warships into areas around Taiwan as of 5 p.m. Tuesday, with 16 of the 45 aircraft crossing the Taiwan Strait median line, according to the Ministry of National Defense (MND).
In response, Taiwan scrambled a combat air patrol, sent radio warnings, and deployed defensive missile systems to expel Chinese military planes and vessels, the MND said in a statement.
The median line had previously been recognized as an unofficial border on both sides of the Taiwan Strait, and breaching it represents a more aggressive posture than Beijing's frequent sorties into Taipei's air defense identification zone (AIDZ) over the past two years.
Beijing has made similar deployments every day since Aug. 4, when it launched live-fire military drills in six maritime zones around Taiwan.
These maneuvers came less than a day after U.S. House of Representatives Speaker Nancy Pelosi concluded a 19-hour visit to Taiwan on Aug. 3.
While these deployments were originally scheduled to end on Sunday, the Chinese People's Liberation Army has said it will continue its joint exercises surrounding Taiwan without providing a timetable for their conclusion, according to Chinese state media. 
The MND, meanwhile, said it would stand firm in expelling all Chinese warships and warplanes found crossing the median line to ensure they do not enter Taiwan's territorial waters.
Territorial waters as defined by the 1982 United Nations Convention on the Law of the Sea consist of a belt of coastal waters extending at most 12 nautical miles or roughly 22 kilometers from the baseline of a coastal state.
Related News
Aug. 11: Government to spend NT$200 million on marketing food amid China bans
Aug. 9: Taiwan's diplomatic ties stable amid possible China retaliation: FM
Aug. 9: Chinese customs blocks Taiwan shipment not labeled 'Taiwan, China'
Source: Ministry of Foreign Affairs
Aug. 8: Chinese drills aligned with plans for taking Taiwan by force: Expert
Aug. 7: Taiwan to hold live-fire artillery drills to test combat readiness
Aug. 6: U.S., Japan, Australia urge China to stop military drills
Aug. 6: Defense ministry says China simulating attack on Taiwan
Aug. 5: China's drills a 'new normal' aimed at changing status quo: Experts
Aug. 4: President Tsai calls China's live-fire drills 'irresponsible act'
Aug. 4: China fires 11 Dongfeng ballistic missiles into waters off Taiwan: MND
Aug. 4: China cannot stop world leaders from visiting Taiwan: Pelosi
Aug. 3: China's military exercises aimed at blockading Taiwan: defense ministry
Aug. 3: China imposes new trade restrictions on Taiwan as Pelosi visits
Aug. 2: Visit to honor 'unwavering' U.S. commitment to Taiwan: Pelosi