Taiwan denies Chinese warship intrusion into its territorial waters (update)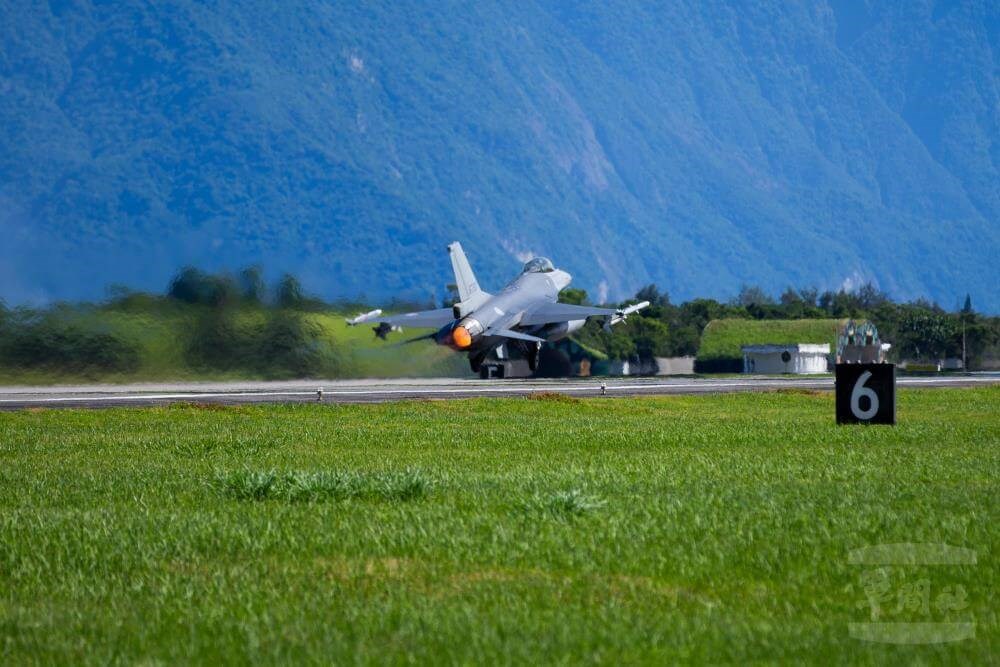 Taipei, Aug. 7 (CNA) Taiwan's military on Sunday disputed Chinese state media reports saying that People's Liberation Army (PLA) warships had sailed into Taiwan's territorial waters, and urged Taiwanese not to fall for Beijing's disinformation campaigns.
In a statement, Taiwan's Navy said a widely circulated photograph and related Chinese media reports that claimed a PLA A Type 052D destroyer Nanjing (南京艦) sailed within 11.78 kilometers of Ho-Ping Power Plant in eastern Hualien County were not true.
"The Navy has closely followed all Chinese warships since the PLA launched military drills around Taiwan on Aug. 4, and no PLA warships have ever entered our territorial waters during that period of time," it said.
Territorial waters, as defined by the 1982 United Nations Convention on the Law of the Sea, consist of a belt of coastal waters extending at most 12 nautical miles or roughly 22 kilometers from the baseline of a coastal state.
Earlier Sunday, the Ministry of National Defense issued a press release on the same issue in which it suggested that had a Chinese warship entered Taiwan's territorial waters, Taiwan would have taken a much more aggressive posture against them.
The press release came with photographs showing its F-16V jets taking off from Hualien Air Base early Sunday, each loaded with one ALQ184 electronic warfare pod, two AGM84 Harpoon AShMs, two AIM120 AMRAAMs, two AIM9 Sidewinders, and two wing fuel tanks.
An MND source who spoke on condition of anonymity told CNA that the F-16Vs and their weapon systems, in particular the anti-ship Harpoon missiles, were clear signals to the PLA that their warships would be met with deadly missiles should they try to enter Taiwan's territorial water.
A separate MND source previously told CNA that Taiwan's military would stand resolute in stopping Chinese warships from entering its territorial waters at all costs and would take responsive measures accordingly.
Those statements were released Sunday, which had been expected to be the final day of intensive military drills being conducted by China in waters around Taiwan in retaliation against a visit earlier this week by U.S. House of Representatives Speaker Nancy Pelosi.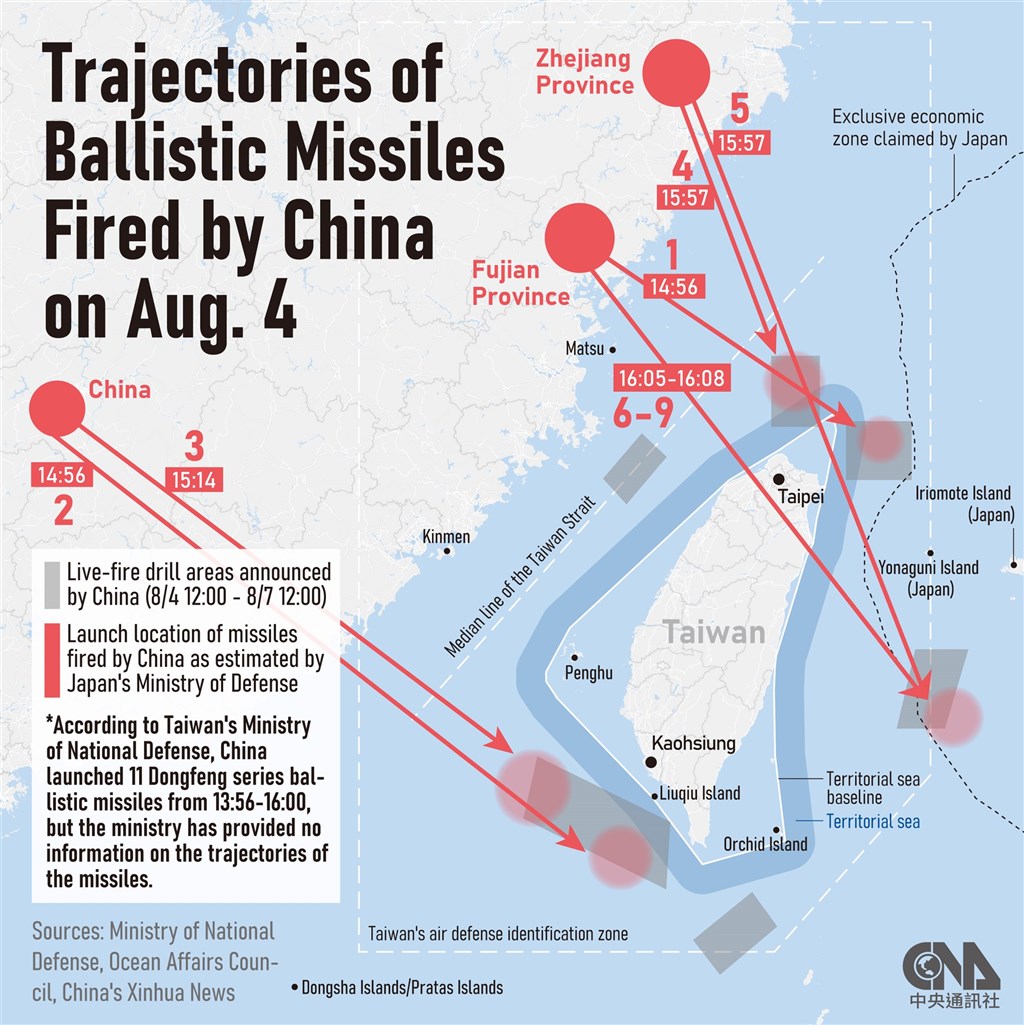 A day after Pelosi's visit, the PLA launched live-fire military drills in six maritime areas near Taiwan.
During the drills, Chinese state media and netizens have reported and posted a series of photographs claiming Chinese warplanes and warships have successfully flown or sailed into Taiwan's territorial waters and airspace.
One widely circulated photograph depicted a Chinese soldier aboard a PLA vessel just off the east coast of Taiwan observing a Taiwanese warship in the distance with binoculars.
The warship has been identified in the caption as A Type 052D destroyer Nanjing.
A "tall chimney-like structure" could also be seen in the photograph's background, and was thought to be the site of the Ho-Ping Power Plant in Hualien County.
Chinese netizens and state media have suspected that given the clear view of the power plant in the background, the Chinese warship must have entered Taiwan's territorial waters.
When the photograph was first seen online, the MND did not offer any clarification, saying only that it had dispatched warships to expel all enemy vessels sailing near Taiwan.
Beyond the military maneuvers, Beijing has also suspended imports of some Taiwanese food and agricultural products in retaliation against Pelosi's visit, the first by a sitting U.S. House speaker since 1997.
Beijing, which sees Taiwan as part of its territory to be reunified one day, strongly objects to other countries treating Taiwan as a nation, including sending high ranking officials to visit.
It has accused the United States of violating its commitments to the "one China" policy and fueling Taiwan independence efforts.
Related News
Aug. 8: China changes previously announced timetable, PLA drills continue
Aug. 8: Chinese drills aligned with plans for taking Taiwan by force: Expert
Aug. 7: China sends 66 warplanes, 14 warships around Taiwan Sunday
Aug. 7: Visiting SVG PM urges China to stop military exercises
Aug. 7: Taiwan to hold live-fire artillery drills to test combat readiness
Aug. 6: 20 Chinese warplanes, 14 warships deployed around Taiwan: MND
Aug. 6: U.S., Japan, Australia urge China to stop military drills
Aug. 6: Defense ministry says China simulating attack on Taiwan
Aug. 5: China's drills a 'new normal' aimed at changing status quo: Experts
Aug. 4: President Tsai calls China's live-fire drills 'irresponsible act'
Aug. 4: China fires 11 Dongfeng ballistic missiles into waters off Taiwan: MND
Aug. 4: Flights, ships rerouted to avoid Chinese military drills
Aug. 4: China cannot stop world leaders from visiting Taiwan: Pelosi
Aug. 3: China's military exercises aimed at blockading Taiwan: defense ministry
Aug. 3: China imposes new trade restrictions on Taiwan as Pelosi visits
Aug. 2: Visit to honor 'unwavering' U.S. commitment to Taiwan: Pelosi