China fires 11 Dongfeng ballistic missiles into waters off Taiwan: MND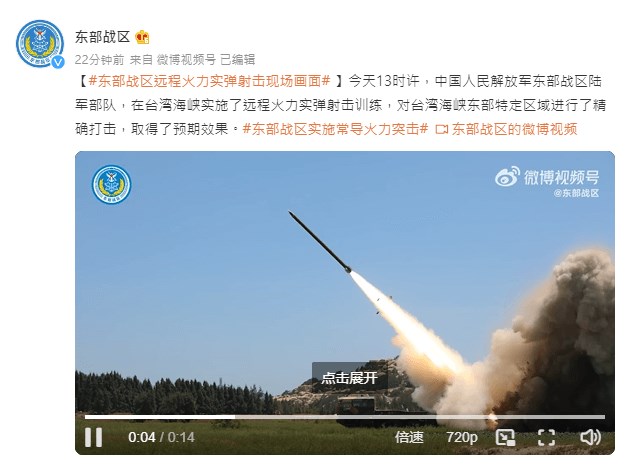 Taipei, Aug. 4 (CNA) The Chinese People's Liberation Army (PLA) fired 11 ballistic missiles into waters near Taiwan Thursday afternoon, Taiwan's Ministry of National Defense (MND) confirmed, adding that it had "activated" related defense systems, and is closely monitoring the situation.
As part of a series of statements issued on Thursday afternoon, the MND said a total of 11 Dongfeng ballistic missiles were launched by the PLA from 1:56 p.m. to 4 p.m. and landed in waters near northern, southern and eastern parts of the island.
In a separate statement, the MND said troops posted on the outlying islands of Matsu and Kinmen monitored the PLA conducting live-fire drills on Thursday afternoon, including firing long-range projectiles into surrounding areas.
The MND condemned what it described as the PLA's "irrational action" for having "jeopardized regional peace," adding that it has "activated" defense systems and remains on high alert.
The Ministry of Foreign Affairs (MOFA) on Thursday said China's firing of multiple ballistic missiles into waters near Taiwan has "threatened Taiwan's national security" and "caused an escalation of regional tensions."
MOFA called on the PLA to "exercise restraint" while urging the international community to join forces in condemning China's military threats against Taiwan.
Meanwhile, the Presidential Office criticized Beijing for "unilaterally changing the status quo in the Taiwan Strait" by conducting military exercises on Thursday.
The Office also said in its press statement that the PLA drills had disrupted freedom of navigation operations and international trade in and around the Taiwan Strait.
In the meantime, the statement went on, the Office called for unity among Taiwanese people and politicians across party lines as it seeks cooperation with like-minded countries in the Indo-Pacific region and mulls a "necessary and appropriate response."
The Dongfeng series of missiles includes a range of short, medium, intermediate and intercontinental ballistic missiles, and it remains unclear what type of missiles were fired by the PLA.
On Thursday afternoon, China's state-run People's Daily said via Twitter that the PLA Eastern Theater Command began conducting "long-range live-fire shooting training" and "precision strikes" in the Taiwan Strait.
The media later also cited a PLA official as saying "relevant sea and airspace control off the eastern coast of Taiwan island has been lifted since the live-fire missile drills have hit the targets precisely," without elaborating.
The missile launches were part of live-fire military exercises announced by Beijing on Tuesday night, shortly after United States House of Representatives Speaker Nancy Pelosi arrived in Taipei for a previously unconfirmed 19-hour visit.
According to China's state media, the PLA will hold the military exercises from Aug. 4-7 in six areas around Taiwan, with part of those areas overlapping with Taiwan's territorial waters.
Earlier in the day, an MND official, who spoke to CNA on condition of anonymity, described the PLA's planned exercises as "provocative" because territorial waters are symbolic of a nation's sovereignty.
The nation's military will "do what it has to do" in response if the PLA conducts drills in the nation's territorial waters, the official said, but declined to elaborate on the matter.
Update
Aug. 8: China changes previously announced timetable, PLA drills continue
Aug. 8: China's Yellow Sea drills won't affect Taiwan int'l flights: MOTC
Aug. 7: China sends 66 warplanes, 14 warships around Taiwan Sunday
Aug. 6: U.S., Japan, Australia urge China to stop military drills
Aug. 6: Taiwan companies told to abide by China's labeling rule: MOEA
Aug. 5: 68 Chinese warplane, 13 warship sorties recorded around Taiwan: MND
Aug. 5: MOFA reports continued cyberattacks seeking to crash its website
Aug. 5: International flights avoiding Taipei FIR due to China drills: Official
Aug. 4: President Tsai calls China's live-fire drills 'irresponsible act'
Aug. 4: Chinese drills could provide lessons on tackling future threats: Experts
Related News
Aug. 4: Su'ao fishermen estimate NT$50m in losses due to China's military drills
Aug. 4: Army fires warning flares at Chinese drone spotted over Kinmen
Aug. 4: G7, EU urge China to refrain from 'aggressive military activity'
Aug. 4: China cannot stop world leaders from visiting Taiwan: Pelosi
Aug. 3: 22 Chinese aircraft cross Taiwan Strait median line ahead of military drills
Aug. 3: China's military exercises aimed at blockading Taiwan: defense ministry
Aug. 3: China imposes new trade restrictions on Taiwan as Pelosi visits
Aug. 2: Visit to honor 'unwavering' U.S. commitment to Taiwan: Pelosi