CrisisWatch sees higher risk of conflict over Taiwan due to Pelosi's visit
Washington, Aug 2 (CNA) A global conflict tracker has issued a risk alert for Taiwan because of the visit to the country by United States House of Representatives Speaker Nancy Pelosi.
Pelosi's "potential visit to Taiwan in August raises the risk of an unintended crisis between the U.S. and China, after Beijing in July threatened a military response," CrisisWatch, a monthly early warning bulletin, reported in late July.
A U.S. congressional delegation led by Pelosi arrived in Taiwan on Tuesday night on a U.S. Air Force C-40C aircraft on her latest stop during a tour of Asia, making her the highest-level U.S. official to visit Taiwan in 25 years.
China warned of a military response and said the visit would seriously undermine China's sovereignty and the political foundation of China-U.S. relations, according to the CrisisWatch report, published by the International Crisis Group.
Chinese incursions into Taiwan's air defense identification zone (ADIZ) continued, totaling 70 aircraft as of 30 July, and it announced live-fire drills off the coast of Fujian province, which sits across from Taiwan, the same day, the organization's risk alert noted.
U.S. military assets, including an aircraft carrier, were also moved closer to Taiwan at end of July, the report said.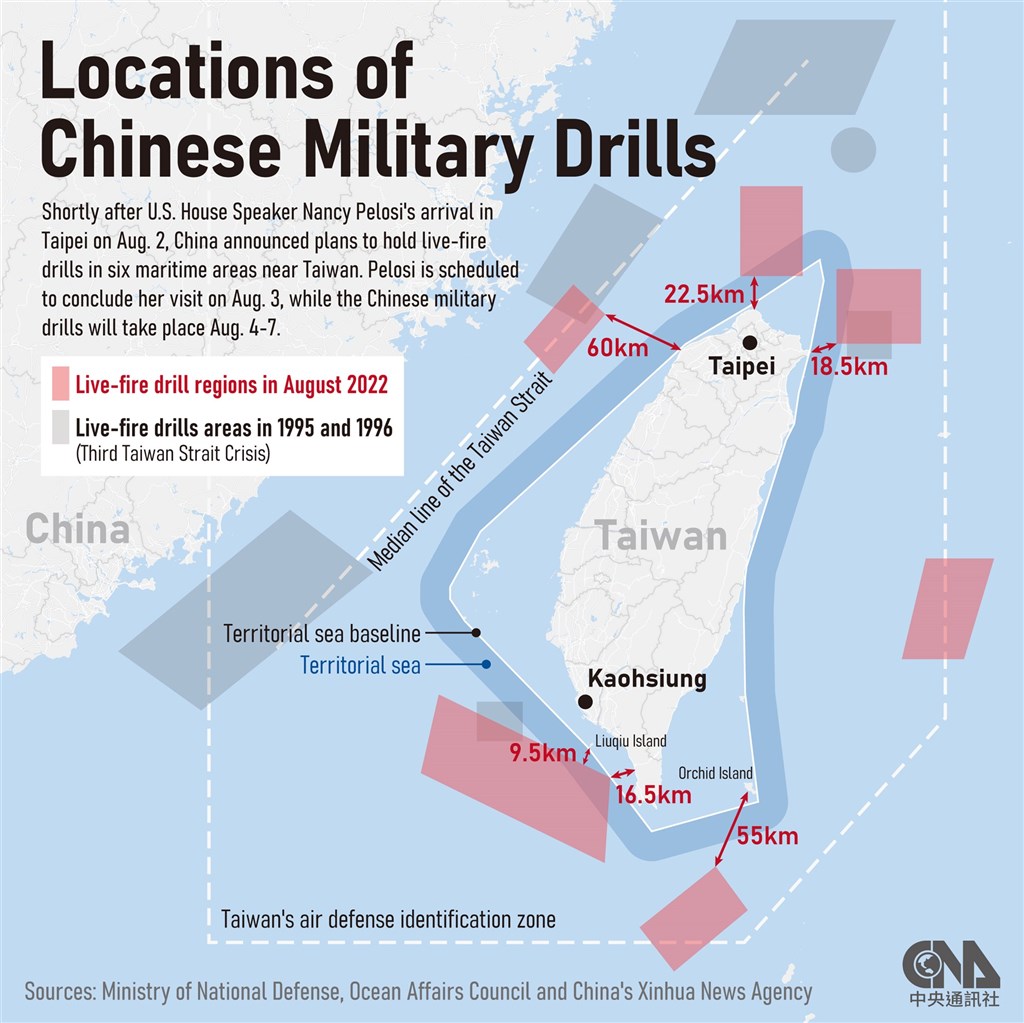 Update
Aug. 6: 20 Chinese warplanes, 14 warships deployed around Taiwan: MND
Aug. 6: U.S., Japan, Australia urge China to stop military drills
Aug. 6: Taiwan companies told to abide by China's labeling rule: MOEA
Aug. 5: 68 Chinese warplane, 13 warship sorties recorded around Taiwan: MND
Aug. 5: MOFA reports continued cyberattacks seeking to crash its website
Aug. 5: Chinese military aircraft, warships cross Taiwan Strait median line
Aug. 5: Controversial IC tycoon to donate NT$3 billion for Taiwan's security
Aug. 4: China fires 11 Dongfeng ballistic missiles into waters off Taiwan: MND
Aug. 4: China cannot stop world leaders from visiting Taiwan: Pelosi
Aug. 4: G7, EU urge China to refrain from 'aggressive military activity'
Aug. 3: China's military exercises aimed at blockading Taiwan: defense ministry
Aug. 3: Pelosi departs Taiwan after whirlwind visit
Aug. 3: Pelosi, TSMC Chair Liu discuss semiconductor chips: Legislator
Aug. 3: Activists meet with Pelosi at Taiwan's National Human Rights Museum