Two Chinese military vessels seen off Taiwan's Lanyu Island: Source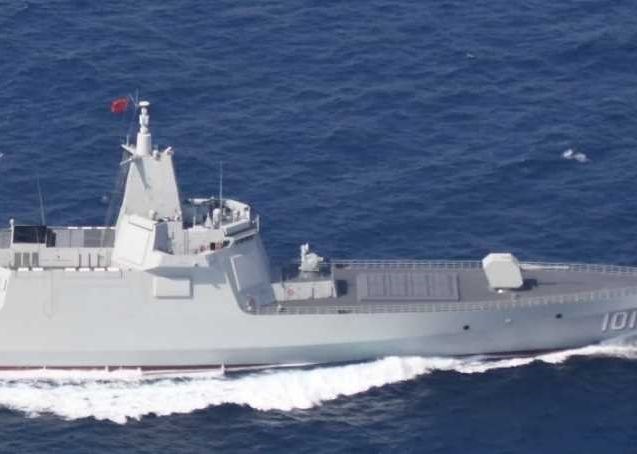 Taipei, Aug. 2 (CNA) Two Chinese warships -- a missile destroyer and a frigate -- were spotted in international waters off the coast of Lanyu Island in eastern Taiwan early Tuesday morning, according to a military source.
The destroyer, escorted by the frigate, was seen 45 nautical miles southeast of Lanyu at around 4 a.m., a military official told CNA on condition of anonymity.
Over the past two days, PLA reconnaissance vessels, as well as missile destroyers and frigates, have been plying waters southeast of Taiwan's Hualien County and Lanyu, the official said.
Retired reserve Navy Captain Wang Jyh-perng (王志鵬), who is a commentator on military affairs, told CNA in a telephone interview that the Chinese vessels seen off Lanyu early Tuesday were likely a Type 055 stealth guided missile destroyer and a Type 054A guided-missile frigate.
The Type 055 frigate has both aerial and maritime surveillance capabilities, and its radar has a high-altitude operating range of 560 kilometers, Wang said.
"There has been quite a lot of activity east of Taitung County in the Pacific Ocean these past few days," he said.
On Tuesday, the Ministry of National Defense (MND) did not respond directly to questions about the Chinese vessels reportedly seen near Taiwan, except to say that the Taiwan military constantly monitors Chinese naval activities in waters around Taiwan.
The reports of the Chinese ships came amid rumors of an imminent visit to Taiwan by United States House of Representatives Speaker Nancy Pelosi.
Meanwhile, the MND also declined to comment on reports of an unusual number of Taiwan Air Force Mirage 2000 fighter jets stationed at Zhi-Hang Air Base in Taitung.
Update
Aug. 6: 20 Chinese warplanes, 14 warships deployed around Taiwan: MND
Aug. 6: U.S., Japan, Australia urge China to stop military drills
Aug. 6: Taiwan companies told to abide by China's labeling rule: MOEA
Aug. 5: 68 Chinese warplane, 13 warship sorties recorded around Taiwan: MND
Aug. 5: MOFA reports continued cyberattacks seeking to crash its website
Aug. 4: President Tsai calls China's live-fire drills 'irresponsible act'
Aug. 3: China's military exercises aimed at blockading Taiwan: defense ministry
Aug. 3: China imposes new trade restrictions on Taiwan as Pelosi visits
Aug. 2: Visit to honor 'unwavering' U.S. commitment to Taiwan: Pelosi