U.S. defense chief warns China over Taiwan coercion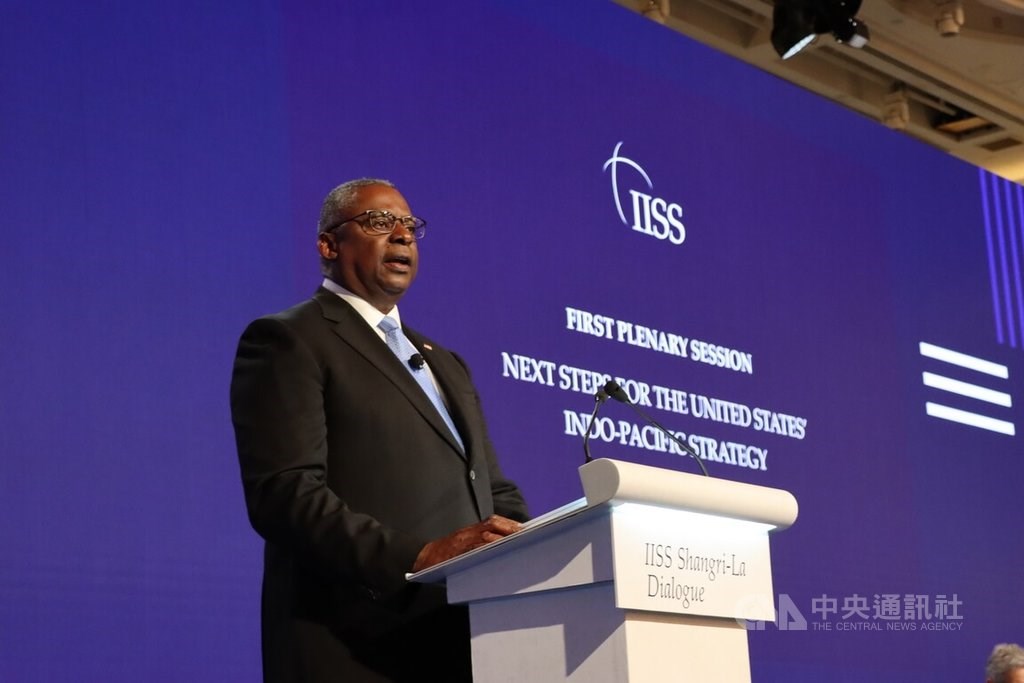 Singapore, June 11 (CNA) United States Secretary of Defense Lloyd J. Austin III cautioned China on Saturday against taking a "coercive and aggressive" approach to its territorial claims, saying the stakes were especially high in the Taiwan Strait.
In a speech at the Shangri-La Dialogue, an annual regional security summit in Singapore, Austin called out Beijing for increasingly engaging in "provocative and destabilizing military activity" near Taiwan and in the region, which he said had sparked tensions with other countries.
Chinese military aircraft have flown near Taiwan "in record numbers in recent months -- and nearly on a daily basis," Austin said as he addressed China's "growing coercion" against Taiwan.
"The stakes are especially stark in the Taiwan Strait," he added.
The U.S. policy toward Taiwan is "unchanged and unwavering," Austin said. "We're determined to uphold the status quo that has served this region so well for so long."
His speech came a day after he held a talk with China's Minister of National Defense Wei Fenghe (魏鳳和) on the sidelines on the first day of the Shangri-La Dialogue, their first face-to-face meeting.
Wei told Austin that "if anyone dares to split Taiwan from China, China will not hesitate to start a war no matter the cost," China's defense ministry spokesman Wu Qian (吳謙) quoted Wei as saying at the post-meeting press conference Friday, according to China's CCTV.
The quote, however, was not included in the official statement issued earlier by China's defense ministry.
Wei called on the U.S. not to intervene in China's internal politics and undermine China's interests, adding that any effort by Washington to use Taipei as a means to take on Beijing is doomed to failure, according to the statement.
Meanwhile, Wei condemned the U.S. over its sale of arms to Taiwan and asserted that China's government and military would "smash any Taiwan independence plot," according to the statement.
In Saturday's speech, Austin said that the U.S. remained firmly committed to its longstanding one-China policy -- guided by the Taiwan Relations Act, the three Joint Communiques, and the Six Assurances.
"Maintaining peace and stability across the Taiwan Strait isn't just a U.S. interest. It's a matter of international concern," Austin said.
Taiwan's Ministry of Foreign Affairs expressed thanks to U.S. President Joe Biden and his administration for once again taking actions to support peace and stability in the Taiwan Strait, the ministry's spokesperson Joanne Ou (歐江安) said Saturday.
In response to Wei regarding China's territorial claims on Taiwan and U.S. arms sales to Taiwan, Ou said his statement was "absurd."
The Republic of China, the official name of Taiwan, is an independent and sovereign country and has never fallen under the jurisdiction of China, Ou said. "Taiwanese people will never succumb to China's threat of force."
The Shangri-La Dialogue, which started Friday, will finish on Sunday, June 12. This year's event was the first since 2019, with the 2020 and 2021 versions having been canceled due to the COVID-19 pandemic.