Taiwan thanks Biden for supporting cross-strait status quo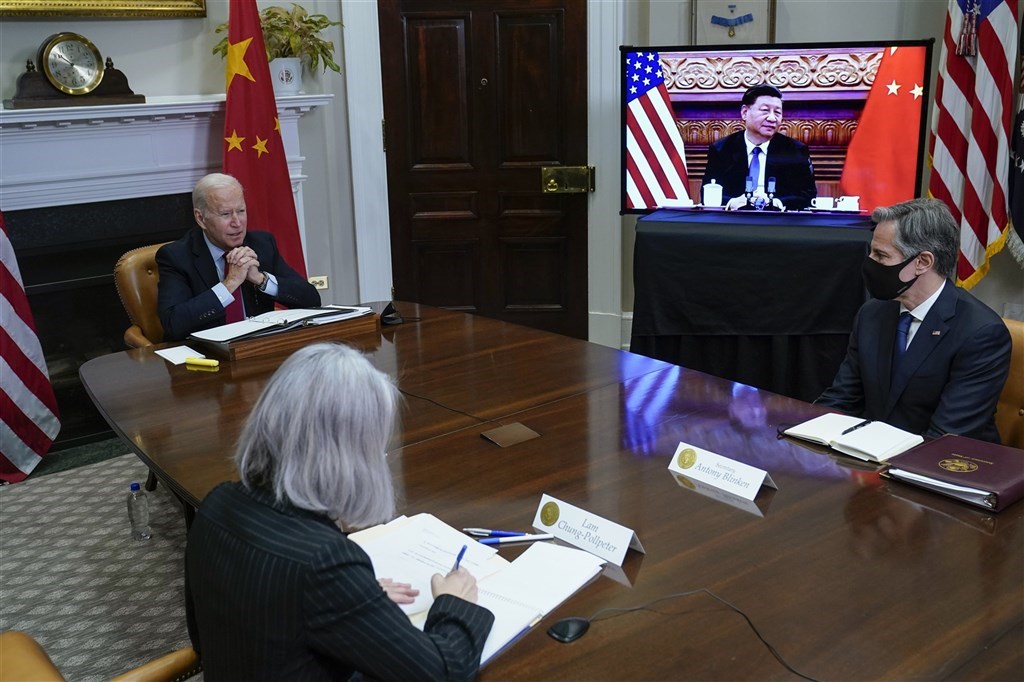 Taipei, Nov. 16 (CNA) Taiwan's government on Tuesday expressed its gratitude to United States President Joe Biden after he voiced support for the cross-strait status quo in a virtual meeting with Chinese counterpart Xi Jinping (習近平), in the wake of challenges from Beijing.
Biden and Xi held a 3.5 hour virtual summit on Monday, the most substantive talks since Biden assumed office in January as both sides attempted to ease increasing tensions.
According to a readout released by the White House following the meeting, the two leaders discussed the complex nature of bilateral relations and the importance of managing competition, with Biden welcoming the opportunity "to speak candidly and straightforwardly" to Xi on a number of issues of mutual interest.
On Taiwan, Biden underscored that the U.S. remains committed to the "one-China" policy, guided by the Taiwan Relations Act, the three Joint Communiques, and the Six Assurances.
He also said the U.S. "strongly opposes unilateral efforts to change the status quo or undermine peace and stability across the Taiwan Strait," according to the readout.
The Chinese president told Biden that China would be compelled to take resolute measures, should the "separatist forces for Taiwan independence make coercive provocations or even cross the red line."
Xi said that the new wave of tensions across the Taiwan Strait is due to repeated attempts by the Taiwan authorities "to look for U.S. support for their independence agenda," as well as the efforts of some Americans to use Taiwan to contain China, according to reports in Chinese state media.
Such moves are extremely dangerous and are like playing with fire, he said, noting that whoever plays with fire will get burned, reports said.
In response, Taiwan's Ministry of Foreign Affairs spokeswoman Joanne Ou (歐江安) expressed the government's gratitude toward Biden for directly affirming Washington's commitment to Taiwan, and its opposition to Beijing's attempts to change the status quo and cross-strait peace.
Biden's remarks echoed President Tsai Ing-wen's (蔡英文) stance on the need to maintain cross-strait status quo, peace, stability and prosperity, she added.
Meanwhile, Presidential Office spokesperson Xavier Chang (張惇涵) reiterated the stance of Taiwan's government that it will continue to uphold the nation's sovereignty and safeguard regional peace and security to prevent the status quo from changing.
All parties involved should play their part to jointly contribute to stability across the Taiwan Strait and Indo-Pacific region, including China, he said, adding that Taiwan will continue to work closely with like-minded countries in this regard.
Asked to comment on the Biden-Xi meeting and what it means for Taiwan, Lu Yeh-chung (盧業中), an assistant professor at National Chengchi University's Department of Diplomacy, told CNA that the downward spiral in U.S.-China relations over the past decade has to stop somewhere.
The meeting was meant to delay that downward spiral and take both sides back to the mutually accepted shared foundation to regain mutual trust, he said.
It has always been the stance of Democratic government's in the U.S. that Taiwan and China can establish constructive dialogue, according to Lu.
That is what the Biden administration is trying to do, enabling Washington to return to its previous "pivot" role between Taipei and Beijing, as Biden marks his one-year anniversary in office, Lu said.
He added that he believes U.S.-China relations will be less hostile in the months to come, and he expects exchanges between senior officials on both sides to be soon institutionalized to better manage strategic risk.
Commenting on the Biden-Xi meeting, Lai I-Chung (賴怡忠), president of local thinktank Prospect Foundation, told CNA that high-level diplomacy is different from bottom-up diplomacy.
The top-level exchange was meant to build up so-called common-sense guardrails to prevent competition between the two superpowers veering into conflict, according to Lai.
However, Lai said he sees no accomplishments from Monday's meeting, as the summit only highlighted the major differences between the two countries.
Competition is inevitable as the core interests of the U.S. and China collide, he added.