China may become more assertive after 2022 party congress: MAC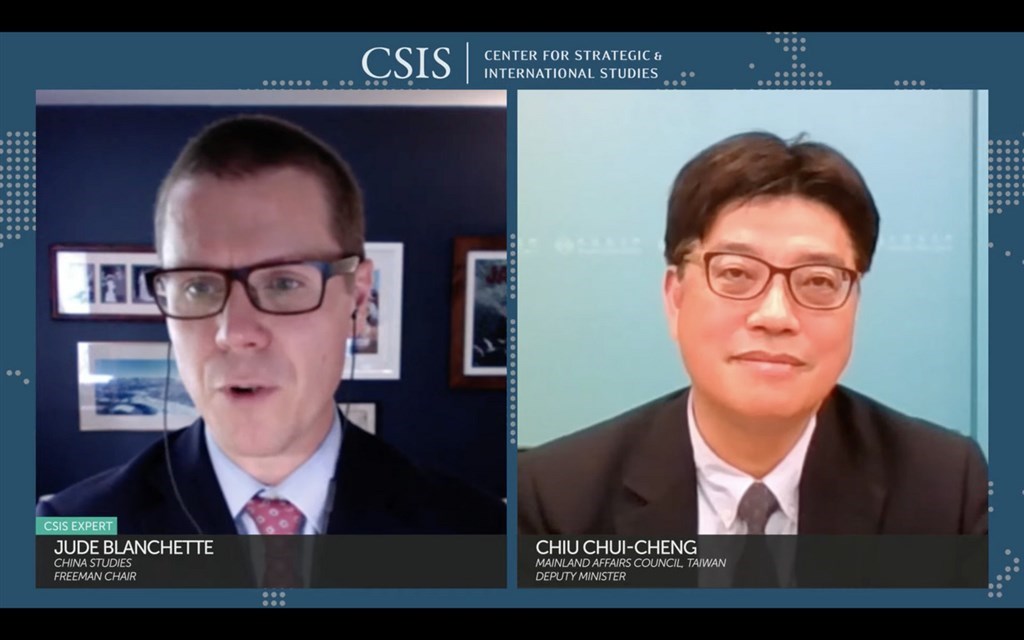 Washington, Aug. 17 (CNA) China is unlikely to dial down its "aggressive" foreign policy after next year's 20th Party Congress and could even emerge from the meeting with a more assertive approach toward Taiwan, according to an official with Taiwan's top agency for China affairs.
Chiu Chui-cheng (邱垂正), deputy chief of Taiwan's Mainland Affairs Council (MAC), offered the pessimistic assessment Tuesday in a virtual discussion with Jude Blanchette, a China affairs expert at the Washington-based Center for Strategic and International Studies (CSIS).
In the discussion, Blanchette said Taiwan has come under increasing pressure from China in the last five years, in a campaign that has included the use of disinformation, cyber attacks, and a growing number of PLA incursions into Taiwan's airspace.
"But it's the next five years that will prove crucial as Taiwan attempts to maintain the resiliency of its democratic system....and to maintain peace in the Taiwan Strait," he said.
Because of that, Blanchette said, the Chinese Communist Party's party congress next year, at which Xi Jinping (習近平) is almost certain to be given a third term as general secretary, will be important to watch for any changes in China's approach to Taiwan.
Chiu responded that while Taiwan will hope for the best, it also has to prepare for the worst with regards to China .
Beijing "is a regime that does not shy away from showing its ambition and intentions," Chiu said, citing a July 1 speech in which Xi warned that "no one should underestimate" the will of the Chinese people to defend their national sovereignty and territorial integrity.
"Therefore, I believe the CCP's aggressive foreign policy is unlikely to be dialed down in the foreseeable future. We may even see a more assertive regime after the 20th Party Congress," he said.
There has also been an unprecedented amount of discussion in international forums about the importance of peace and stability in the Taiwan Strait, including in the G7 and the "Quad" security dialogue, Chiu said.
Regarding Taiwan's own strategic goals, Chiu said, it first wants to ensure that the international community recognizes its importance in defending against "the CCP's new totalitarianism" and preserving a free, open and prosperous Indo-Pacific.
In economic terms, Taiwan will continue to strengthen its position as the main provider of key technologies in the global semiconductor supply chain, while also proving itself as a reliable partner as those supply chains "undergo fundamental restructuring," Chiu said.
Because of its geographical location, Taiwan's democracy and achievements can also "inspire" people in China and Hong Kong to pursue democracy, freedom and a better life, he said.