Extradition bill rally in Taipei to go on as planned Sunday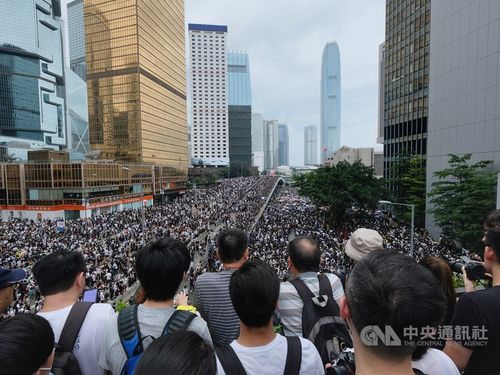 Taipei, June 15 (CNA) A rally scheduled for Sunday in Taipei to protest a controversial extradition bill in Hong Kong will go on as planned and ask Hong Kong authorities to withdraw the bill rather than simply suspend its legislative process, the organizer said Saturday.
The group of Taiwan-based Hong Kong students that organized the rally said in a statement that the move by Hong Kong Chief Executive Carrie Lam's (林鄭月娥) administration to "temporarily suspend" the bill may be nothing but a "semantic ploy."
The group also expressed "extreme outrage" over Lam's justification of the Hong Kong police's perceived violent handling of protesters in large-scale demonstrations Wednesday, accusing her of trying to evade responsibility and condoning police brutality.
"The group's goal remains unchanged and still demands the bill's withdrawal," it said, adding that the rally will take place as planned from 2 p.m. to 5 p.m. on Jinan Road outside the Legislative Yuan on Sunday.
The Taipei rally is designed to show support for Hong Kongers who plan to stage a separate rally on Sunday in Hong Kong to call for the bill's withdrawal.
Amid a snowballing controversy over the extradition bill, Lam announced at a press conference Saturday that her government decided to suspend the legislative process on the extradition bill after it had triggered widespread protests from Hong Kongers.
Lam said that because previous efforts to communicate with society had proven insufficient and ineffective, the Hong Kong government will re-open communications with the public, do more to explain it, and listen to the views of society.
The bill has raised concerns that it could threaten the human rights of Hong Kong nationals, as it will allow the Hong Kong authorities to extradite crime suspects not just to Taiwan and Macau, but also China and its capricious legal system.
Some also worry that Taiwanese traveling to or transiting through Hong Kong could be sent to China if the bill is passed.
Lai Chung-chiang (賴中強), founder of the Taiwan Citizen Front, a co-organizer of the Taipei rally, branded Lam's suspension of the bill's legislative process as a mere "delaying tactic."
"The crisis has yet to be actually defused. Hong Kong media reported that legislative review of the bill may be resumed after July," Lai said, adding that civic groups in Taiwan will continue to fight the extradition bill until it is withdrawn.
For Taiwan's part, lawmakers should issue an official statement opposing the extradition bill and work with the executive branch of government to lay down concrete measures for refugee seekers from Hong Kong and Macau, Lai said.
Currently, the Laws and Regulations Regarding Hong Kong and Macau Affairs stipulates that "necessary assistance" should be provided to Hong Kong or Macau residents whose safety and liberty are "immediately threatened" for political reasons.
Due to the ambiguity of the laws, however, it has been difficult for asylum seekers from the regions to find shelter in Taiwan.