Groups in Taiwan support Hong Kong extradition bill protests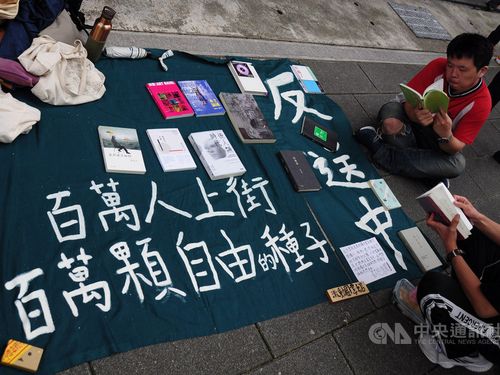 Taipei, June 12 (CNA) Representatives from 24 Taiwanese civic groups rallied outside Hong Kong's representative office in Taipei Wednesday to show support for a wave of fresh protests staged in Hong Kong against a proposed controversial extradition bill.
During the demonstration, the civic groups, including the Taiwan Association for Human Rights, Amnesty International and Reporters Without Borders, urged the Hong Kong government to withdraw the bill and stop using violence to suppress the protests, while shouting slogans such as "Taiwan supports Hong Kong."
Violence broke out Sunday night as Hong Kong police tried using batons and pepper spray to clear demonstrators from the city's Legislative Council after a massive demonstration against the plan to allow extraditions to China.
On Tuesday, the police presence remained strong on the streets of the city, Taiwan Association for Human Rights Secretary-General Chiu E-ling (邱伊翎) said.
Chiu condemned the Hong Kong government for infringement on the freedom of assembly and called on the police not to abuse their power.
Meanwhile, Amnesty International Taiwan acting director Annie Huang (黃尚卿) called on the Hong Kong authorities to withdraw the controversial bill, which she said could put human rights activists, reporters, non-governmental organization workers and social workers in Hong Kong who deal with Chinese-related affairs at risk of being exposed to China's deeply flawed justice system and facing unfair trials there.
Cedric Alviani, the director of Reporters Without Borders's East Asia (Taipei) Bureau, said that China holds at least 111 journalists under life-threatening conditions and expressed concern that if the extradition law is passed, Beijing could arbitrarily arrest and detain political foes from Hong Kong by leveling false accusations against them and demanding their extradition.
Several Hong Kong groups in Taiwan also showed their opposition to the proposed extradition bill.
Ho Wing-tung (何泳彤), a Hong Kong student from Chinese Culture University and the organizer of a protest in Taipei against the extradition bill, called on the Hong Kong authorities to immediately release detained protesters and adhere to the principles of the "one country, two systems" framework that ensures Hong Kong retains its distinct identity and strengths as an international business, financial, shipping and aviation center.
Nearly 200 Hong Kong people also rallied outside Hong Kong's representative office in Taipei to show support for a move by Hong Kong students in Taiwan to walk out of classes and rally in Taipei in support of the protesters in the special administrative region of China.
In Kaohsiung, around 150 Hong Kong students staged a sit-in protest, calling on the Hong Kong government to withdraw the controversial bill.
At the same time, 46-year-old Hong Kong woman Edith Chung (鍾慧沁), who settled in Tainan in July 2018 and operates a restaurant there, joined a hunger strike launched by people in Hong Kong's cultural and art circles to protest the bill.