MAC warns of disadvantages of studying in China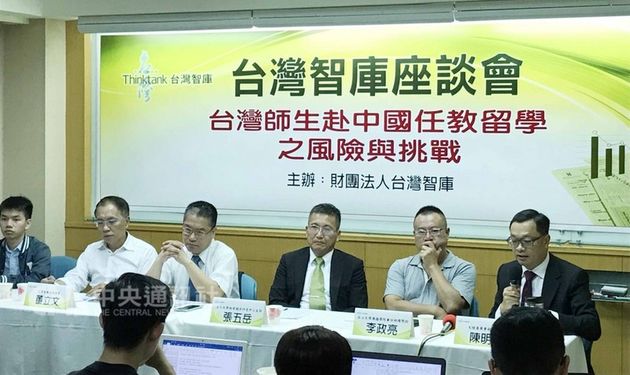 Taipei, Sept. 20 (CNA) The Taiwan government is concerned about the growing number of Taiwanese students opting to study in China and is taking steps to inform them of the downsides of such a decision, Mainland Affairs Council Deputy Minister Chen Ming-chi (陳明祺) said Thursday.
Speaking at a seminar sponsored by Taiwan ThinkTank, Chen said that since China revised its regulations to allow Taiwanese students into its universities with lower academic standards, there has been a spike in the number of Taiwan students going to China.
While the Taiwan government has no official statistics yet on the trend, he said, "the MAC is worried, although we don't know whether China will maintain the new offer beyond its first year."
In a democratic country like Taiwan, the government cannot restrict students from studying in China, but the MAC has taken the step of publishing information on its website about the disadvantages of making that choice, Chen said.
"The government thinks it is necessary to publicize the possible risks in order to give Taiwanese students an understanding of the downsides of studying there," he said.
Chen's views were supported by Andy Chang (張五岳), a professor at the Graduate Institute of China Studies at Tamkang University, who warned of sharp political, economic and social differences between Taiwan and China despite cultural similarities.
"Taiwanese students who plan to study in China must be well prepared because it's very different from Taiwan in every aspect of life, including the way of thinking," Chang said. "Sometimes it's hard even to avoid China's political interference."
He said Chinese authorities should value Taiwanese students as a force that can help build peaceful ties between the two sides, rather than regarding them as pawns.
According to Chang, enrollment at Taiwan universities has been declining since 2014 due mainly to the low birth rate in Taiwan and the efforts of Chinese universities to recruit Taiwanese students.
Lee Cheng-liang (李政亮), an assistant professor at National Chengchi University's College of Communication who has experience teaching in China, said that not just students, but also teachers moving to China should be aware of the difficulties there.
Taiwanese professors will feel constricted as there is very little room for freedom of speech in China, Lee said.
In addition, there is the issue of opposing political views, which could be a major barrier between Taiwanese professors and their Chinese students, he said.