Beijing's routine exercises psychological warfare: expert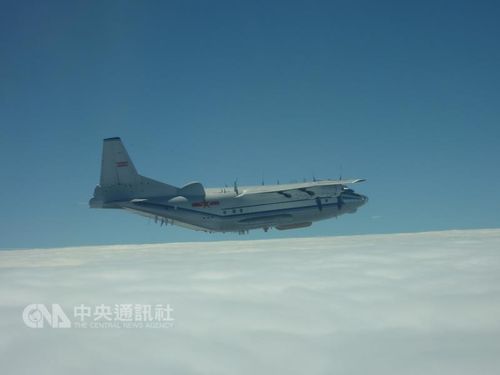 Taipei, April 22 (CNA) China has continued to intentionally play up its routine military exercises as psychological warfare to pressure Taiwan, including its recently concluded April 18 drill, a local military expert said Sunday.
A live-fire drill was conducted by the People's Liberation Army (PLA) Wednesday in waters off China's Quanzhou while President Tsai Ing-wen (蔡英文) was away from Taiwan visiting the country's African ally Swaziland. It was meant as a response to a recent statement by Premier Lai Ching-te (賴清德), who on April 15 once again described himself as "political worker for Taiwan independence," according to China's state-run media Global Times.
Following the April 18 exercise, which according to Taiwan's military was merely a routine exercise of little impact, the PLA sent a number of its aircraft and vessels to carry out exercises near Taiwan over the past few days.
Asked to comment on these moves, Chieh Chung (揭仲), a senior assistant research fellow at the National Policy Foundation, a Taipei-based think tank, told CNA Sunday that the Wednesday exercise was just one of countless routine coastal artillery live-fire drills held by PLA's two million-strong troops each year.
"What is worth noticing is that over the past one or two years, Beijing has regularly taken advantage of these cheap, routine, small-sized, regional drills to serve its purpose of psychological warfare against Taiwan," according to Chieh.
Taking the April 18 drill as an example, Chieh said Beijing had asked scholars, diplomats and state-run media to promote it so that the small exercise could have a disproportionately big political impact on Taiwan.
The main reason for Beijing doing so was a retaliatory move in response to recent pro-Taiwan policies on the part of the United States, including the passage of the Taiwan Travel Act; the decision to grant a license necessary for American firms to sell Taiwan the technology it needs to build its own submarines; and Lai's pro-Taiwan independence rhetoric, Chieh said.
In doing so, Beijing was sending a message to both Taiwan and the U.S. to refrain from further antagonizing China or run the risk of punishing Taiwan with force.
It was also aimed at soothing the dissatisfaction among the hawkish pro-unification factions in China as a reassurance that Chinese President Xi Jing-ping (習近平) remains tough in terms of pro-unification and anti-Taiwan independence, Chieh added.
The scholar said Beijing's maneuvering will be more widely used in the future whenever China feels the need to provide deterrence.
But he predicted that such small-scale drills will not escalate into large-scale joint military exercises across the Taiwan Strait for the time being as the PLA did in 1996.
The 1996 Taiwan Strait Crisis happened before Taiwan's first direct presidential election in March that year. China held a series of military exercises and fired missiles close to the ports of Keelung and Kaohsiung, causing panic in Taiwan and prompting then-U.S. President Bill Clinton to send two aircraft carrier battle groups to international waters near Taiwan.