Taiwan-China relations cold, confrontational: Ma Ying-jeou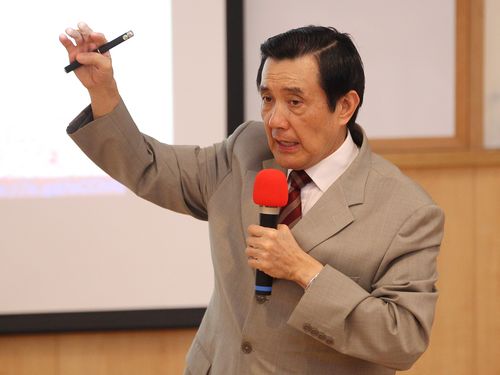 Taipei, May 11 (CNA) Former President Ma Ying-jeou (馬英九) said Thursday that relations between Taiwan and China have entered an unstable phase of cold confrontation since his tenure as president ended in May last year.
While a war in the Taiwan Strait might not be on the horizon, relations between the two sides seem unlikely to improve, Ma said at Soochow University in Taipei in a speech on cross-Taiwan Strait relations from the perspective of international law.
He said that during the eight years he was in office, cross-strait relations were at their best, having shifted over a 60-year period from military conflict to peaceful exchanges.
While cross-strait relations are not international relations, they do have an impact on the development of international law, Ma said.
He said the issue of Taiwan's participation in the annual World Health Assembly is not purely a health matter and noted that Beijing has not shown any signs of softening its stance on the "one China" principle.
If Taiwan does not recognize that principle, there will be no basis for its participation in the WHA, Ma said.
Taiwan's attendance at the WHA is important, Ma said, adding that he hopes Taiwan will be allowed to participate and hold bilateral meetings with other countries.
As the first anniversary of Tsai Ing-wen's (蔡英文) presidency approaches, the World Health Organization is poised to make a final decision on whether Taiwan will be allowed to attend this year's WHA meeting, Ma noted.
The annual conference of the WHA, the decision-making body of the WHO, is scheduled to be held in Geneva May 22-31, but Taiwan has not received an invitation this year, due to China's obstruction. The level of Taiwan's participation in international organizations and bodies is viewed as an indicator of cross-strait relations.