Taiwan offers legal aid to human rights advocate detained in China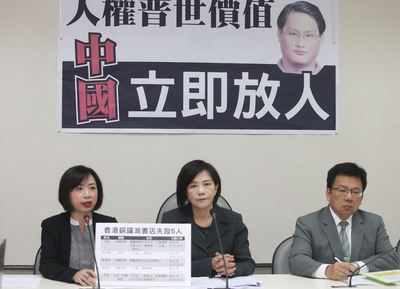 Taipei, March 29 (CNA) Justice Minister Chiu Tai-san (邱太三) said Wednesday that his ministry is ready to provide legal assistance to Lee Ming-che (李明哲), a Taiwanese human rights advocate detained in China on suspicion of endangering China's national security.
Lee, a former Democratic Progressive Party worker and now a staff member of Wenshan Community College in Taipei, went missing March 19 after entering China's Zhuhai City from Macao. The Chinese government confirmed earlier Wednesday that he is being investigated on suspicion of engaging in activities that endanger China's national security.
"I have told the ministry's Department of International and Cross- Strait Legal Affairs to send an official message to China's Ministry of Public Security" to find out where Lee is being detained and what legal aid he will need to defend himself, Chiu said.
Taiwan and China have signed an agreement on mutual assistance in legal affairs, the primary purpose of which is to combat crime. "We have to wait for an answer from China before we take follow-up steps on this," Chiu added.
Also based on that agreement, the Mainland Affairs Council (MAC), the top government unit for implementing Taiwan's China's policy, demanded that China divulge where Lee is being investigated, the law he is suspected of having violated, and the duration he is supposed to remain in custody, and inform Taiwan as required under the agreement.
"Taiwanese people are highly concerned about this case," said the MAC in a press release, urging China to "communicate with Taiwan's government" and "handle this matter carefully so as not to complicate already-sensitive cross-strait ties."
The MAC also called on Beijing to respect the wishes of Lee's family and protect his legal rights and personal safety.
Lee's wife Lee Ching-yu (李凈瑜) has asked Taiwan's Straits Exchange Foundation (SEF), the semi-official body authorized to handle day-to-day cross-strait affairs, to forward medicine to her husband to keep his high blood pressure under control.
Lee Li-jen (李麗珍), the SEF's deputy secretary and spokesperson, said the medication has been forwarded to the SEF's Chinese counterpart -- the Association for Relations Across the Taiwan Straits (ARATS) -- to be delivered to Lee.
As for a sum of NT$30,000 (US$991) that Lee Ching-yu also asked the SEF to forward to her husband, Li said it would "not be realistic to do so until we know where he is being detained."
Lee Ching-yu demanded that China immediately reveal where her husband is being detained and release him.
"I've known him for 20 years, and I understand his long-term care about human rights and other public affairs, particularly his deep concern about the human rights situation in China," she told a press meeting at the Legislature.
"My husband has been sharing with his Chinese friends online Taiwan's democratic experience. All these behaviors, judging by the standards of all civilized countries, are innocent," she said.
She later issued a statement in which she asked China to give a "fair trial" to her husband based on international human rights standards, immediately release him, ensure he is not maltreated, allow him to meet with his family and lawyers, and ensure that he is given appropriate medical attention.
(By Miao Tsung-han, Wen Kui-hsiang and S.C. Chang) ENDITEM/J