Chinese premier stresses vital importance of '1992 consensus'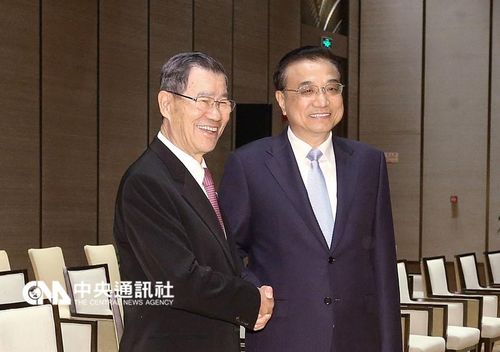 Boao, China, March 24 (CNA) Chinese Premier Li Keqiang seemed eager to drive home a message to Taiwan's next government when he met with former Vice President Vincent Siew Thursday, that both sides of the Taiwan Strait belong to "one China" -- a fact that Li said cannot be changed.
Li and Siew met on the sidelines of the Boao Forum for Asia, with Li stressing that cross-strait relations will not change because a party that is known for its pro-independence stance will take over as the ruling party in Taiwan. China plans to continue the peaceful development of bilateral ties based on the "political foundation of the 1992 consensus," he said.
Elaborating on his point, Li said the fruitful results from years of peaceful development of cross-strait ties are ample proof that maintaining the foundation that is known as the "1992 consensus" will be a good way to create a bright future for both sides.
Such a foundation can not only maintain peace across the strait but also create benefits for people on both sides, Li told Siew.
Looking ahead, Li said China offers a good opportunity for Taiwan as a whole and Taiwanese investors in particular as trade and investment ties will continue to boom based on the 1992 consensus.
Agreeing with this point, Siew said it is the hope of everyone that the foundation that has been consolidated and the results achieved over the past eight years "will continue."
In 1992, officials of Taiwan and China meeting in Kong Kong reached an agreement to disagree on the meaning of "one China" in what is now known as "the 1992 consensus."
Taiwanese officials love to refer to it as a consensus on the "respective interpretation of 'one China'," but Beijing officials almost never publicly mention that aspect of the consensus, referring just to the 'one China' aspect.
As President Ma Ying-jeou has repeatedly stated, for Taiwan, that 'one China' is the Republic of China, a country that is Asia's first democratic republic born in 1912 in mainland China but moved its seat to Taiwan in 1949 after the ruling Kuomintang lost a civil war to the Communist Party of China.
However, with a transition of power imminent in Taiwan, how the KMT refers to the 1992 consensus no longer matters. What does matter is how the Democratic Progressive Party's Chairwoman and President-elect Tsai Ing-wen will address cross-strait relations in her inaugural speech on May 20 as her party has never acknowledged the existence of the 1992 consensus.
As China's Taiwan Affairs Minister Zhang Zhijun told Taiwanese media earlier in the day here, "Now, the ball is in the other court (Taiwan)."