Chinese media threatens Taipei after mayor's remarks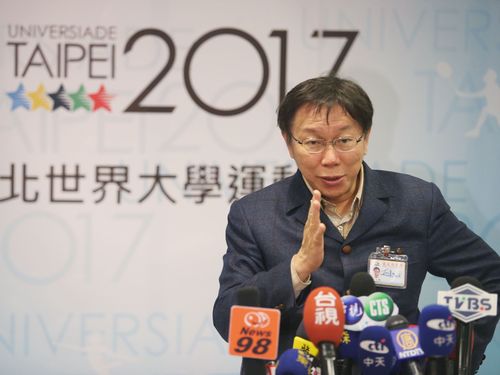 Taipei, Feb. 2 (CNA) A Chinese government mouthpiece bashed Taipei Mayor Ko Wen-je (柯文哲) on Monday for advocating a "two countries, one system" formula to guide cross-Taiwan Strait relations and said Beijing should consider curbing activities with the city.
The Global Times (環球時報), a unit of the the official newspaper of the Communist Party of China, the People's Daily (人民日報), suggested that China suspend a cross-strait city forum and boycott the 2017 World University Games in Taipei because of Ko's remarks, made in an interview with U.S. journal Foreign Policy last week.
In an editorial published Monday, the Global Times said Ko's predecessor recognized the "1992 consensus" and if Ko were to ignore this political bottom line, there would be no political basis for continuing to hold the city forum.
"China could consider suspending the forum if necessary," it commented.
The twin-city forum, which was first organized in 2010, initiated high-level communications and exchanges between Taipei and Shanghai, among the most important cities in Taiwan and mainland China.
The editorial also said that Taipei will host the Universiade in 2017, and China could decide whether or not to support the sports extravaganza based on Ko's performance.
"If China were to boycott it, Ko would stand to suffer a great loss," it said in a thinly veiled threat.
The Global Times argued that as Taipei mayor, Ko should have shunned cross-strait political issues, but he talked about them anyway because of his keen interest in the subject.
With Taiwan's 2016 presidential election coming soon, China's correct response to Ko's "radical deeds and words" would be significant in letting Taiwan understand the significance of its choices, the Global Times said.
In his interview with Foreign Policy, Ko talked about the cultural gap between Taiwan and China and suggested a "two countries, one system" approach rather than the "one country, two systems" Beijing uses for Hong Kong and wants to use for Taiwan.
He also said Taiwan had to "convince mainland China that a free and democratic Taiwan is more in China's interest than reunification."
Related stories:●Feb. 1: Taipei Mayor Ko calls for cross-strait ties based on universal values●Jan. 31: Free Taiwan more in China's interest than unification: Taipei mayor