Taipei Mayor Ko calls for cross-strait ties based on universal values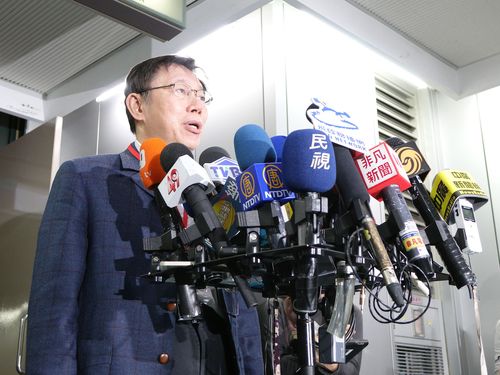 Taipei, Feb. 1 (CNA) Taipei Mayor Ko Wen-je (柯文哲) spoke Sunday on the much-watched topic of cross-strait relations, saying that Taiwan and China should seek to close the gap in their understandings of universal values like democracy, freedom, rule of law and human rights.
"The two sides of the Taiwan Strait should deepen mutual cooperation through exchanges to reduce their cultural differences," he said at the launch of a new book.
"Rather than 'two systems,'" -- the idea central to China's one country, two systems model for eventual unification -- "the 'one system' is more important," he said, adding "we should try to reduce the differences between the two sides."
Stressing that significant differences in social and cultural values do exist between Taiwan and China, Ko contended forcefulness between the two sides will in turn create bigger problems.
"If China unifies with Taiwan now, (Taiwan) will be like Tibet and Xinjiang and it will be very costly for China to maintain stability," he said.
Asked how Taiwan and China could achieve the vague "one system" idea he mentioned, the outspoken mayor said "when the two sides move closer in values regarding democracy, freedom, rule of law and human rights, future cross-strait exchanges will become smoother."
(By Huang Li-yun and Flor Wang)enditem/WH
Update:●Feb. 3: Foreign Policy sets record straight on Taipei mayor's remark
Related stories:●Feb. 1: Taipei mayor labels praise of colonization a 'misunderstanding'●Jan. 31: Free Taiwan more in China's interest than unification: Taipei mayor