Chinese visitors make up bulk of travelers to Taiwan in 2014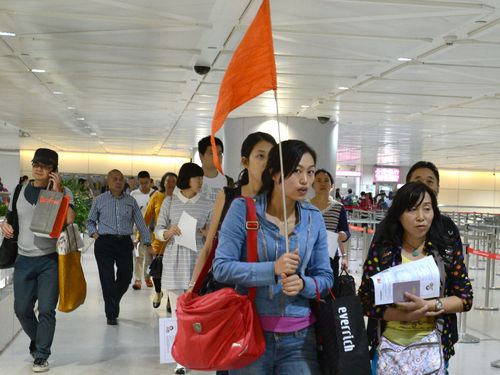 Taipei, Dec. 28 (CNA) Chinese nationals accounted for the highest percentage of visitors to Taiwan in the first 11 months of the year, according to the latest statistics from the Ministry of the Interior.
In the period January to November, there were 8.96 million overseas visitors to Taiwan, 54.5 percent of whom were from China, Hong Kong and Macao, 16.6 percent from Japan, and 5.7 percent from the United States, the figures showed.
The most notable growth in terms of visits to Taiwan was an 11.4 percent increase in the number of travelers by boat between the Taiwan-controlled island of Kinmen and China's coastal cities in the first 11 months of the year, according to the statistics, which were released Saturday.
The ministry attributed the growth to stronger efforts by the relevant officials to promote Kinmen's tourism.
The data also showed that 72.2 percent of the travelers to Taiwan were on sightseeing tours, while 8 percent were on business trips and 3.9 percent were visiting family.
Meanwhile, during the 11-month period, Taiwanese made a total of 10.94 million trips overseas, with 48.7 percent to traveling to China, Hong Kong and Macao, and 25.2 percent to Japan.
In total, the number of arrivals to amd departures from Taiwan was 39.67 million in the first 11 months of 2014, up 14 percent from the same period of last year, according to the statistics.
The data showed that 73.7 percent of the arrivals and departures were through Taiwan Taoyuan International Airport, 9.7 percent through Kaohsiung International Airport, and 7.6 percent through Taipei Songshan Airport.
(By Chieh Chia-chen and Elizabeth Hsu)ENDITEM /pc