Taiwan Tourism Administration opens office in Busan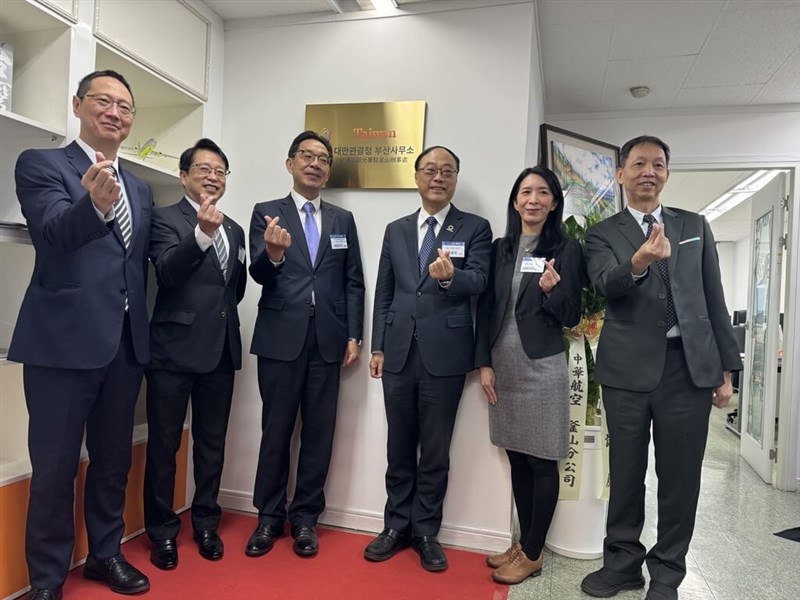 Seoul, Nov. 13 (CNA) Taiwan's tourism bureau opened a new office in Busan on Monday, hoping to draw visitors from southern South Korea to Taiwan and push the number of Korean arrivals back to the levels seen prior to the COVID-19 pandemic.
At Monday's opening ceremony, Tourism Administration Director-General Chou Yung-hui (周永暉) said the new office can send Taiwan-Korea tourism exchanges to new heights by promoting Taiwan's culture, cruises, and special foods to prospective visitors in Busan and nearby areas.
About 550,000 South Korean residents visited Taiwan in the first 10 months of 2023, making it the third largest source of foreign arrivals in Taiwan.
But that number is only about 65 percent of what it was in 2019 in the last full year before the COVID-19 pandemic hit, when there were 1.24 million overseas arrivals from South Korea, according to Tourism Administration statistics.
That is in stark contrast to outbound visits by Taiwanese to South Korea, which has already rebounded to about 90 percent of pre-COVID levels in the past five months.
The Tourism Administration said the Busan office will provide tourism services and information for people in the four southern Korean metropolitan areas of Busan, Daegu, Gwangju, and Ulsan, and other southern provinces.
Its main tasks will be primarily to promote Taiwan as a tourist destination and attract more Korean tourists from the southern part of South Korea, it said.
The office will also work with travel agencies and airlines to sell independent travelers on visiting Taiwan through forums, international tourism shows, and multimedia advertising and promotional events, it said.
During the opening ceremony on Monday, several incentives and preferential offers were rolled out to lure potential tourists, including accommodation discount coupons worth NT$5,000 (US$155).
The Busan office is Taiwan's second tourism office in South Korea after the Seoul office, which was established in 1990.