Foreign investors profit US$125 billion from Taiwan stocks in 44 months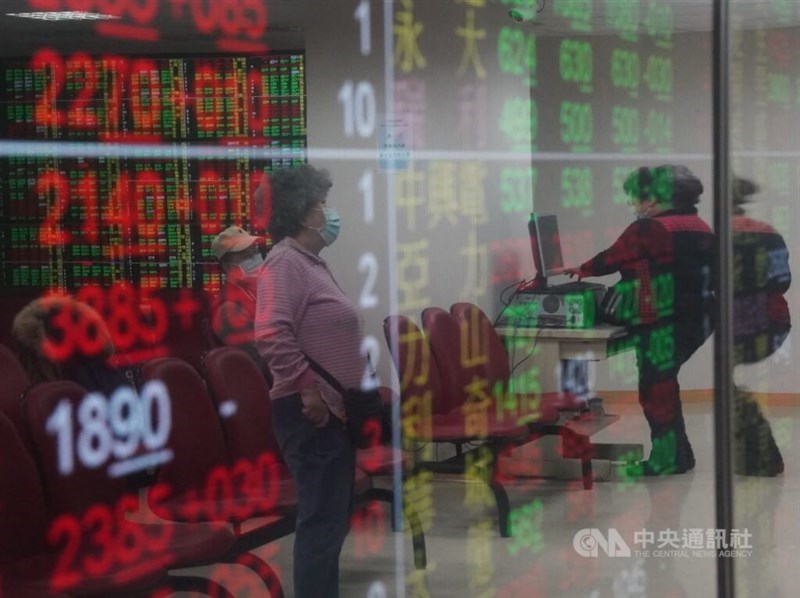 Taipei, Sept. 30 (CNA) Foreign institutional investors profited more than US$125 billion from their investments in the local stock market between January 2020 and August 2023 despite ups and downs in the value of shares during that period, according to the central bank.
In a report, the central bank said the significant profit enjoyed by foreign institutional investors reflected their effective investment strategies, such as holding blue-chip stocks long term and cutting their holdings of certain stocks at the right time.
The US$125.4 billion profit included US$55.2 billion of income from cash dividends, the central bank said, adding that foreign institutional investors had sent most of their profits out of Taiwan.
The central bank said as Taiwan had a profitable electronics sector, led by contract chipmaker Taiwan Semiconductor Manufacturing Co. (TSMC), foreign institutional investors had tended to park their funds in large-cap tech stocks with sound fundamentals and had subsequently enjoyed an uptrend in share prices following a tech frenzy in the global markets.
On the other hand, foreign institutional investors were successful in finding the right time to sell TSMC shares and other tech heavyweights, while local investors tended to chase those stocks, the central bank said.
According to the central bank, foreign institutional investors cut their holdings in TSMC to a 72.4 percent stake as of the end of August, up from a high of 79.7 percent seen between January 2020 and August 2023.
During the same period, foreign institutional investors registered a return of about 57 percent in their stock investments in Taiwan, according to the central bank.
In the first eight months of this year, the Taiex, the weighted index on the Taiwan Stock Exchange, staged a strong comeback from a slump seen in 2022 due to expectations that the U.S. interest rate hike cycle would shortly come to an end.
In 2022, the Taiex plunged 22.4 percent with TSMC shares tumbling about 27 percent after foreign institutional investors sold more than NT$1.2 trillion amid escalating geopolitical tensions following Russia's invasion of Ukraine and as the Fed pushed up its key interest rates aggressively.
In 2021, the Taiex soared 23.7 percent despite a net sale of about NT$454 billion by foreign institutional investors. Local investors pushed the Taiex higher by picking up old-economy stocks, particularly those related to the shipping industry.
In 2020, the Taiex surged 22.8 percent, despite foreign institutional investors dumping NT$540.15 billion worth of shares after the National Financial Stabilization Fund of the Executive Yuan stepped in.
The NT$500 billion (US$15.53 billion) stabilization fund was set up in 2020 by the government to serve as a buffer against unexpected external factors.
As of the end of August, foreign institutional investors had invested about US$562.5 billion in the local stock market, and in addition to the gains they had pocketed, they still had US$332.7 billion in unrealized profit, the central bank said.