Taitung farmer finds late career success raising snails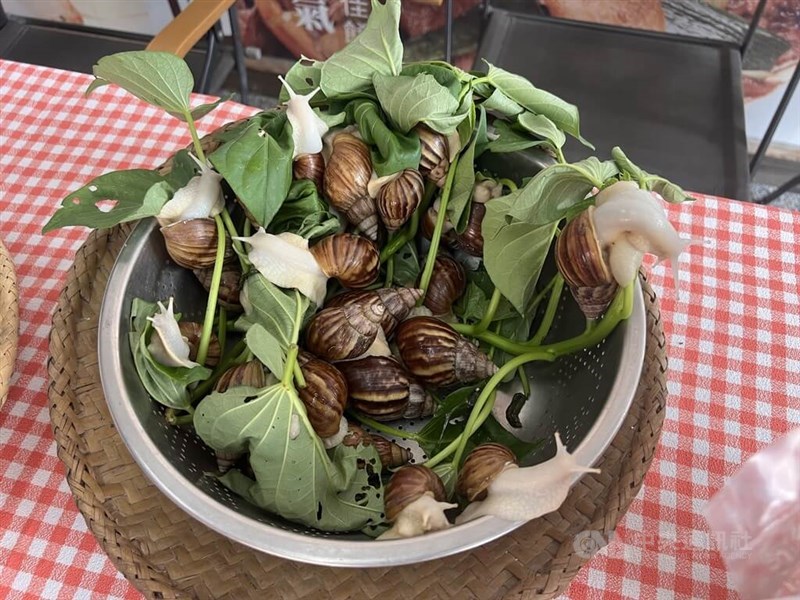 Taitung, Sept. 27 (CNA) When 61-year-old Taitung resident Chang Cheng-hsiung (張正雄) stepped back from a career in vegetable farming, he did it to raise creatures he would previously have regarded as pests -- edible land snails.
With help from the Taitung branch of the World Vision charity organization, Chang has since built a business selling products including canned snails and pork and snail-based sausage, to customers in Taiwan and overseas.
At a product demonstration hosted by World Vision on Wednesday, Chang explained that he had been looking for less physically-demanding work as he got older and had less energy to tend to his crops.
Since making the transition, Chang said, he now raises between 80,000 and 100,000 white jade snails -- a much sought-after species used in French and other cuisines -- on 0.15 hectares of land.
Lu Wei-an (盧偉岸), a World Vision product manager, said Taitung is an ideal location to farm white jade snails because of its relatively pristine environment.
Snail farming is also attractive for small landowners in the county because of the low financial barriers to entry, Lu said, adding that his organization has helped several other households get started in the business over the past 3 years.
At the product demonstration Wednesday, Chang explained that white jade snails "have to be pampered," and can die from even small changes in their living environment.
When raised correctly, however, they have a taste and texture far superior to the Giant African snails that are more commonly seen in Taiwan, he said.
Lin Yi-ting (林奕廷), a small business owner who has helped Chang with marketing, said that aside from the domestic market, they have also exported Chang's products to Hong Kong and Macau, and are currently in talks with potential buyers in Vietnam and Japan.