Under pressure, Taiwan shares end at 4-month low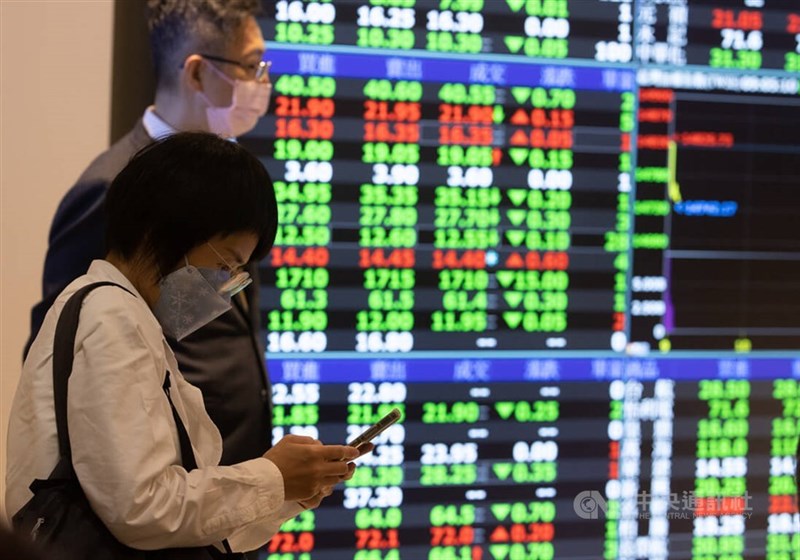 Taipei, Sept. 26 (CNA) Shares in Taiwan took a beating Tuesday to close at a four-month low amid concerns over a spike in United States treasury yields, dealers said.
The rising interest rates made tech stocks on the local market, which generally have low dividend yields, less attractive, and investors dumped those stocks for U.S. dollar denominated assets throughout the trading session, dealers said.
The Taiex, the Taiwan Stock Exchange's benchmark weighted index, ended down 176.16 points, or 1.07 percent, at the day's low of 16,276.07, the lowest level since May 24, when the index closed at 16,159.32. Turnover totaled NT$234.37 billion (US$7.28 billion).
The market opened down 11.97 points and selling, mainly of large cap electronics stocks, soon escalated after the yield on the benchmark 10-year U.S. treasury hit 4.542 percent overnight, dealers said.
The 4.542 percent yield was the highest since 2007.
The weakness of the tech sector continued to the end of the session, with the electronics index falling 1.21 percent and the semiconductor sub-index shedding 1.41 percent, dealers said.
"The higher treasury yields in the U.S. led foreign investors to dump local shares and move their funds out of the country and into greenback-denominated assets," Mega International Investment Services Corp. analyst Alex Huang said.
"Today, liquid tech stocks were the targets of the sell-off as rising interest rates made them look unfavorable."
According to the Taiwan Stock Exchange, foreign institutional investors sold a net NT$23.14 billion in shares on the exchange Tuesday.
Contract chipmaker Taiwan Semiconductor Manufacturing Co. (TSMC), the most heavily weighted stock in the local market, contributed about 50 points on its own to the Taiex's decline after falling 1.14 percent to close at NT$519.00.
"By falling below the important technical support of NT$524, its intraday high on May 17 perceived as the beginning of the stock's upturn in recent months, TSMC became technically weaker and could test the next support of around NT$510 soon," Huang said.
In addition to TSMC, dealers said, investors also cut their holdings in iPhone assembler Hon Hai Precision Industry Co., known as Foxconn internationally, sending the stock down 1.42 percent to end at NT$104.00. Hon Hai ranks No. 2 in market value in Taiwan.
Smartphone IC designer MediaTek Inc. also fell victim to the sell-off, shedding 2.38 percent to close at NT$737.00.
Elsewhere in the electronics sector, IC packaging and testing services provider ASE Technology Holding Co. lost 3.11 percent to end at NT$109.00, and power management solution supplier Delta Electronics Inc. dropped 2.97 percent to close at NT$326.50.
Meanwhile, United Microelectronics Corp. (UMC), a smaller contract chipmaker, lost 1.97 percent to end at NT$44.75, and Novatek Microelectronics Corp., UMC's display drive IC design subsidiary, closed down 2.95 percent at NT$427.00.
Pegatron Corp., a smaller iPhone assembler, ended down 0.91 percent at NT$76.00 after the company said a fire that broke out in its plant in Chennai, India on Sunday night would have little impact on its operations.
Some stocks related to artificial intelligence development appeared resilient, dealers said.
AI server maker Compal Electronics Inc. closed 0.33 percent higher at NT$30.70, and Giga-Byte Technology Co., a leading graphics card vendor for AI applications, ended up 0.36 percent at NT$275.50.
Also bucking the downturn, select cable and wire suppliers and electric machinery makers attracted strong buying after winning a tender for an electricity grid network project valued at NT$20 billion issued by state-run utility Taiwan Power Co. (Taipower).
Hua Eng Wire and Cable Co. rose 5.32 percent to close at NT$30.80, China Wire & Cable Co. gained 4.97 percent to end at NT$34.85, and Ta Ya Electric Wire and Cable Co. closed up 3.12 percent at NT$36.35.
In addition, Fortune Electric Co. soared 6.12 percent to end at NT$251.50.
"They didn't give the Taiex much a boost, however, because of their relatively small weighting," Huang said.
Elsewhere in the old economy sector, Formosa Plastics Corp. lost 1.47 percent to close at NT$80.40, and Nan Ya Plastics Corp. dropped 1.48 percent to end at NT$66.70.
In the transportation industry, which lost 0.82 percent, China Airlines fell 1.37 percent to close at NT$21.60, and EVA Airways ended down 0.83 percent at NT$29.75.
The financial sector lost 0.76 percent with Fubon Financial Holding Co. down 1.14 percent to close at NT$60.60, and Cathay Financial Holding Co. down 0.89 percent to end at NT$44.45.
"Washington is scheduled to release the August personal consumption expenditures (PCE) price index Friday," Huang said.
"With crude oil prices on the rise recently, it is possible the August PCE index growth will pick up and worry investors who are afraid of a hawkish Federal Reserve," he warned.