Taiwanese automotive component supplier to open facility in New Mexico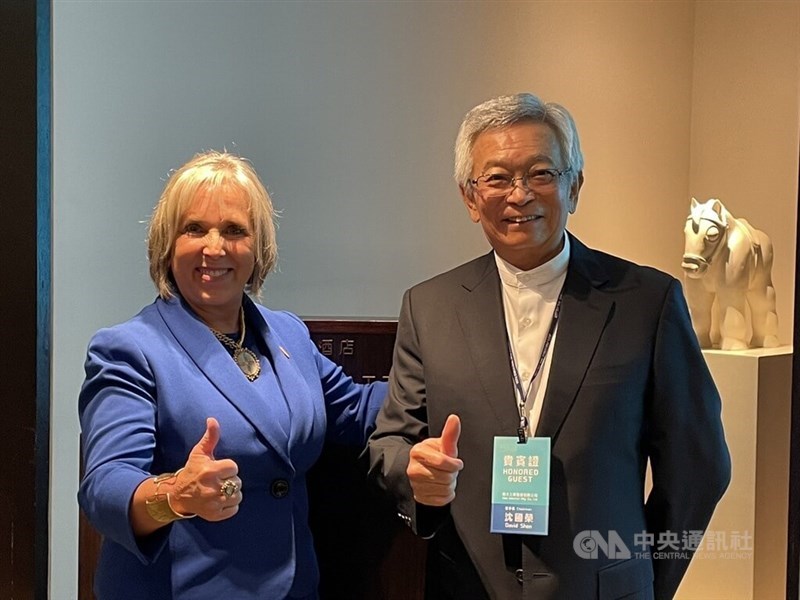 Taipei, Sept. 21 (CNA) Hota Industrial Mfg Co., Ltd., a Taiwanese company that manufactures and sells gears and axles for electric vehicles, including Tesla models, on Wednesday announced that it would partner with New Mexico to build a facility in the U.S. state's industrial park.
Hota, which has numerous North American and European clients, made a formal announcement on Wednesday in Taipei that it will invest approximately US$99 million to build its first manufacturing plant outside of Asia in the Santa Teresa Borderplex industrial park in New Mexico.
"Hota has long been committed to the research, development and manufacturing of alternative energy powertrain components, and our successful collaboration with renowned EV makers has positioned us as a long-term strategic partner for leading EV companies in the U.S.," said Hota Chairman David Shen (沈國榮).
Hota CEO Holly Shen (沈千慈) said the construction of the facility in New Mexico is scheduled to begin in early 2024, with full-scale production set to begin in the second quarter of 2025.
Wednesday's announcement was made in the presence of New Mexico Governor Michelle Lujan Grisham and her team, who are currently on a business and trade mission in Taiwan.
Lujan Grisham said at the announcement event that Hota is the kind of company that the state is seeking to host as New Mexico "looks to lower its carbon footprint and make sure we are a leader in powertrain components for electric vehicles, as well as showcasing New Mexico's potential for future economic growth."
Hota's expansion in New Mexico has been aided by the state government, which has helped it locate 30 acres of land and provided a US$3 million "state job investment," according to the governor, adding that the company will also be eligible for "several additional tax credit opportunities, including training for employees and manufacturing tax credits."
David Shen said Hota's decision to build the facility in the U.S. had been spurred by geopolitical factors that have disrupted the globalized supply chain.
He revealed that he had been considering three U.S. states to potentially invest in, but decided to choose New Mexico after taking into account a variety of factors including "location, utility supplies, the cost of doing business, transportation infrastructure, wages, tax rates, land cost and availability, construction, the crime rate and the weather."
He also cited Taiwan Semiconductor Manufacturing Co. (TSMC), the world's largest contract chipmaker, being in Arizona as one reason they did not choose that state because it would potentially be harder to find skilled workers there.
When asked about the incentives to establish a facility in New Mexico, David Shen said the US$3 million is for the basic infrastructure of the facility such as electricity and fire control, and that other subsidies for local employees' wages will also be available - every local worker hired is subsidized with 1,450 hours of pay, which is about a year.
There is also a federal government subsidy for electric vehicles produced in the U.S.
Lujan Grisham also met with Taiwan's President Tsai Ing-wen (蔡英文) at the Presidential Office on Thursday.
Tsai said since Lujan Grisham took office in 2019, the two sides have signed an economic and trade MOU, and New Mexico has opened a trade office in Taipei.
"Last year, Taiwan also became New Mexico's sixth largest export market and seventh largest source of imports," Tsai said, adding that she expects the green economy and green industries to be vital in future cooperation between the two sides because the governor has been actively pushing for a clean energy transition in recent years.
The governor said the state welcomes more investment, touting its programs that offer free education and childcare to help the local workforce upskill and boost the number of women working.
"New Mexico has dedicated hundreds of millions of dollars to build up infrastructure at the Santa Teresa port of entry," she said, adding that the state is waiting for more federal funding to continue its expansion.
New Mexico is also home to Taiwanese companies Admiral Cable, a power cable manufacturer, and Cymmetrik, a label producer, according to the governor.
Tsai's meeting with the Lujan Grisham on Thursday was also attended by Hota Chairman David Shen, who is a senior advisor to the president.